"Al-ki" or "Alki"
The Washington state motto "Al-ki" or "Alki" is Native American (Chinook) and in English it means "Bye and Bye" or "Hope for the Future".
On the Washington territorial seal the Goddess of Hope among other things is pointing to the word "Alki".
The story about the Washington motto goes something along the line of settlers from the schooner "Exact" naming their new settlement on Alki Point "New York".
However, this settlement was slower in growth than that on the East coast, which subsequently led to the name change "New York-Alki" (New York, Bye and Bye)
Washington does not have an official state motto that has been adopted by Legislature.
Washington State Nicknames

Whereas there is only one Washington motto, there exist a number of state nicknames for Washington:

"The Evergreen State" (Official)
The most popular and thereby 'official' nickname was adopted by state Legislature in 1893.
Evergreen trees are characterized by not being influenced by the usual falling of leaves during autumn. The many evergreen fir and pine trees in Washington make green a symbol of colour for Washington which is also represented by the dominant green colour in the state flag.



"The Green Tree State"
This Washington nickname is once again a reference to Washington's evergreen nature.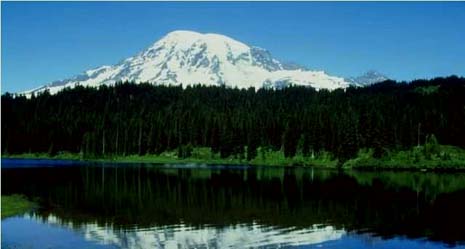 "The Chinook State"
This is a reference to the Native American Chinook tribe of Washington.
Washington State Slogans

Whereas the Washington state motto intends to describe historic values of Washington, Washington state slogans focus especially on attracting tourists, and as you will see, some are more formal in nature than others:

"Say WA!"
This is a former very short lived Washington slogan.
"Experience Washington"
This Washington slogan is the precursor for "Say WA!"
"Washington D. C.: The American Experience"
"It's Always Sunny in Seattle"
"Washington: Help! We're Overrun By Nerds and Slackers!"
"Washington, D.C.: Wanna Be Mayor?"
"Washington: Home of Bigfoot and Big Imaginations"
"I get Wood in Washington"
"Washington: Caffeine Addicts Anonumous"
"Washington: We Look Good in Flannel"

Some of these Washington funny state slogans can be bought on t-shirts and other souvenir items.
Where Would You Like to Go Next?
Perhaps to Funny State Slogans or the state motto, state nickname and state slogan of United States?
Or maybe Alabama, Alaska, Arizona, Arkansas, California, Colorado, Connecticut, Delaware, Florida, Georgia, Hawaii, Idaho, Illinois, Indiana, Iowa, Kansas, Kentucky, Louisiana, Maine, Maryland, Massachusetts, Michigan, Minnesota, Mississippi, Missouri, Montana, Nebraska, Nevada, New Hampshire, New Jersey, New Mexico, New York, North Carolina, North Dakota, Ohio, Oklahoma, Oregon, Pennsylvania, Rhode Island, South Carolina, South Dakota, Tennessee, Texas, Utah, Vermont, Virginia, West Virginia, Wisconsin, and Wyoming.
Or perhaps you'd like to see the page State Mottos to find a complete list of mottos
Back to the top of this page about Washington State Motto
Go to the Quotescoop.com Homepage