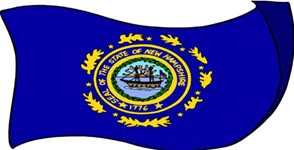 "Live Free or Die" (Official)
The New Hampshire state motto is originally a quote made by General John Stark, a much respected Revolutionary War hero.
In 1809 General Stark was supposed to have attended a 32nd anniversary reunion with fellow soldiers from the 1777 Battle of Bennington but unfortunately he suffered from bad health and had to turn down the invitation.
Instead he sent a toast containing the words (in the first half of the quote) of what is today's New Hampshire state motto: "Live Free or Die; Death is not the Worst of Evils".
The New Hampshire state motto was adopted by legislature somewhat later in 1945 as the World War II was near an end.
New Hampshire State Nicknames

Whereas there is only one New Hampshire motto, there exist a number of state nicknames for New Hampshire:

"The Granite State"
Granite is the state rock of New Hampshire and this New Hampshire state nickname points to the extraction of granite in the hills and mountains of New Hampshire.




"The White Mountain State"
This New Hampshire state nickname refers to the White Mountains, a mountain range goes through the northern part of the state and covers a quarter of New Hampshire.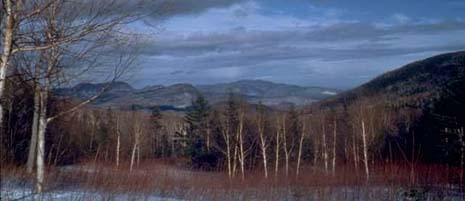 "The Mother of Rivers"
From the White Mountains five of New England's great rivers originate. Other interstate rivers are: the Androscoggin River, the Connecticut River, the Saco River, the Pemigewasset River, and the Merrimack River.

"Switzerland of America"
The view of the White Mountains made early visitors compare them to the Alps of Switzerland.
New Hampshire State Slogans

Whereas the New Hampshire state motto intends to describe the 'soul' of New Hampshire, New Hampshire state slogans focus especially on attracting tourists, and as you will see, some slogans are more or less flattering of New Hampshire:

"You're Going to Love it Here"
This is the official New Hampshire state slogan from the Department of Resources and Economic Development: VisitNH.gov

"New Hampshire: Go Away and Leave Us Alone"
"New Hampshire: Just Like Old Hampshire, but Newer"
"Think This is Bad? You Should See Old Hampshire"
"New Hampshire: Don't Take It For Granite"

Some of these New Hampshire funny state slogans can be bought on t-shirts and stickers and other souvenir items.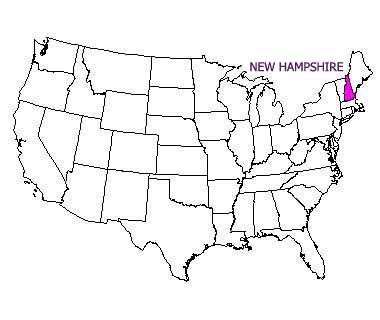 Where Would You Like to Go Next?
Perhaps to Funny State Slogans or the state motto, state nickname and state slogan of United States?
Or maybe Alabama, Alaska, Arizona, Arkansas, California, Colorado, Connecticut, Delaware, Florida, Georgia, Hawaii, Idaho, Illinois, Indiana, Iowa, Kansas, Kentucky, Louisiana, Maine, Maryland, Massachusetts, Michigan, Minnesota, Mississippi, Missouri, Montana, Nebraska, Nevada, New Jersey, New Mexico, New York, North Carolina, North Dakota, Ohio, Oklahoma, Oregon, Pennsylvania, Rhode Island, South Carolina, South Dakota, Tennessee, Texas, Utah, Vermont, Virginia, Washington, West Virginia, Wisconsin, and Wyoming.
Or perhaps you'd like to see the page State Mottos to find a complete list of mottos
Back to the top of this page about New Hampshire State Motto
Go to the Quotescoop.com Homepage