"Salus populi suprema lex esto"
The Missouri state motto is a Latin motto and in English it may be translated as either "The welfare of the people shall be the supreme law" or "Let the good of the people be the supreme law".
The Missouri motto has not been officially designated by act of state legislature and is therefore not an official state motto.
The Missouri motto has its origin in Roman philosopher and lawyer Marcus Tullius Cicero's work "De Legibus" (in English, "On Laws") (book III - part III - sub. VIII).
The Missouri state motto was adopted in 1822 and is featured as part of the state seal.
Missouri State Nicknames
Whereas there is only one Missouri motto, there exist a number of state nicknames for Missouri:
"The Show Me State"
There are several legends that try to capture the elusive origin of this Missouri state nickname:
The most well-known and widespread story features Missouri's United States Congressman, Willard Duncan Vandiver. Back in the year of 1899 with a sceptical tone of voice, he spoke to Philadelphia's Five O'Clock Club saying the following:

"I come from a state that raises corn and cotton and cockleburs and Democrats, and frothy eloquence neither convinces nor satisfies me. I am from Missouri. You have got to show me."

The underlying meaning of his statement may be interpreted as: Missourians are not naïve - and if you wish us to believe you, convincing evidence has to be displayed.


This legend from 1897 features passenger trains and free passes. In those days many Missouri legislators were offered free train passes. "You've got to show me" was the conductor's statement, when he was informed that that a legislator was using his free pass.


A third tale focuses on an event from the Spanish-American War. In 1898 at Chickamauga Park in Tennessee, the gate guards from St. Louis, Missouri were instructed to order any soldier leaving the encampment to "show" the guards a pass.


Yet another fourth story exists. This time we go back to a Colorado miner's strike when men from Missouri were taken in to replace the Colorado miners. Being unfamiliar with the particular mining methods, the pit bosses supposedly had to say: "That man is from Missouri. You'll have to show him."

"The Bullion State"
This Missouri state nickname refers back to a particular person, Thomas Hart Bent, who is remembered as stubborn, "Old Bullion". Benton was the first Missouri Senator and he was a dedicated supporter for hard currency in terms of gold and silver. He didn't believe in the concepts of banks and paper money.

"Mother of the West"
This Missouri nickname is a reference to Missouri's advantageous geographical location and history of westward expansion. Both the Santa Fe and Oregon trails start in Missouri and The Pony Express and the Butterfield Overland Mail Route both originated in Missouri.

"The Ozark State"
This nickname refers to the beautiful Ozark Mountains - a large mountain range that covers five states: Missouri, Arkansas, Illinois, Kansas, and Oklahoma.

"The Cave State"
In the state of Missouri there are more than 6,000 known caves (a number only surpassed by the state of Tennessee).

"The Lead State"
A century ago Missouri was in the lead of world's lead industry. Placed in the Ozark Mountains (the "Old Lead Belt") cities such as River Mines, Leadington, Leadwood, and Old Mines are testimony of Missouri's fine status in the lead industry.

"The Iron Mountain State"
Back in the mid 1800s the Iron Mountain was the absolute centre of conversational topics in the states. Many thought it a "mineralogical joke" that a mountain consisting mainly of such rich and pure iron veins really existed. A tale speaks of the United States President who during a dinner was to have said to a Missouri senator's wife: "Mrs. Linn, I hear you have, in your state, iron ore so pure that it does not have to be smelted; that you forge directly from the ore". To prove the rumour true, Mrs. Linn was to have sent the President knife from a good iron ore.

"Pennsylvania of the West"
This nickname refers to Pennsylvania because of its similar economical focus on mining and manufacturing.
Missouri State Slogans

Whereas the Missouri state motto intends to describe the proud 'soul' of Missouri - Missouri state motto: "The welfare of the people shall be the supreme law" - Missouri state slogans focus especially on attracting tourists, and as you will see, some are more serious in nature than others:

"Missouri - Close to Home, Far from Ordinary"
This is a Missouri state slogan from the official tourism site for the state of Missouri: VisitMO.com
"Missouri: Your Federal Flood Relief Tax Dollars At Work"
"Put Us Out Of Our Missouri"
"This Place is Missouri"
"Missouri: The Show Me Your Boobs State"
"Missouri: Loves Company!"
~ Ilene Morgan ~
"Missouri: The "Show Me State". You show me yours and I'll show you my rifle"
~ Darlene Forsman ~

Some of these funny state slogans Missouri may be bought on t-shirts and the like.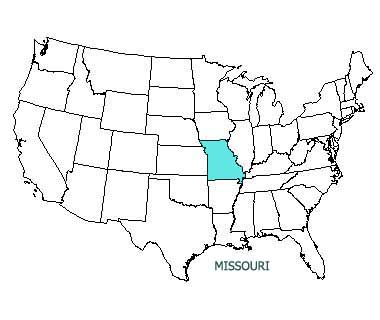 Where Would You Like to Go Next?
Perhaps to Funny State Slogans or the state motto, state nickname and state slogan of United States?
Or maybe Alabama, Alaska, Arizona, Arkansas, California, Colorado, Connecticut, Delaware, Florida, Georgia, Hawaii, Idaho, Illinois, Indiana, Iowa, Kansas, Kentucky, Louisiana, Maine, Maryland, Massachusetts, Michigan, Minnesota, Mississippi, Montana, Nebraska, Nevada, New Hampshire, New Jersey, New Mexico, New York, North Carolina, North Dakota, Ohio, Oklahoma, Oregon, Pennsylvania, Rhode Island, South Carolina, South Dakota, Tennessee, Texas, Utah, Vermont, Virginia, Washington, West Virginia, Wisconsin, and Wyoming.
Or perhaps you'd like to see the page State Mottos to find a complete list of mottos
Back to the top of this page about Missouri State Motto
Go to the Quotescoop.com Homepage