"Friendship" (Official)
The Texas state motto was adopted by Texas legislature in the year of 1930.
"Texas" or "Tejas" is a Spanish pronunciation of a name of a native Indian Caddo tribe and their land.
The Caddo's (or Tejas') name for allies or friendship is "taysha".
The Spanish in this way adopted a derivation of "taysha" as a descriptive name for the friendly tribes in what is today Texas, Louisiana and Oklahoma.
In this way the Texas motto "friendship" may be intended to symbolize a hopeful fertile fusion of Western and Native American culture.
Many probably think "Remember the Alamo" is the Texas state motto. This is not completely out in the blue as it was the Texas motto for the Republic of Texas from 1836-45.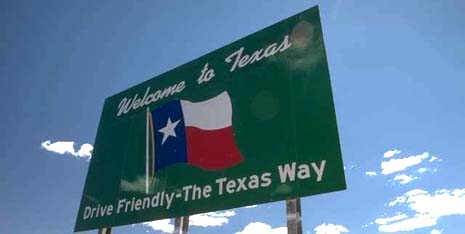 Texas State Nicknames
Whereas there is only one Texas motto, there exist a number of state nicknames for Texas:

"Remember the Alamo"
The Alamo is one of the most important events in Texas history. "Remember the Alamo" was cried out by Texas revolutionaries in the battle at San Jacinto.
This Texas motto can be found on the current state seal and it was the motto of the Republic of Texas from 1836 to 1845.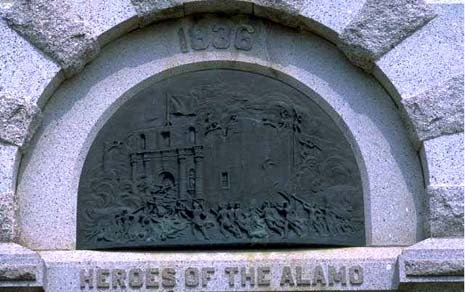 "The Lone Star State"
This Texas nickname can be found on the Texas state flag and on the Texas state seal. It directly refers to the white star on Texas' state flag.
The flag was adopted in 1845. In the 1830'ies a large white star was used by Texans in the battles between Texas and Mexico.
Now the white star signifies Texas' hard fought independence from Mexico.

"The Blizzard State"
Just like South Dakota, Texas is also nicknamed the Blizzard State because of being subject to frequent storms.

"The Jumbo State"
This Texas nickname refers to the largest circus elephant that P.T. Barnum had had transported from London to Texas in 1882.
Because of its size, Jumbo, as the elephant was called, became a symbol of largeness and as Texas was the largest state in the Union, it was only logical to refer to Texas as "The Jumbo State".

"The Banner State"
In the late 1800s Texas became largely Democratic. This Texas nickname signifies Texas as a frontrunner that "carries the banner".
Texas State Slogans

Whereas the Texas motto intends to describe the national 'spirit' of Texas - Texas state motto: "Friendship" - Texas state slogans focus especially on attracting tourists, and as you will see, some are more conventional in nature than others:

"Texas: It's Like a Whole Other Country"
This is the Texas state slogan used on the official web site of the Office of the Governor, Economic Development and Tourism: TravelTex.com

"Don't Mess with Texas"
This is an expression promoted by the Texas Department of Transportation that in 1986 started a campaign intended to reduce litter on the Texas roadways.

"State of the Arts"
This Texas slogan can be bough on licence plates.

"Everything's Bigger in Texas"
"Texas: A Great, Big Flat State"
"Texas: Si' Hablo Ing'les (Yes, I Speak English)"
"Everything's More Texan in Texas"
"Only Sure Things in Life are Death and TX"
"Texas: Come for the Adventure ... Stay for Your Wrongful Execution"
"Texas: Belt Buckles as Big as Your Head"
"I Messed With Texas and Now I Have a Rash"
"Everything's More Texan in Texas"

Some of these Texas funny state slogans or slightly morbid slogans all depending on your sense of humour can be bought on various souvenir t-shirts.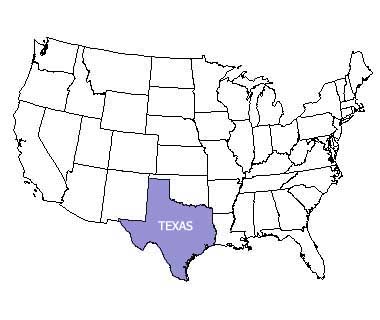 Where Would You Like to Go Next?
Perhaps to Funny State Slogans or the state motto, state nickname and state slogan of United States?
Or maybe Alabama, Alaska, Arizona, Arkansas, California, Colorado, Connecticut, Delaware, Florida, Georgia, Hawaii, Idaho, Illinois, Indiana, Iowa, Kansas, Kentucky, Louisiana, Maine, Maryland, Massachusetts, Michigan, Minnesota, Mississippi, Missouri, Montana, Nebraska, Nevada, New Hampshire, New Jersey, New Mexico, New York, North Carolina, North Dakota, Ohio, Oklahoma, Oregon, Pennsylvania, Rhode Island, South Carolina, South Dakota, Tennessee, Utah, Vermont, Virginia, Washington, West Virginia, Wisconsin, and Wyoming.
Or perhaps you'd like to see the page State Mottos to find a complete list of mottos
Back to the top of this page about Texas State Motto
Go to the Quotescoop.com Homepage