"Labor Omnia Vincit"
The Oklahoma state motto is a Latin motto and common expression which in English means "Labour Conquers All Things".
The Oklahoma motto was adopted in 1907 but the inspiration for the Latin motto itself dates back 2000 years to Virgil, a Roman poet.
In his book "Georgics" Virgil wrote the inspiration for the Oklahoma motto " Labor omnia uicit improbus" (Uphill work overcomes all things).
In his work Virgil was describing how to make agriculture grow in a "Back to the land" policy introduced by Augustus Caesar.
The goal was to inspire more Romans to engage in farming and agriculture.
Just like the Oklahoma state motto praises virtues of labour, the state mottos of Kansas and Utah may be said to do so as well, in an indirectly way, however.
Oklahoma State Nicknames

Whereas there is only one Oklahoma motto, there exist a number of state nicknames for Oklahoma:

"The Sooner State"
The word "Sooner" in this Oklahoma state nickname has two meanings: a historical one with a rather negative connotation and a more present one endowed with positive associations:
1) The historical meaning of the word "Sooner" was designated a person who made claim to a piece of land before this piece of land was officially declared 'open' to settlers.
The Indian Appropriations Act 1889 stated in what was known as the "sooner clause" that before the date put forward in the President's opening proclamation, nobody were permitted to neither enter nor occupy a particular piece of land.

2) In 1908 "Sooner" was attributed a more positive meaning, as it was associated with the University of Oklahoma's football team the "Sooners".

"Boomer's Paradise"
"Boomers" or "Boomer Movement" is a reference to the people who tried to settle down in the "Unassigned Lands" before they were officially open for settlement.
For a period of time, there were several 'tours' of "Boomers" lead by David Lewis Payne into the 'forbidden land' to establish housings. And time and time again they were thrown out of the territory by U. S. troops.

Oklahoma State Slogans
Whereas the Oklahoma motto intends to describe the patriotic values and virtues of labour important to Oklahoma, Oklahoma state slogans focus especially on attracting tourists, and as you will see, some are more serious in nature than others:

"Oklahoma is OK"
This Oklahoma state slogan first appeared on licence plates back in 1967.

"Oklahoma: Native America"
This is the Oklahoma Slogan for the Official Travel and Tourism Site: TravelOK.com

With the passing of time and the continual relocation of Native American tribes, the Indian Territory was reduced to what is now Oklahoma. When Oklahoma gained statehood in 1907, the Indian Territory was extinguished.
Today Oklahoma (especially the eastern part) is still home to many Native Americans.

"Oklahoma: Like the Play, Only No Singing"
"Oklahoma: We're OK, You're NOT"
"Oklahoma: Come Stroke Our Panhandle"

Some of these Oklahoma funny state slogans can be bought on souvenir t-shirts.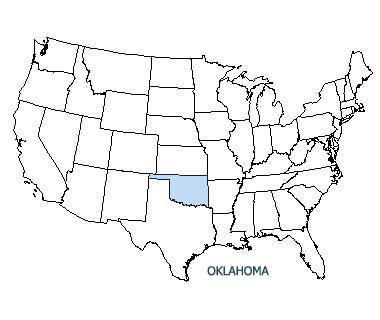 Where Would You Like to Go Next?
Perhaps to Funny State Slogans or the state motto, state nickname and state slogan of United States?
Or maybe Alabama, Alaska, Arizona, Arkansas, California, Colorado, Connecticut, Delaware, Florida, Georgia, Hawaii, Idaho, Illinois, Indiana, Iowa, Kansas, Kentucky, Louisiana, Maine, Maryland, Massachusetts, Michigan, Minnesota, Mississippi, Missouri, Montana, Nebraska, Nevada, New Hampshire, New Jersey, New Mexico, New York, North Carolina, North Dakota, Ohio, Oregon, Pennsylvania, Rhode Island, South Carolina, South Dakota, Tennessee, Texas, Utah, Vermont, Virginia, Washington, West Virginia, Wisconsin, and Wyoming.
Or perhaps you'd like to see the page State Mottos to find a complete list of mottos
Back to the top of this page about Oklahoma State Motto
Go to the Quotescoop.com Homepage