If you're a man on the lookout for some great, original and creative Valentines Day ideas to romanticize your woman, you've surely come to the right place. This is nothing other than creative Valentine ideas' headquarters. Welcome :-)

If you're a woman
, well, then you might get a quick glimpse into not only the desperate, chaotic Valentine mindset of your man, you might also get to satisfy your curiosity as to what kind of
creative Valentine ideas
he might come up with on your Valentine's Day.
But before presenting you with all our super romantic Valentines Day projects, let's take a look at what is Valentines Day:


---
What is Valentines Day
- Seen Through a Humorous Set of Glasses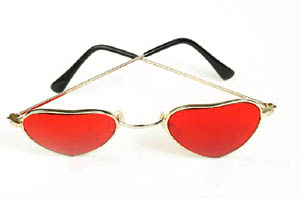 • Valentine's Day: the one day of the year when most men make a spectacular impression on their girlfriend by showing them just how romantic they are.
• Valentine's Day: the day when more chocolate is sold in the world than molecules of oxygen are inhaled.
• Valentine's Day: the festive holiday where women's expectations go through the roof while men's bank accounts are drained.
• Valentine's Day: the time of year when men rush around frantically trying to buy as many red, pink, and heart-shaped things as possible.
All of these things are Valentine's Day, but the best thing about Valentine's Day is that men finally get to let out their inner Don Juan and really go all out for their lady.
Most Valentines Day ideas that you can come up with will involve foil balloons, way too much chocolate, the occasional rose, and a fancy dinner.
While these things are not bad in themselves, why get stuck with the same old Valentine ideas year after year? You will find that some of the best Valentines Day ideas are the ones that are original and creative.
Here are some unique Valentines Day projects that you can do on this Valentine's Day for that special someone:


---
Valentines Day Idea No. 1:
Dress Up For Her
One thing that women love is when their man gets all dressed up for her!
Here are a few Valentine ideas relating to dressing up:
The Safe and Always Popular Classic Success
Dressing up for your woman means that you have to do more than just change your socks and underpants or get dressed up in that T-shirt that she claims to really like (trust me, she doesn't really. It just happens to be the best of the worst - meaning it has no holes or any infamy or geeky words in strange colors written on it).
No, if you want to really impress her you have to actually make a real effort. Women like men that make an effort. That they go out for their way to impress her. For instance, you may find that renting a tuxedo is a great way to show her that you really love her.
You can be sure, she will be impressed when you arrive at home or at your dinner date in a tuxedo, and you can treat her like royalty just to show her how special she is to you.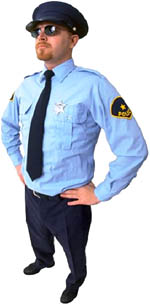 Success via Originality and Boldness
Yes, you will find that women love a well-dressed man, however, if the setting right and mood light, they will also love a man in costume.
Buy, rent or borrow a costume for a sexy fireman, masculine police man, or some other fantasy of hers, and show up at home or if you're really brave at her office all dressed up.
A quick guideline: Uniforms are almost always a success. Your masculinity is bound to go up several sexy factors just wearing a uniform. Strange, but true! In that way women are quite simple and predictable.
Also the ladies love it when you go out of your way to be a bit creative, and you will find that going out and getting a costume is a great way to show your creative side.
You can have fun trying to dress up according to her fantasy, and see what kind of fun you can have by pretending to "woo her" again on your romantic Valentine's meal.


---
Valentines Day Idea No. 2:
Cook at Home
Women love it when men go out of their way to do something special that they don't often do, and cooking for her is a great way to show her that you love her.
If you have never lifted a finger to cook a meal in your life, you may want to consider signing up for cooking lessons for a few weeks or days prior to Valentine's Day. Even though it is mostly the thought that counts, you will find that preparing a tasty meal that actually tastes nice will also bring many points in your favor. :-)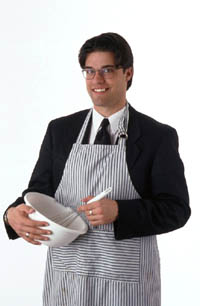 Try Something New or Take Her Back
If you already have a decent repertoire of dishes that you can prepare, try cooking something new for her that she has never had before. Or perhaps you can reconstruct your first meal together (if you remember and it wasn't terrible of course).

Women love it when you take them back in time and show them that you remember certain special occasions.
So get home a few hours before she does or arrange with a friend to spend time with her so that you're sure that she doesn't show up unexpected.
Whip up your meal, set the table with candles and wine, and be her serving man when she finally does get home. The fact that you cared enough to think of all this is more than enough to earn you "Man of the Year" award in her books.
The Takeaway Option for the Cooking Impaired
Also if you're completely hopeless in a kitchen, don't despair. There are some great tasty and luxurious takeaways that you can buy and all you need to do then is just to set it up nicely.
No, takeaway is not the same as cooking it yourself, but if you make a great effort of the setting: music, flowers, candles, hearts, rose petals, wine, champagne etc, then your will surely make a good impression anyway.
And yes, don't forget to get completely rid of the takeaway boxes and bags. You do not want her to see those.


---
Valentines Day Idea No. 3:
Send Her a Valentine at Work
Every woman loves to know that her man loves her, and one great way to show her that you love her is to send her something at work.
Some women, most probably, will love that everybody gets to know how much you adore her. However, there are also some women who are more shy and timid who would prefer that your affections stay in the private sphere.
However if she's a bit of a 'love exhibitionist' here are a few Valentines Day ideas that you can surprise her with at work:
• If she is a flower person, send her a giant bouquet of flowers at work.
• If she is a chocolate person, send her a giant gift basket containing a wide assortment of her favorites or a chocolate fondue fountain that she can share with the whole office.
• If she is a person who likes stuffed animals, a giant Valentine's bear is more than enough to let her know that you are thinking of her.
Many men find it incredibly challenging to come up with creative Valentines ideas and arrange something large for Valentine's Day, but you will find that there are many online companies that deal in these Valentine's Day deliveries.


---
---
Valentines Day Idea No. 4:
A Romantic Getaway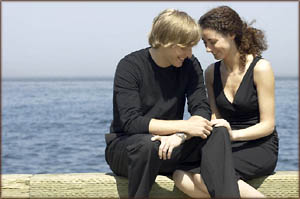 You may find that booking a weekend getaway for the two of you is a great way to surprise her, especially if you are one of the many men around the world that works very hard all year long.
However, often many weekend getaways around Valentine's Day are already booked, and thus you may want to consider booking it for a week or three after the romantic holiday.
Many of the most popular romantic destinations are full on Valentine's Day, and you can usually get a better deal if you book later on in the month (don't tell her you are getting a better deal, as that may ruin it).
Choose a romantic getaway to a place that she has talked about for a long time, someplace where she has wanted to go. It doesn't matter if it's in the mountains, a lake, the seaside, or the forest, as this getaway is to a place that she wants. You can always find great bookings, and you can make the reservation online or over the phone.


On your Valentine's Day dinner, simply show her the reservation to that romantic getaway that she has dreamed about, and earn some extra "boyfriend points" or "husband points".


---
Valentines Day Idea No. 5:
Surprise Her with Dancing or Singing
Keep an eye on your girlfriend or wife when watching a musical or going to the theater and see what she likes more. If she loves the dancing of these musicals, you may find that learning to dance is a great way to surprise her on the romantic holiday that is Chocolate Day…er… Valentine's Day.

Take salsa lessons to go dancing with her, or take some ballroom dancing lessons to whirl her around in an elegant waltz.
Also you can find many Valentines Day ideas on videos on YouTube. For instance you may find men surprising their significant others with special dances, and you can get ideas for your romantic dance by checking out some of the videos there.
Check out this guy surprising his newly wedded wife in this Justin Bieber impersonation (yes, it's a wedding setting, but the idea is just as great for Valentine's Day).


Or if she's into singing, you may want to consider singing lessons. Unless your closest relative is a frog and you have absolutely no talent in the area of singing, you will find that there has to be at least one or two songs that you can pull off.
If you're a bit embarrassed to sing or dance right in front of her or if perhaps you are far from each other on different sides on the globe, you can make a video yourself and upload e.g. on YouTube and send her the link.
As you can see when it comes to personal Valentine ideas only your imagination ... and boldness ... set the limit. .:-)


---
Valentines Day Idea No. 6:
Romantic Spa Weekend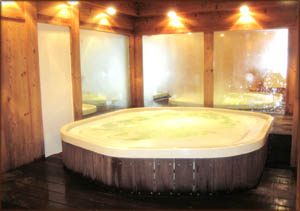 Every woman loves to spend time at the spa, and you may find that a spa weekend with her is the best way to enjoy the romance of the holiday while slowing down.
You will find that booking a spa weekend for her is guaranteed to earn you serious bonus points, especially if it is something that she has wanted to do for a year or two but hasn't been able to get away from work, the kids, or the daily pressures of life.
You'll see how spending time with her relaxing and enjoying the spa can actually help you to enjoy your life a lot more, and you may find that the time you spend getting slathered down with hot mud and having cucumbers soak into your eyes will be a great time that you can draw closer together.
That is, after all, the real spirit of Valentine's Day.
Also if your girlfriend is a chocoholic, the spa Valentines Day ideas below might be just up her alley!
Spa Valentine Packages for Chocolate Fanatics
There are many spa resorts that have special Valentine packages that include various chocolaty luxury treatments in cosy candlelit settings.
In some of these spa places you can get both couples treatment for the two of you or you can just chose to spoil your girl by buying her a treatment.
Anyway, some of the treatments that are offered on Valentine's Day are:
• Delicious chocolate body wraps.
• Chocolate pedicures while enjoying a glass of wine or champagne.
• Massage with oil that smells of chocolate.

How about that for Valentines Day projects!


---
Valentines Day Idea No. 7:
Make Valentine's Day a Champagne Day
Champagne is the drink of choice when it comes to Valentine's Day, and you may find that a day full of the delicious bubbly is exactly what she needs after a stressful week.
So yes, make a cool champagne theme that stretches all through all day. Use your imagination to come up with great Valentine's Day ideas that all center around champagne - let everything you eat or drink have that delicious touch of champagne.
Here are a few Valentine ideas about champagne that you can use:
Start the morning out with a mimosa, a glass of champagne mixed with orange juice (freshly squeezed by you for extra romance).


Serenade her at happy hour and give her a glass of bubbly with a strawberry floating in it, as the fruit adds an extra touch of sweetness. Top the glass of champagne off with a spoonful of cassis in order to make the French drink Kir Royale.


Serve her 'un petit pot' (as they say in French) or a small appetizer just before the meal. You will find that a touch of sharp cheese and a glass of champagne will open your palates nicely and get your appetites roiling.


Serve champagne with the meal that you have prepared, and make sure to use champagne as the sauce for your dessert. Use champagne to dress your salad instead of balsamic vinegar, or use the rest of the bottle from the morning to make a delicious champagne soup.
There are dozens of recipes that call for champagne, and you may find that a few bottles of the bubbly will help her suitably get into the mood of the romantic holiday.


---
---
Valentines Day Idea No. 8:
Romantic Scavenger Hunt
If you want to show her your affection, you may find that making her work for it can be a lot of fun. Here are some great Valentines Day ideas for a romantic scavenger hunt.
Tell her that you will see her in the evening, and leave a number of clues around the house to let her know exactly where she will meet you.


Give her the first note in the hunt with a clue as to the nature of the place where you will meet, as well as an indication of where to find the next note. Try and hide notes at the office, in her gym, and all of the other places where she spends her time during the day.

It will take a lot of work and forethought, but it will be totally worth it when she is surprised by the places she finds notes. You can go totally nuts with the places where you will hide the notes, and you will find that she can have lot of fun trying to figure out where you will meet for dinner in the evening.


Leave the final note on your bed, along with a gorgeous dress that she can wear for your dinner date. Make sure that you are dressed in a tux or a fancy suit when she arrives, and she will break out into tears and giggles as she realizes that you want to such lengths to make the day special for her.
If you want the notes to be beautiful in themselves, free to print out some of the gorgeous Valentine cards you'll find when you follow some of our Valentine links below.