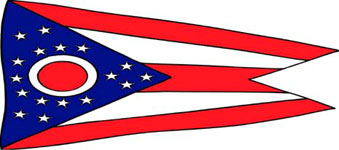 "With God All Things Are Possible" (Official)
This Ohio state motto is from 1959 and is the result of a contest sponsored by the Ohio legislature to select a state motto.
Surprisingly, the winner of contest was 12 year old boy, James Mastronardo from Cincinnati, who presented the bible quotation from the book of Matthew: "With God All Things Are Possible".
The story doesn't end here, however. The American Civil Liberties Union decided in 1997 that the Ohio state motto with God as main character was a direct attack on religious freedom and the case went all the way to court.
The result of the ensuing lawsuits was that the Ohio motto was perceived not to violate the First Amendment to the United States Constitution. The reasoning was that the Ohio state motto did not refer to a specific God of any particular religion - in other words the Ohio motto "With God All Things Are Possible" is open for interpretation.
Other state mottos that like the Ohio motto refer to God or a Deity is Arizona, Colorado, Florida, and South Dakota.
Ohio State Nicknames

Whereas there is only one Ohio motto, there exist a number of state nicknames for Ohio:

"The Buckeye State" (Official)
The word buckeye is a translation from a Native American language. The nut was referred to as "hetuck" meaning buck eye, it simply resembles a deer's beautiful brown eye.
There are many references as to the origin of this Ohio state nickname.
"The Buckeye State" may refer to the many buckeye trees that cover much of Ohio's soil...


... but it is more probable that the nickname was born back in the 1840'ies when William Henry Harrison was running for presidency.
The opposition's newspaper made a campaign against Harrison stating that he was "better suited to sit in a log cabin and drink hard cider".
This statement was successfully turned around to Harrison's advantage when calling Harrison "the log cabin candidate".
Harrison's emblem was subsequently designed as a log cabin of buckeye timbers and buckeyes decorating the walls. Buckeye canes were carried by Harrison's supporters.
This clever defensive move turned into a great success and Harrison became president in 1840 and beat his opponent President Martin Van Buren's efforts for re-election.




"Mother of Modern Presidents" or "Mother of Presidents"
A total of 7 presidents were born in Ohio:

Ulysses Simpson, Rutherford Bichard Hayes, James Abram Garfield, Benjamin Harrison, William McKinley, William Howard Taft, Warren Gamaliel Harding. William Henry Harrison settled in Ohio but was born in Virginia.

"The Yankee State"
This is an old nickname employed by Kentuckians and Virginians emphasizing Ohio's free institutions.
Also it may reference to all the people migrating from New England in the first half of the 1800s.
Ohio State Slogans

Whereas the Ohio state motto intends to describe the 'soul' of Ohio, Ohio state slogans focus especially on attracting tourists, and as you will see, some are quite ambitions and some are... well... not:

"Ohio, So Much to Discover"
This is the official Ohio state slogan from the web page of the Ohio Department of Development, Division of Travel and Tourism: DiscoverOhio.com

"Ohio, The Heart of It All"
This is an older official state slogan from 1984 by the Ohio Division of Travel and Tourism.

"Birthplace of Aviation"
North Carolina and Ohio played a significant, but contestant role in the history of flight. The Wright brothers built their design in Ohio and flew their first flight in North Carolina.

"Birthplace of Aviation Pioneers"
This Ohio slogan is a reference to both the Wright brothers and John Glenn and Neil Armstrong who were also from Ohio.

"Ohio: Don't Judge Us by Cleveland"

"Ohio: Sorry About the Smell, We're Working on it"
Some of these Ohio funny state slogans can be bought on t-shirts and other souvenir items.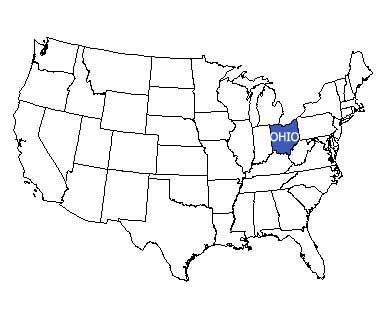 Where Would You Like to Go Next?
Perhaps to Funny State Slogans or the state motto, state nickname and state slogan of United States?
Or maybe Alabama, Alaska, Arizona, Arkansas, California, Colorado, Connecticut, Delaware, Florida, Georgia, Hawaii, Idaho, Illinois, Indiana, Iowa, Kansas, Kentucky, Louisiana, Maine, Maryland, Massachusetts, Michigan, Minnesota, Mississippi, Missouri, Montana, Nebraska, Nevada, New Hampshire, New Jersey, New Mexico, New York, North Carolina, North Dakota, Oklahoma, Oregon, Pennsylvania, Rhode Island, South Carolina, South Dakota, Tennessee, Texas, Utah, Vermont, Virginia, Washington, West Virginia, Wisconsin, and Wyoming.
Or perhaps you'd like to see the page State Mottos to find a complete list of mottos
Back to the top of this page about Ohio State Motto
Go to the Quotescoop.com Homepage