"North to the Future" (Official)
The Alaska state motto signals optimism towards the future, a land of promise. The Alaska motto was adopted in 1963 as a result of a contest that was to come up the best centennial motto describing the character of Alaska.
The Alaska Centennial Commission chose Journalist Richard Peter's suggestion "North to the Future". Richard Peters stated that the Alaska motto:
"... is a reminder that beyond the horizon of urban clutter there is a Great Land beneath our flag that can provide a new tomorrow for this century's 'huddled masses yearning to be free."
In this way the motto represents Alaska a clean and pristine place free of modern pressures.
Alaska State Nicknames
Whereas there is only one motto, there exist a number of state nicknames for Alaska:

"The Last Frontier"
The thought behind this Alaska state nickname is the perceived long distance to the other lower U.S. states. Moreover the rough and uneven landscape also add to the idea of a symbolic "The Last Frontier". In fact only 1/3 of the state is divided into boroughs.

"Land of the Midnight Sun"
In some of Alaska northern parts the sun actually never goes down during the summer. During this season the landscape is bathed in a special sunlight at midnight. In Barrow the sun doesn't go below the horizon for a period of 84 whole days.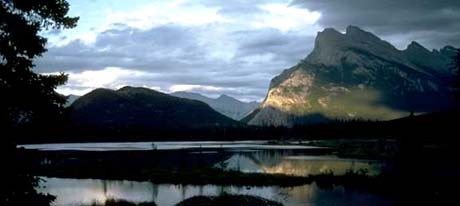 "Seward's Folly"

Once owned by Russia, Alaska was bought in 1867, a purchase led by Secretary of State William H. Seward. Many of the other states thought that the price of Alaska was too high. However, Seward was stubborn and fought long and hard to get Congress to approve of the money for purchase.

Some of Seward's critics referred to his fight as "Seward's Folly".
"Seward's Ice Box"
This is another one in the group of Alaska state nicknames. This one was also intended for Seward by his critics.

Other Alaska state nicknames with similar references to Alaska's merciless coldness are "Icebergia", "Polaria", and "Walrussia". The president of the period, Andrew Johnson, wasn't spared by the critics during the purchase either: "Johnson's Polar Bear Garden" was another nickname.
Alaska State Slogans
Whereas the motto intends to describe the 'soul' of Alaska with future optimism at the center for the Alabama inhabitants, Alabama state slogans focus especially on attracting tourists, sometimes with a funny streak:

"Beyond Your Dreams, Within Your Reach"
This Alaska state slogan is used by the Official State of Alaska Travel & Vacation Information: TravelAlaska.com

"Alaska: 11,623 Eskimos Can't be Wrong!"

"Alaska: Come Freeze Your Butt Off"

"Alaska: Jeez, it's Cold"

"Alaska: Yeah, But It's a Dry Cold"
~ Andy Hynds ~

"Alaska: Masturbation Capital of the World"

"I Froze My Nuts off in Alaska"
These Alaska funny state slogans are sold on souvenirs such as badges and stickers.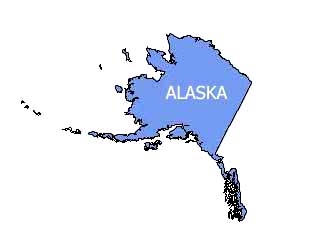 Where Would You Like to Go Next?
Perhaps to Funny State Slogans or the state motto, state nickname and state slogan of United States?
Or maybe Alabama, Arizona, Arkansas, California, Colorado, Connecticut, Delaware, Florida, Georgia, Hawaii, Idaho, Illinois, Indiana, Iowa, Kansas, Kentucky, Louisiana, Maine, Maryland, Massachusetts, Michigan, Minnesota, Mississippi, Missouri, Montana, Nebraska, Nevada, New Hampshire, New Jersey, New Mexico, New York, North Carolina, North Dakota, Ohio, Oklahoma, Oregon, Pennsylvania, Rhode Island, South Carolina, South Dakota, Tennessee, Texas, Utah, Vermont, Virginia, Washington, West Virginia, Wisconsin, and Wyoming.
Or perhaps you'd like to see the page State Mottos to find a complete list of mottos
Back to the top of this page about Alaska State Motto
Go to the Quotescoop.com Homepage