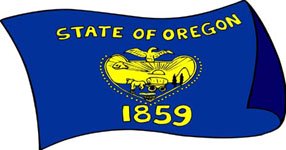 "She Flies With Her Own Wings" (Official)

The Oregon state motto also exists in a Latin motto version: "Alis Volat Propiis".
The Oregon motto is said to represent both sentiments of independence from Britain and the independent nature of the early settlers in their abilities to make a living in the new territory and create a new government.
The Oregon motto was adopted by Legislature in 1987. The phrase is much older than that, however. The Oregon motto was actually written 133 years earlier in 1854 by Judge Jessie Quinn Thornton and was put on the territorial seal.
The Oregon motto has had quite a turbulent history during these 133 years and was in fact not always entitled "She Flies With Her Own Wings".
In 1957, the Oregon state motto was changed to "The Union". Senate historian Cecil Edwards points to the public division of opinion in relation to slavery as the driving force behind changing the Oregon motto to "the Union".
The national pride of innovative achievements and history of independent nature of Oregon citizens did make the government change the Oregon motto back into "She Flies With Her Own Wings" in 1987.
Oregon State Nicknames

Whereas there is only one Oregon motto, there exist a number of state nicknames for Oregon:

"The Beaver State" Official
This Oregon state nickname was made official by legislature in 1969 (the beaver is also Oregon's state animal).
The beaver's admirable ingenuity and ability to build impressive structures from on site natural material is the inspiration for this Oregon nickname.

"The Sunset State"
When Oregon joined the Union in 1859, it was the state located most far towards west. Today Oregon is beaten by Washington and Alaska in being 'most west'.
The Oregon nickname "The Sunset State" is shared with another western state, Arizona.




"The Hard-case State" or "The Land of Hard Cases"
There are several theories as to the origin of these Oregon nicknames:
1) The first theory focus on the challenges and hardships that met early settlers - you needed to be tough to settle down and make a living in the new land.
2) The second theory points to the dubious and poor character of some of the settlers. Oregon being located so far west, was as far away from previous misdeeds as possible.

"The Wet-foot State"
The 40-180 inches of rain pr. year in some areas, makes Oregon quite wet.
Oregon State Slogans

Whereas the Oregon state motto intends to describe the independent and innovative 'soul' of Oregon, Oregon state slogans focus especially on attracting tourists, and as you will see, some are more conventional than others:

"Oregon, We Love Dreamers"
This is the Oregon slogan from the official travel guide to planning an Oregon vacation: TravelOregon.com

"Oregon, Things Look Different Here"
This is an Oregon state slogan from the Oregon Department of Tourism.

"Pacific Wonderland"
This Oregon slogan was introduced on licence plates in the 1960s.

"Oregon: Spotted Owl, It's What's For Dinner"
"Oregon, The Beaver State"
"Oregon: As Pretty as California, but not as Weird"
"Oregon, America's Hairiest State Since 1859!"
"Oregon: It's OR-EE-GUN, you idiot!"
~ Darlene Forsman ~
"BEHOLD my Huge, Throbbing Oregon"

Some of these, well, special kind of Oregon funny state slogans can be bought on t-shirts and the like.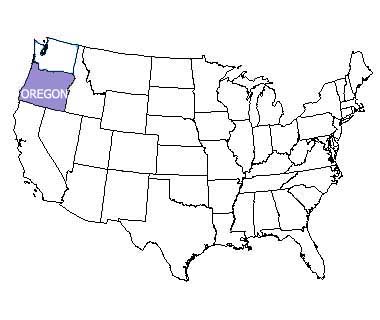 Where Would You Like to Go Next?
Perhaps to Funny State Slogans or the state motto, state nickname and state slogan of United States?
Or maybe Alabama, Alaska, Arizona, Arkansas, California, Colorado, Connecticut, Delaware, Florida, Georgia, Hawaii, Idaho, Illinois, Indiana, Iowa, Kansas, Kentucky, Louisiana, Maine, Maryland, Massachusetts, Michigan, Minnesota, Mississippi, Missouri, Montana, Nebraska, Nevada, New Hampshire, New Jersey, New Mexico, New York, North Carolina, North Dakota, Ohio, Oklahoma, Pennsylvania, Rhode Island, South Carolina, South Dakota, Tennessee, Texas, Utah, Vermont, Virginia, Washington, West Virginia, Wisconsin, and Wyoming.
Or perhaps you'd like to see the page State Mottos to find a complete list of mottos
Back to the top of this page about Oregon State Motto
Go to the Quotescoop.com Homepage