Christmas greetings may differ across countries and cultures, but at their heart they all express the same ideas. Christmas is a time to put aside petty differences and focus on the good things in life.
All greetings for Christmas time reflect that spirit of positivity and enjoyment of the time we have together with the ones we love.
For many people, Xmas greetings represent a chance to reach out and contact people you haven't spoken to in a while. In our busy modern world we have a tendency to let friendships slip away and we don't keep in contact with distant family members as much as we should. Greeting cards are a perfect way to get in touch with these people at Christmas time and let them know you still think about them.
Christmas Greeting Cards
Many countries have developed a tradition where people send each other cards on Christmas with positive and uplifting Christmas messages.

When you're sending out Christmas cards, you want them to be special. You want them to reflect your own personality but also show you've put some thought into who you're sending them to and what they like.

Let's look at some ways you can make your Christmas cards unique and add a personal touch.
How to Say Merry Christmas in Different Languages
Being such an old tradition, Christmas has had plenty of time to spread around the world and take on new forms. As a result, Christmas is celebrated a little bit differently from country to country - spending Christmas in a foreign land can be quite an interesting and perhaps quirky experience.

Here is how you say 'Merry Christmas' in a variety of different languages - handy if you're sending a Christmas card to someone who speaks a foreign language - or you just want to add something a little different to your Christmas greetings:
French: Joyeux Noel
Greek: Kala Christouyenna
German: Froehliche Weihnachten
Italian: Buon Natale
Norwegian and Danish: God Jul
Latin: Natale Hilare
Spanish: Feliz Navidad
Hindi: Bada Din Mubarak Ho
Russian: Srozdezhtovm Kristovim
Korean: Sung Tan Chuk Ha
Portuguese: Felix Natal
Tagalog: Malagayang Pasko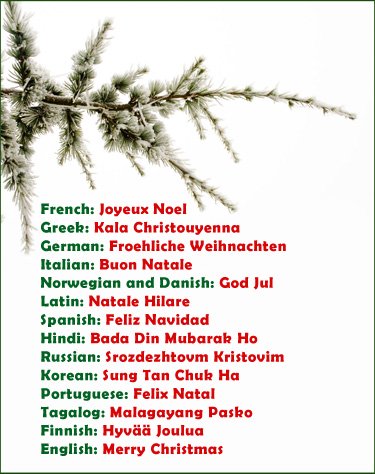 If you actually translate some of these greetings directly, you'll find they don't actually translate exactly to 'Merry Christmas.' This is the general meaning of all these phrases, but exact words differ a little depending on what each culture sees as the most important part of Christmas. In many countries, traditional images like the baby Jesus in his manger take centre stage over more recent developments like Santa Claus.

Other countries, such as Germany, include more emphasis on the few days surrounding Christmas and events like the coming of the Three Wise Men. (Germany also happens to be the country of origin for the decorated Christmas tree tradition that we all know and love today - the 'Tannenbaum' in German).

You'll notice many of the European versions above include a word similar to the Latin 'natalis', which means 'day of birth'.

If you're sending Christmas cards to friends overseas, or even if it's just in a neighboring country, take a moment to learn about the unique Christmas customs in their country and pick a card which shows you understand how they celebrate Christmas in their unique way.
Printable Christmas Cards - Probably the Easiest Way to Go Around the Card Thing!
Of course, one of the easiest ways to save money on Christmas cards is to find the templates you want online and simply print them out.

Most printers on the market today - even fairly cheap ones - are capable of producing high quality Christmas cards.

A good printer can even produce photo-quality glossy cards with the right ink and cardboard. Check out some popular printable Christmas cards.
The Meaning of Christmas and the Spirit of Forgiveness
As you can see, the meaning of Christmas is a little different depending on where you are in the world. But ultimately, most people agree Christmas is about togetherness (family), forgiveness and giving.

In many cultures Christmas is the one time during the year when you are almost sure to be with your family - if you have one. Otherwise being in the company of friends or simply other people in the same situation as you will work as well - it's all about togetherness in what is in effect the darkest time of the year.

Originally the celebration was for the return of the sun (solstice, from which the days get longer again) which is relevant in countries not too close to the Equator, but Christianity took over this celebration and since then the holiday traditionally celebrates the arrival of Jesus on Earth, which was the beginning of the story of mankind being forgiven for all wrong-doing.

This spirit of forgiveness is renewed every year at Christmas time for millions of people, whether they happen to be practicing Christians or not.

Togetherness (family), forgiveness, and giving - of course Christmas wouldn't be complete without giving. This holiday reminds us that the act of giving things away is more pleasant than receiving something, and reminds us that the true richness of life can only be felt when we stop trying to hold onto everything and learn to give what we value away.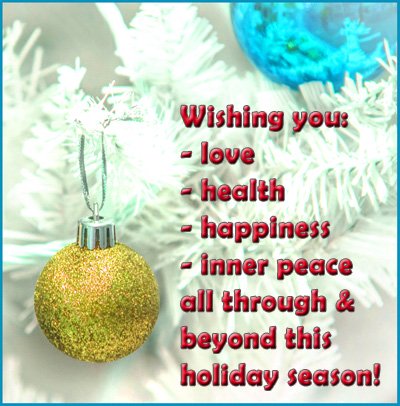 Good Christmas Sayings
Along with the typical Christmas greetings, there are many 'anonymous' Christmas sayings that have simply become part of the culture in many countries around the world. They aren't quotes, because nobody remembers who said them first!

Some of these are funny - some are a little cheeky - and some are a bit cynical and dark. 'May your Christmas be merry and bright,' is a good example of one of those things that people 'just say' to each other around Christmas time. We've collected a bunch of these Christmas sayings and provided a few interesting explanations of what they each mean.

If you're not a fan of taking Christmas too seriously, you'll probably prefer some humorous sayings. We've also put together a list of funny Christmas sayings which will be more to your liking.
Guidelines for Crafting Your Own Greetings
While this article provides you with plenty of ready-to-print greetings for Christmas, if you're feeling creative you can go ahead and write your own personalized greetings yourself. But where do you begin?

Here are a couple of general guidelines for writing Christmas greetings.
First of all, keep it light-hearted. Nobody wants to think about gloomy topics when they read a Christmas card.


Second, try to use words and topics that naturally relate to Christmas. If you think about it, this actually gives you a pretty wide scope for thinking of your own ideas. You have plenty of characters to choose from: Santa Claus, Frosty the Snowman, Rudolph the Red-nosed Reindeer and of course Jesus and other people from the Bible.


There are also lots of visual images that are often associated with Christmas: the green Christmas tree, Santa's red sleigh and clothes, white snowflakes, colorful gifts and much more.


Smells are another good one - everyone remembers the smell of a Christmas ham. Including some strong images and smells in your written Christmas card can add extra power to them.


Of course, the aim of your Christmas greetings should be to make the person reading them happier. Don't be afraid to use emotional words that relate to Christmas, like 'happiness,' 'joy,' and 'peace.' Remember also that Christmas is a time for giving without expecting anything in return - try to capture the essence of what Christmas means to you (and the person you're writing to) in a few words. 'Miracle' and 'wonder' are also good words to use. Christmas is about celebrating the miracle of life (as well as the birth of Jesus), so it's good to include something that relates to a sense of miracle and wonder in your greetings.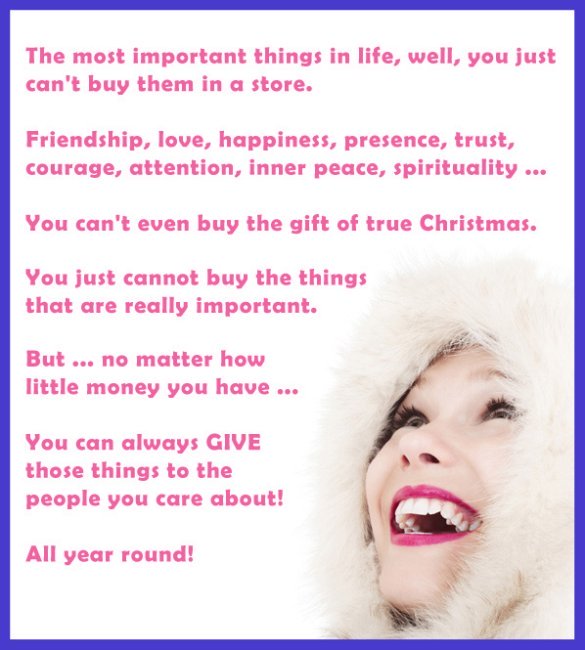 Collection of Great Christmas Quotes
When you're putting together your Christmas greeting cards for the year, a nice way to add a personal touch is to put one of your favorite Christmas quotes on them. You can even select specific quotes for a few special friends and relatives. Here are some great Christmas quotes that lend themselves well to cards.

He who has not Christmas in his heart will never find it under a tree.
~ Roy L. Smith ~

A good conscience is a continual Christmas.
~ Benjamin Franklin ~

Christmas is not a time nor a season, but a state of mind. To cherish peace and goodwill, to be plenteous in mercy, is to have the real spirit of Christmas.
~ Calvin Coolidge ~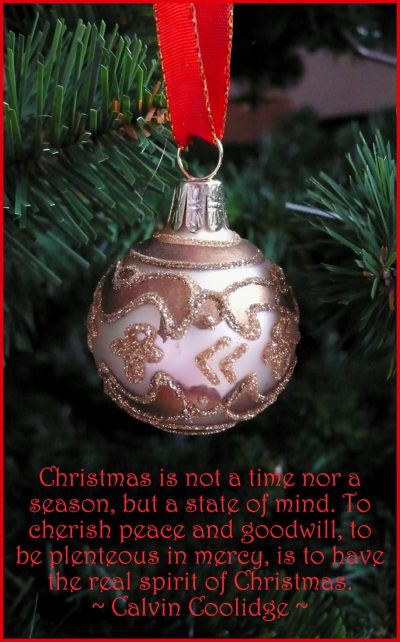 Christmas waves a magic wand over this world, and behold, everything is softer and more beautiful.
~ Norman Vincent Peale ~

And a few funny Christmas quotes:

May your Christmas be like Santa Claus - fat, jolly and generous.
~ Funny Christmas Sayings ~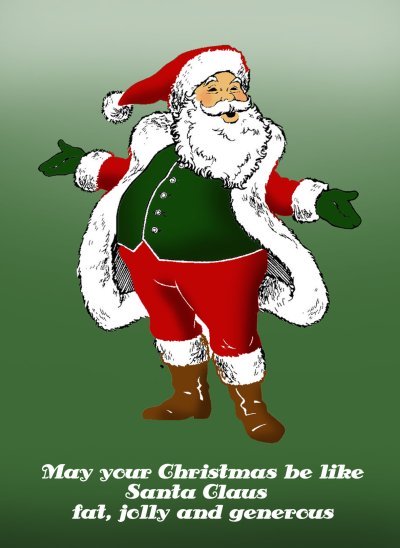 That's the true spirit of Christmas: people being helped by people other than me.
~ Jerry Seinfeld ~

Christmas: Several weeks of Hell for Christ's sake!
~ Funny Christmas Quotes & Sayings ~

Mail your packages early so the post office can lose them in time for Christmas.
~ Johnny Carson ~

You can find many more inspiring Christmas quotes here. If you're after more quotes of the Johnny Carson and Jerry Seinfeld variety, check out our list of heartwarming and funny Christmas quotes.

And of course, there are some gems of Christmas wisdom that shine brighter than all the rest. These perfect turns of phrase some up a fundamental truth about Christmas in a few carefully chosen words. These have their own page: read the best Christmas quotes here.
Sweet Christmas Poems
Another great way to spread your greetings for Christmas is through poetry. If you struggle to pull a rhyming couplet together and you don't know a stanza from a semicolon, never fear - there are plenty of people throughout the ages who have already penned some excellent Christmas time poetry.

Here are a few to get you started.

Wish you all a Merry Christmas.
May the Joys of the Season
Fill your heart with goodwill and cheer.
May the chimes of Christmas glory
Add up more shine and spread
Smiles across the miles,
Today & in the New Year.
~ Rosie Cash ~

Christmas gift suggestions:
To your enemy, forgiveness.
To an opponent, tolerance.
To a friend, your heart.
To a customer, service.
To all, charity.
To every child, a good example.
To yourself, respect.
~ Oren Arnold ~

You can find many more Christmas poems here. And, once again, if you have a humorous streak we have something for you - take a look at our assortment of the best funny Christmas poems.
New Generation Christmas Cards: eCards
The Internet has changed the way we all communicate, and Christmas time is no exception. Ecards are becoming extra popular these days - they're easy to set up and send, they're often free, and some of them allow you to add a bit of 'interactivity' to your cards. You can find all sorts of cards with different themes which include music, movement and even little storylines. Some of these cards can be customized so you can add in your own personal Christmas message.

The beauty of these eCards is that they can have a big impact (especially on younger people) even though they require a lot less effort to send than a traditional card. Your parents or grandparents may prefer a traditional physical printed card, but virtual cards are the way to go for anyone under 25 - especially if they're overseas and postage can take a long time.
External links to cool websites with pages relevant to this page
We have collected a few easy-to-use links on some of the subjects mentioned on this page:
- The greeting card industry as described at Encyclopedia.com.
- At the content-free encyclopedia Uncyclopedia (enter at your own risk!) you can read about Santa's tendency for home invasion and more: Santa Claus as well as their twisted ideas about Christmas.
- A short description at Reference.com of Christmas - and another one on the guy who later became Santa Claus - Saint Nicholas.
- At wisegeek.com they have taken the time to (briefly) explain what a professional greeting card writer does, and also, for the people with that kind of ambition, briefly explain: how you become a greeting card writer. A smidgeon weird, but hey, somebody's got to do it, and if that's what you want, don't hold back!
- Walt Whitman (1819-1892) once wrote a poem called 'A Christmas Greeting' which is supposed to be a classic, but you'll probably want to be real alert if you want to figure out what it's about. Infoplease.com presents the Walt Whitman Christmas poem here.
- Christmas, as described on the popular, sometimes funny Urban Dictionary.