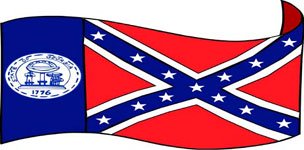 "Wisdom Justice Moderation" and ("Agriculture and Commerce")
There is not only one Georgia state motto, but two in fact - and that is a rare occurrence. One of the mottos is used more than the other.
The Georgia mottos were adopted as part of the state seal in 1799.
The reason for two state mottos is that the Great Seal has two sides: the front of the Seal with the three pillars of "Wisdom Justice Moderation" - the most popularly recognized Georgia motto - and the reverse of the seal "Agriculture and Commerce" - the somewhat less known and seen Georgia motto.
Georgia State Nicknames

Whereas the Georgia state motto is found in two versions, Georgia state nicknames are even more plentiful:

"Empire State of the South"
This Georgia state nickname reflects the high ambitions of Georgians to be the best in the southern states in terms of industrial and economic achievements.

"Yankee-land of the South"
Though it may be used to mock, this Georgia nickname is also a reference to industrial and economic achievements.

"The Peach State"
This nickname calls attention to the value of peaches in the Georgian economy.

"The Goober State"
'Goobers' is another name for peanuts, which is also a highly valued agricultural product.



"The Buzzard State"
'Buzzards' are scavengers that are protected by law in Georgia as they are considered an integral and important part of the ecological system.

"The Cracker State"
This is one of the old and somewhat outdated derogatory Georgia state nicknames referring to unwanted immigrants (Crackers) from the mountain regions of Virginia and North Carolina.
Georgia State Slogans
Whereas the Georgia state mottos intend to describe some important state values, state slogans will often focus on attracting tourists, and as you will see, some Georgia state slogans do it in a rather special, but funny way:
"Georgia on My Mind"
Is also the state song, written in 1930 and sung by Ray Charles who recorded it on his album in 1960.

"Georgia: We Put the "Fun" in Fundamentalist Extremism"
"Georgia: Without Atlanta, We're Alabama"
"Georgia: Squeeze My Peaches"

Some of these Georgia funny state slogans can be bought on t-shirts and stickers.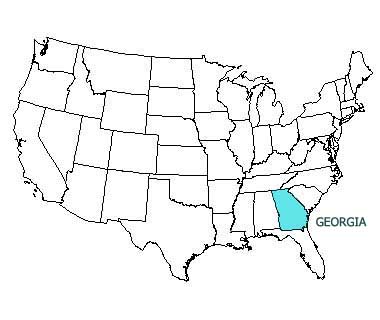 Where Would You Like to Go Next?
Perhaps to Funny State Slogans or the state motto, state nickname and state slogan of United States?
Or maybe Alabama, Alaska, Arizona, Arkansas, California, Colorado, Connecticut, Delaware, Florida, Hawaii, Idaho, Illinois, Indiana, Iowa, Kansas, Kentucky, Louisiana, Maine, Maryland, Massachusetts, Michigan, Minnesota, Mississippi, Missouri, Montana, Nebraska, Nevada, New Hampshire, New Jersey, New Mexico, New York, North Carolina, North Dakota, Ohio, Oklahoma, Oregon, Pennsylvania, Rhode Island, South Carolina, South Dakota, Tennessee, Texas, Utah, Vermont, Virginia, Washington, West Virginia, Wisconsin, and Wyoming.
Or perhaps you'd like to see the page State Mottos to find a complete list of mottos
Back to the top of this page about Georgia State Motto
Go to the Quotescoop.com Homepage