Hey men, are you bursting with romantic Valentines ideas? Are you ready to do something special for your honey on Valentine's Day? Yes? No?
Okay, so sometimes it is a tough call, because men just are not wired to know automatically the entire scope of all the possible Valentines Day ideas. But just relax - we have done all the footwork for you.
Once you read this page, you will have all the ideas you need to keep you in stock for years to come. Your sweetheart will think you are so creative and romantic for coming up with these cool Valentine ideas.
So get ready to skip the typical box of chocolates and flowers and woo her in a completely different way. Or keep the flowers but add some of all this ...
Valentine Box Ideas
And no, we are not talking about a box of chocolates, unless you want to fill some of the little chocolate spots with fine jewelry. Imagine her thrill if you present her with a wrapped box, complete with a big red bow on top, but what's in it is better than she expected.
Fill the box with something she will treasure. It might be a soft pair of slippers, a comfy nightie (maybe even one made of silk) and her favorite perfume.
Or go all 'bathroomy' on her and get her a fluffy bathrobe an extra big and thick bathtowel, seven different kinds of soap, shampoo and other assorted nick-nacks that the ladies in the store can help you select.
Other ideas for the box are to create a box filled with little gifts, all wrapped of course.
Imagine her delight when she opens it to find several little boxes, filled with jewelry, chocolates (okay, we will allow it if it is with other things), and other stuff that your lady likes - only you know exactly what that is.
If you don't, then ask one of her (girl)friends.

Personalized Valentines Day Gifts
The whole purpose of coming up with new Valentine's Day ideas is to make an impression on your lady. So, try to tailor the gift to her personality, or to her hobby or passion. This is where you have to put on your thinking cap, but you do not have to give the same ole same ole. Be unique and make it a day that is memorable for her.
For example, if she is into working on the computer, give her some new software or hardware - if she's REALLY into tech she may find that even more romantic than the romantic Valentine flowers that you're ALSO gifting her with.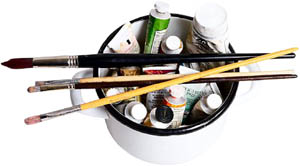 If she is an artist, give her new artist tools (paintbrushes, pencils, sculpting blades, etc.).
Whatever she's into, get help from an expert in the field (there's likely to be an expert in the store where you buy your Valentines gifts) to pick some choice items - and then add the Valentine roses.
You get the point; customize the gift to be something she would love because it would be unique to her.
More Valentine Craft Ideas
Most women are highly sentimental (romantic); did you know that? If you bought materials and actually found some Valentine's Day ideas to make a craft for her, well, that would just make her (Valentine's) day.
Is there anything crafty you know how to do? Some crafts have instructions. When people take the time actually to make a gift, it makes it all the more special for the recipient. Unless she is so materialistic that she can only be satisfied with jewelry, try crafting a gift together.
On the other hand, is she a crafter? For example, is she a quilter? Give her the supplies to create something. A quilter would love the materials to create a quilt. Give her something that is themed towards Valentine's Day. Another advantage of Valentine craft ideas is that they're usually quite cheap for you.

Cheap Valentines Ideas
It is okay if you are not as wealthy as Donald Trump. Just because you cannot buy a three-carat diamond ring with matching earrings and necklace does not mean you love your sweetie any less, it simply means you're going to get more creative.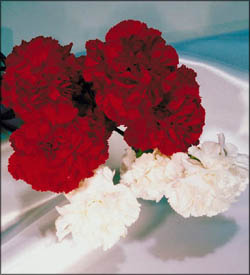 Even guys who are strapped for cash can come up with some neat Valentines Day ideas without breaking the bank.

Silk flowers are less expensive than real ones. Go to a craft shop and put together a dozen roses in a nice inexpensive vase.

Tell her you wanted her to have these forever, so that when she sees them she will think of you. That gift will put a smile on her face.

Ask the sales people for help on choosing ribbon and greenery to make the vase of "roses" look nice. Even baby's breath comes in silk too!
Or, you could go with completely homemade Valentine gifts. The Internet is your friend in this. Online you can find instructions on how to make highly creative homemade Valentine cards, do paper origami, and even (provided you're in really good time) use cheap seeds to grow your own romantic flowers to use as very personal Valentines gifts for her.

Imagine when you tell your girl that you spent many weeks growing those flowers, just for her!

Valentine Party Ideas
Throwing a Valentine's party isn't cheap, but it would be fun for both you and your sweetie. Invite other couples and make it a romantic party. Serve a nice dinner, by candlelight, of course. You can cook it or have it catered.
Decorate with flowers and have plenty of chocolates out in candy dishes. Set the atmosphere simply to exude romance. Not only will your lady be thrilled, the other ladies will too and you will be doing your guy pals a big favor by setting the mood for them.
Or get some chick flicks and have a movie marathon after the romantic dinner. As Valentine idea goes this is a fairly easy one - if you can stand all the movie romance! If you can do it your ladylove will likely reward you well for this.
Enlist the help of your guy friends to throw a cool Valentine's Day party. You can then pool your resources, not only in terms of Valentine party ideas, but also in terms of work to be done and last but not least: money.

Valentine Gift Ideas out of the Box
Who said Valentine gifts have to be all wrapped in a box, or in a gift bag? Why not give her 'something to do'? Women love to enjoy activities, particularly if they are with their man.
Travel a little ways (everyone loves road trips!) and visit a historical spot, having dinner once you arrive.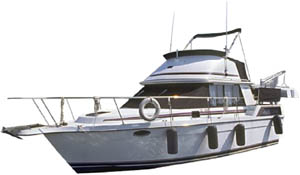 If you live near a river, lake or the ocean then take your girl on a romantic dinner on a steamboat or cruise ship. If you are in a warmer climate, take her to an amusement park. Take her to a museum - or take her dancing - or both.
Movies are good, but not good enough for Valentine's Day, so try to think of an activity that you two normally do not do. You could even go skydiving - or not - just pick something different. Go on an adventure with her! She may just love that.

Unique Ideas - Love Coupons
This idea may seem a little cheesy, but we think she will really think this is cute. Do you remember the little boxed Valentines that children buy to give to their classmates? Yeah, those.
So, how's this: Buy a small box, and make sure you have the ones with envelopes. Fill out each one for her. Add a coupon she can redeem with each one. YOU create the coupons though; make for all sorts of interesting things.
For example, one can be a dinner out at her favorite restaurant. One can be for a "day off" from household duties (and you need to step up and do the duties.) Another can be an hour of massage - either performed by a pro ... or by you.
You can also add gift cards and such to the others, but be inventive with what you can come up with to please her. Then place all in a huge envelope and address to her.

A Photo Session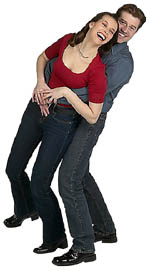 This gift requires a little thought and planning. Set up a photography session, and have her dress up (you too!) Have your portraits made, as a couple.

Have the photographer to shoot poses of the two of you, being loving, and being sexy. You could even say it is her gift to you.
We can't guarantee she will love this, but it's not unlikely because she will see how important it is to you to have portraits of the two of you together.

If you are so inclined, and she is willing, have her photographed in her sexy lingerie (or even without it). This will make her feel sexy, pretty, and desired and most of all loved. Or YOU could pose in very little clothes - or in your birthday suit.
Later you can secretly proceed to have the best picture framed and give it to her - or you can surprise her by having one made into a custom puzzle that the two of you can put together.

The Chinese Boxes
If you insist on giving an expensive piece of jewelry, give her something apparently huge ... instead of just wrapping the little jewelry box, try wrapping in progressively bigger boxes, one inside the other.
So she starts with a huge box, she will have no clue what it is. She will be delighted to unwrap all the way down to the small jewelry box.
Other ideas for jewelry, wrap them in a real musical jewelry box. Or put the jewelry on a teddy bear.

A friend gave his wife a tennis bracelet, with diamonds, but the bracelet was on the arm of a huge teddy bear. It was a good gift, and the reward afterward was even better!

Use the Important Dates
Come on, you know you can be creative when you want to be especially if it is for her. For instance, create a gift that signifies the day you met.
Are you handy with wood? Create a handmade jewelry box, and carve your names and the date you met into the lid.

Or find one of the first photos of the two of you, and put it in a sterling silver frame and have the date you met engraved. That would also make a great anniversary gift as well as a good Valentine's Day gift.
Believe us, she remembers that day and showing that you also remember that day will mean so much to her - making it one of the highly appreciated Valentines ideas.

More Homemade Valentine Ideas
Yeah, we keep circling around to the handmade ideas, but these truly make an impact with her because they show her that you're willing to do something special yourself and not just spend money to buy her some common Valentines Day gifts.
How about making her a dinner, that you cook, make dessert too. Then, after dessert, you present her with something you made, some handcrafted Valentines gifts that you created.
Put together a shadow box, signifying your love. Find shadow box supplies at any craft shop. Put some thought into the creation and pick things that signify you two as a couple. You can also enlist the help of the people in the craft shop - after all it's their business to help people like you out.
Whatever kind of homemade valentine ideas you come up with it is likely to be something she will treasure forever, simply because you created it for her.

A Special Pampering Weekend
You do not have to be the world's best with your hands to come up with some creative Valentines Day ideas.
Being creative sometimes means you are thinking outside the box. Like this entire page is talking about ideas other than the expected flowers, chocolates and even jewelry or in finding a way to put a new twist on it.
For instance, plan an entire weekend, giving her all of her favorite things, and doing her favorite activities. Go some place you know she loves. Have her favorite wine chilling. Have her favorite chocolates waiting on her pillow. Give her an outfit by her favorite designer, in her favorite color.
In other words, pamper her.

Valentine Card Ideas
Sure, it is super-easy to go to the store and buy a ready-made greeting card. You can probably find one that even says exactly what you want it to say. So that's effortless ... which just goes to show that it's too easy! Women love cards, yes, but they would love one that was created just for them even more.
Get some construction paper and colored envelopes and make one. Think back to your days in school, when you cut, pasted, colored, and get creative for your lady.
Or, you can find printable Valentine Cards online and edit them yourself on your computer to make sure they say exactly what you want them to say. Be sure to include your lady's name on the homemade Valentines Card.
Come up with a card that is straight from your heart to hers. If you dare write it in your hand (you could even take calligraphy lessons), drawn by your hand, it will be so special to her. Promise!

Conclusion: Make Her Valentine's Day One to Remember
Do you see how easy it is to come up with some unique ideas for Valentine? It just makes it more special if you think with your heart and give a gift that obviously required some thought and effort. She will eat that right up, and will be so appreciative.
You may very well start a (reciprocal) tradition of thinking out of the box when it comes to Valentines gifts for your lover. You may inspire her to be as creative with you.
Just think of the fun you will have when you come up with those creative Valentines ideas and exchange these kinds of inventive gifts each time.
The most important thing - and the whole point of Valentine's Day - is to keep the day special by expressing your love.