• Search among all these wonderful free Valentine pictures and find the perfect one for your sweetheart.

• Curious about which artistic style you prefer? No need to worry! We are here to help you. Here we also have a short guide that gives you an overview of the most popular styles in Valentines cards.
• If you're just in search of some sweet Valentines Day poems to put on your own Valentine card, you can get lots and lots of inspiration from many of the poems on the cards in the beautiful Valentine cards gallery further down this page.


---
The Valentines Day Cards Guide - A Guide to the Different Styles
As you may have already found out, navigating the jungle of Valentine cards may be overwhelming, especially if you're not quite sure what it is you want to find - what kind of artistic style that would fire up your sweethearts flame?
So here is an overview or a guide to some of the most typical artistic styles of Valentine cards.


---
Antique Valentines Day Pictures with Real Lace
From around 1850.

Around this time Valentines started to become really popular as technological advances pushed Valentines into mass production.
This type Valentine card was one the earliest types made popular and os characterized by real creative craftsmanship with lots of neat lace, ribbons and paper cuttings decoratively glued onto the card.
This makes the Valentine card not only nice to look at but also special to touch as the relief surface naturally goes up and down when you slide your finger across it.


---
Beautiful Old Valentine Photos
Photographic Valentines Day cards were quite popular in the beginning of the 1900s, starting with the late Victorian Era.
These types of Valentines are typically held in the old style brownish colors with small specks of sharp colors here and there that make nice decorative contrasts.
These Valentine pictures would typically either just feature a pretty woman holding on to popular Valentine symbols like a heart or roses (like in the photo to the right) or sometimes they would show a couple in love hugging or otherwise showing each other affection.



---
Vintage Cards with Valentines Poems
Many of the old Valentines cards from the early 1900s are often very colorful, decorative and artistic.
The beautiful drawing or painting to the right is typical in the sense that it features a heart in which we see a woman's head. You will find many portraits of women inside hearts when you search for Valentines cards.
This type of Valentine pictures will often be further decorated with a small Valentine poem that is supposed to tell the woman of a man's affectionate feelings.
'To my Sweetheart'

'I feel so happy when I think of you
Let's be one instead of two.'
(Yes, around that time it were only men that sent Valentines - for a woman to do it would be quite socially unacceptable. Funny enough, statistics say that today woman tend to send more Valentines than men. Interesting development, right!).


---
---
Valentines Cards with a Cute Little Cupid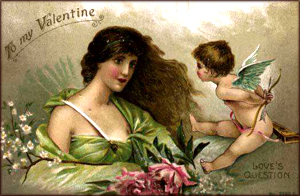 Yes, Cupid with his bow and arrow is also to find on many, many Valentines Day cards. Cupid is the god of passionate love and thus fits perfectly into the love theme Valentine's Day.
Most often on Valentine cards you will find the sweet the little cupid angel aiming at the woman or the little girl.
In this way Cupid is often indirectly portrayed as the man's or the little boy's helper. Because if the woman or girl get hit by one of Cupid's arrows, she will be filled with limitless love and passion.
What every man dreams of, I guess! :-)


---
Homemade Printable Valentines from Photos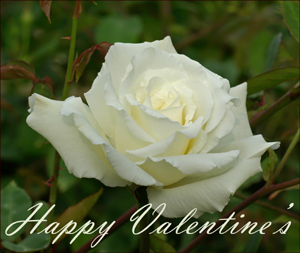 With the all the electronic technologies available to us today, many people make their own homemade printable Valentine cards. You can too. E.g. photos of flowers, sunsets or hearts will work wonderfully on e.g. printable Valentine cards.
As an example we have made the one above. We have found ourselves a photo of a white rose that is in public domain (no copyright) and have written Happy Valentine's on it in Photoshop.
Simple, neat and quite a nice result, don't you think!
If you don't feel like making one yourself you're more than welcome to use one of the Valentine pictures you see on this page and our other Valentines Day pictures pages (they are not to be used commercially, though, thank you).


---
The Beautiful Gallery of Valentine Pictures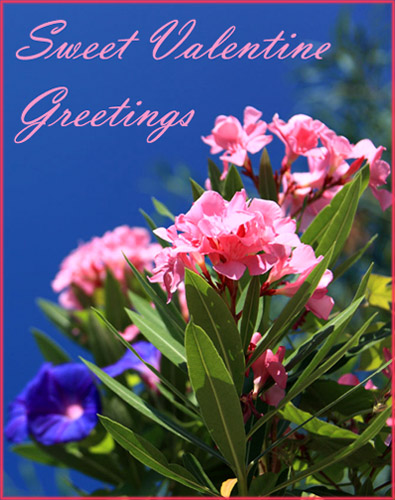 Modern Valentine Card with Short Valentine greetings
Beautiful photo taken of pink and blue flowers with a stark blue sky in the background.

'Sweet Valentine Greetings'
---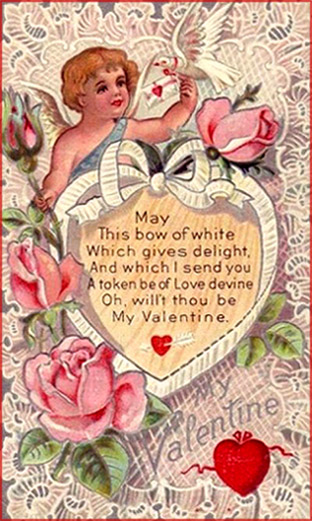 Vintage Valentines Day Card and Rhyming Valentines Day Poems
Drawing of cute little cupid with a white dove on his left hand which is carrying Valentine greeting. A heart made a white ribbon, pink roses and red hearts.

'May this bow of white
Which gives delight
And which I send you
A token be of love devine
Oh, will't thou be
My Valentine'
---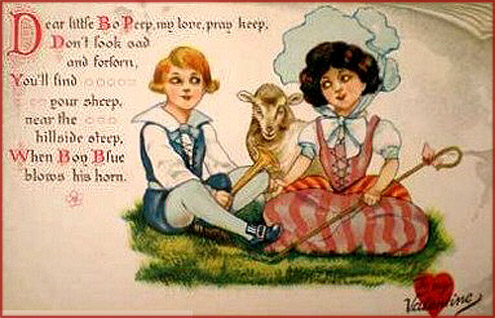 Vintage Valentine Picture and Cute Love Poems for Valentines Day
Old drawing of female shepherd sitting next to a boy with a golden horn.

'Dear little Bo Peep, my love, pray keep
Don't look sad and forlorn,
You'll find your sheep,
Near the hillside steep,
When Bon Blue blows his horn. '
---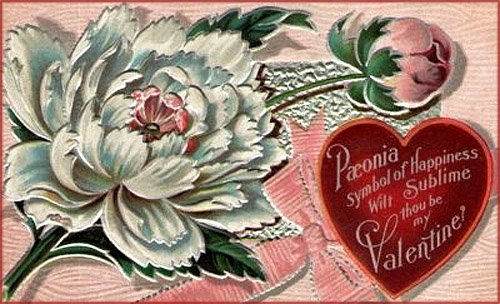 Free Valentines Day Pictures and Short Valentines Day Poems
Vintage drawing of white flower, a pink bow and a red heart with a Valentine greeting.

'Paeonia
Symbol of happiness
Wilt sublime
Thou be my Valentine?'
---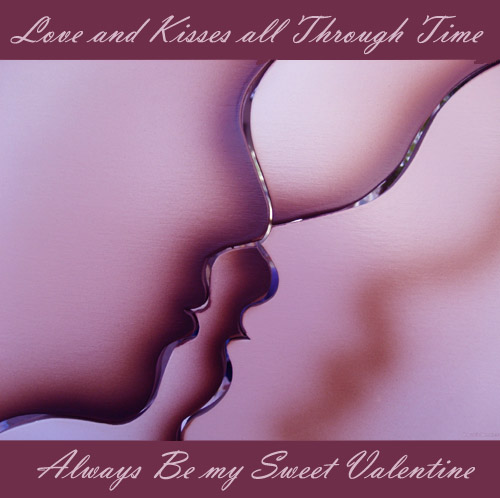 Modern Valentine Card and Love Poems for Valentines Day
Photo of two faces in silhouette that are just about to kiss each other.

'Love and kisses all through time
Always be my Sweet Valentine'
---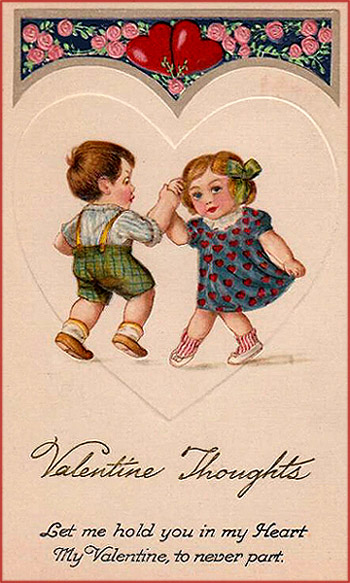 Free Valentine Pictures and Short Rhyming Valentines Day Poems
Cute Vintage Valentine card of two children dancing inside a white heart. At the top there are lots of pink roses and two red hearts.

'Valentine Thoughts'

'Let me hold you in my heart
My Valentine, to never part.'
---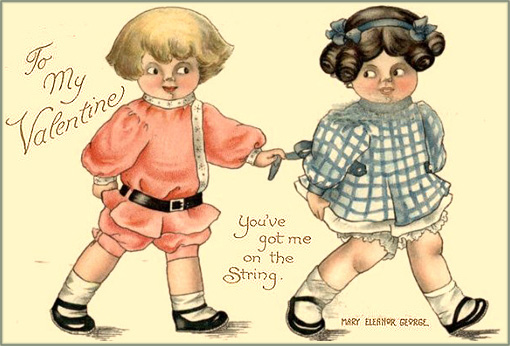 Vintage Valentines Day Pictures and Valentine Thoughts
Old vintage drawing of little boy holding on to a little girl via a blue ribbon on her dress.

'To my Valentine'

'You've got me on the String'
---
Old Valentine Cards and Cute Valentine Greetings
Vintage Valentine of butterfly shaped as woman in black dress and beautiful yellow wings. Two red hearts with Valentine greetings.

'Just a butterfly?
Fly my way, Valentine!'
---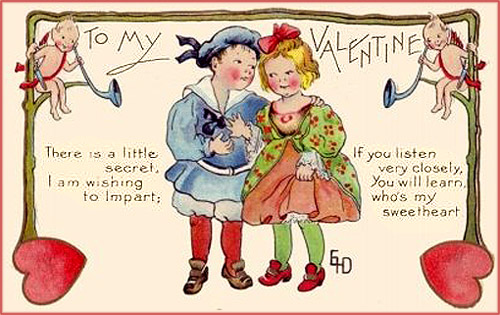 Cute Valentines Day Pictures and Sweet Rhyming Valentines Day Poems
Old vintage Valentine card with a boy in blue seaman's costume and little girl in green and red dress. The boy is whispering his Valentine greeting to the girl while two cupids are sitting on tree branches listening in.

'To my Valentine'

'There is a little secret
I am wishing to impart;
If you listen very closely
You will learn who's my sweetheart'
---
Modern Printable Valentines and Short Love Poems for Valentines Day
Simple sharp photo of heart drawn in the sand.

'My heart for you
My Valentine true'
---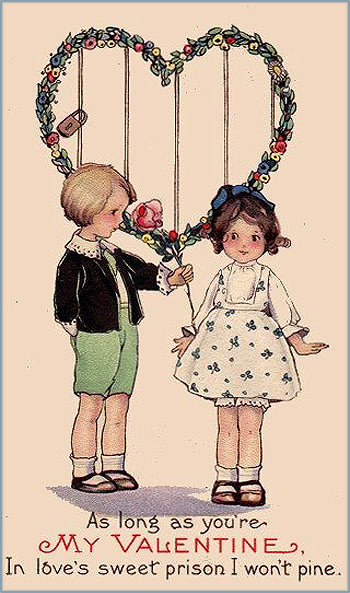 Free Valentine Printables and Lovely Valentines Day Poems
Vintage Valentine card of little boy in green shorts handing a girl in a white dress a pink rose for Valentine. In the background there are prison bars with lock framed by a band of flowers shaped as a heart.

'As long as you're my Valentine
In love's sweet prison I won't pine.'
---
Vintage Valentines Day Pictures and Valentine Thoughts
Old drawing of a little cupid sitting all alone in the forest waiting for a couple in love to come by.

'When shall we three meet again?'
---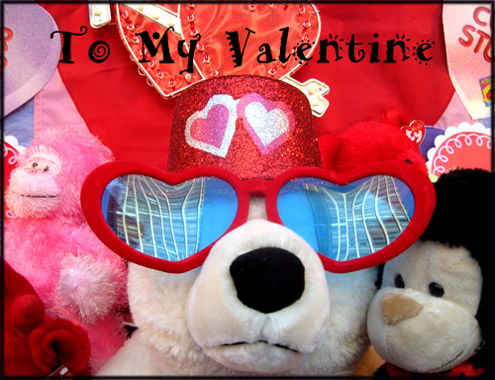 Funny Valentines Cards and Valentine Greetings
Funny photo of teddy bear with heart shaped glasses and a party hat with two hearts on.

'To my Valentine'
---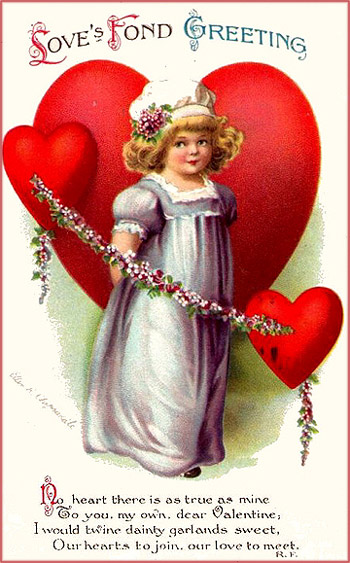 Rhyming Valentines Day Poems to Use in Your Valentine Cards
Sweet vintage drawing of a little girl in a light purple dress standing before a big red heart and behind a garland of flowers held up by two smaller red hearts.

'Love's Fond Greeting'

'No heart there is as true as mine
To you, my own, dear Valentine,
I would twine dainty garlands sweet,
Our hearts to join, our love to meet'
---
Wonderful Free Valentines Day Picture and Good Valentines Day Poems for Valentines Cards
Vintage Valentine card of a little messenger girl in pink dress handing over a Valentine card along with a big bouquet of pink roses and blue flowers.

'To my Valentine'

'Close the thee my life has grown,
I am thine and thine alone'
---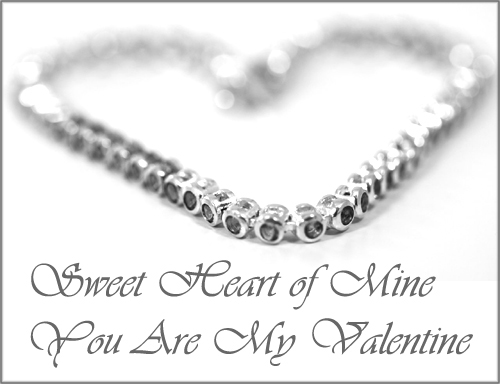 Modern Printable Valentines and Short Love Poems for Valentines Day
Photo of silver necklace shaped as a heart.

'Sweet heart of mine
You are my Valentine'
---
Old Valentine Cards and Valentine Greetings
Old black and white photo of man kissing a woman's forehead made into a beautiful Valentines Day card.

'Happy Valentine's'
---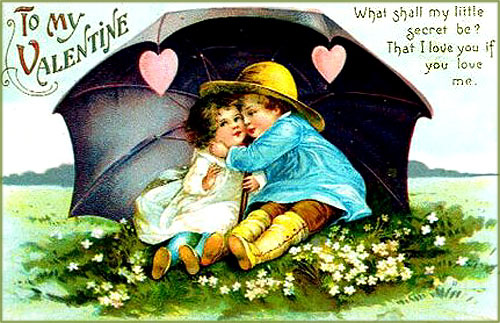 Cute Free Valentine Pictures and Lovely Valentines Day Poems
Sweet vintage Valentine card of two children sitting under a big dark umbrella with two pink hearts. The boy is leaning over to give the girl a little kiss.

'To my Valentine'

'What shall my little secret be?
That I love you if you love me.'
---
Free Vintage Valentines Day Picture and Valentine Greetings
Old drawing of two girls in dresses feeding a white pigeon.

'To my Valentine'
---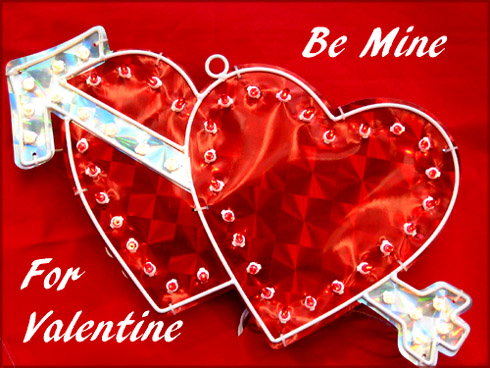 Free Printable Valentines and Short Love Poems for Valentines Day
Modern photo of two hearts pierced by one of Cupid's white arrows. In reality the hearts are probably a funky handbag. :-)

'Be mine
For Valentine'
---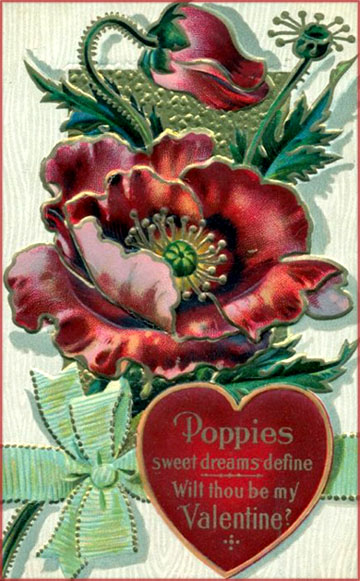 Free Valentine Card and Sweet Valentines Poems
Old drawing of red poppies and a green ribbon for decoration. Also adorned with a dark red heart with a sweet valentine greeting.

'Poppies
Sweet dreams define
Wilt thou be my Valentine?'
---
Old Wartime Valentines Cards and Love Poems for Valentines Day
Old Vintage Valentine Card probably from the American Civil War. A little boy in a red war uniform leading a long line of Valentines Day cards.

'To my Love'

'O' war is very dreadful.
There is no doubt about it;
But I shall fight to win your heart -
I can not live without it.'
---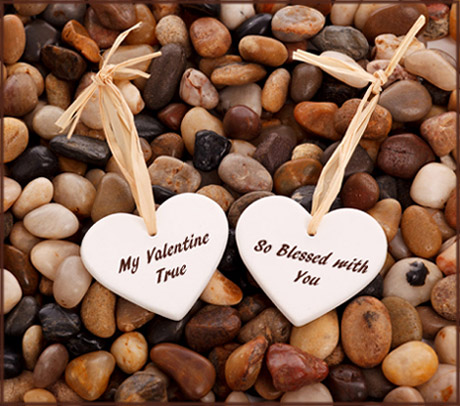 Free Printable Valentines Greetings and Short Valentines Day Poems
Lovely photo of two white hearts lying on lots of differently colored stones.

'My Valentine true'
So blessed with you
---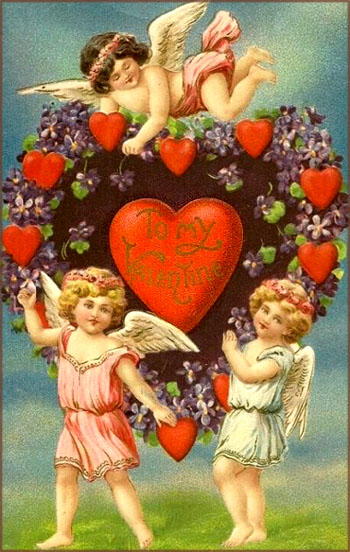 Free Valentines Day Cards and Valentine Greetings
Wonderful vintage Valentine card of three little angels and a big red heart, lots of small red hearts and purple flowers.

'To my Valentine'