• Find your free Valentine cards here in this big and varied gallery of beautiful Valentine day cards.

• Get lots of inspiring, sweet and romantic Valentine poetry you can use in your Valentines cards for that special someone.
• Also read short resume about the fascinating history of sending Valentines Day cards. A tradition that is much older than you might think.


---
How the Tradition of Valentine Greetings Began
The tradition of letting your beloved know that she (yes, originally Valentines cards were made by men) was in your heart and you mind goes back more than just a couple of hundred years. In fact we have to embark on a long journey through time all the back to the Middle Ages.


---
The Middle Ages: Planting the Seed of Valentines
The Middle Ages make out the first tender years of Valentine greetings.
Here Valentines were slowly being established as an oral tradition between intimate partners. Lovers would either sing or say their Valentine blessings out loud to each other as a token of their love.


---
After 1400: The Rise of the First Written Valentines
The first written Valentine is believed to have been made by the Duke of Orleans, Charles, back in 1415. Being held imprisoned in the Tower of London he spent some of his time writing a Valentine poem to his wife.


---
After 1500: The Birth of Valentines on Paper
After the 1500s the Europeans slowly began adopting the tradition of sending the person they fancied a written Valentine Card on paper. Particularly the British seemed to be very quick to take this new trend of written Valentine in stead of having to sing out their love.
Really, that must have been quite a relief for those who were tone deaf :-)


---
After 1600: Written Valentines are Widespread in Europe
---
After 1723: Valentines See the Light of Day in America
Now that America was catching up with the European Valentine's tradition, "writers" were being made en masse and shipped over to the enthusiastic Americans.
"Writers" are not persons who write but small books of Valentine poetry compilations.
In this book men could find inspiration and suitable Valentine poems and messages to write in their love letter and practically enough, women could find proper answers to their wooer.
Clever isn't it!

---
After 1840-1850: The Mass Production Era of Valentine's Cards Kicks in
Due to the fast technological advancements in the second half 1800s, Valentine's cards were now being mass produced and made available for all social classes.
The mass distribution of the popular Valentines was also aided by the fact that it had become much cheaper to send a Valentine greeting.
So now things were really easy!
Not only did you not have to be born in high society, you could also be as tone deaf as a earthworm in mating season while at the same time be a complete dyslectic as many of the Valentine cards had pre-published Valentine poems written on them.
Ah, sweet, easy life! :-)


---
Today: Valentine's Day Cards Are as Popular as Ever
Here are some interesting numbers to show you just how popular Valentine Cards or Valentine pictures have become.
The Greeting Card Association claims that each year one billion love stricken people send out a Valentine to the person of their dreams.
This number is only beaten by Christmas cards. But it is also beaten by far! It is estimated that during Christmas, 2.6 billion Christmas cards are sent out, wow!
Also according to Wikipedia the Internet is now pulling some of the weigh of sending Valentine cards. In 2010 it is believed that about 15 million e-valentines were sent to lucky love receivers.
And interestingly enough today most Valentine Day cards are being sent by women (85%).
Times sure have changed!
This was a quick resume of the history of Valentine greetings, now we will leave the scene for some wonderful free Valentine cards and Valentine poetry - some of these are also high a quality that they are suitable as Printable Valentine Cards.
Please note however, that while we wish for you to enjoy using these Valentines Pictures for your own private purposes, they are not to be used commercially. Thank you for understanding.


---
The Gallery of Free Cards and Sweet Valentine Poetry
Free Printable Valentine Greeting Cards with Short Valentine Poetry
Sharp, clear photo of a heart shaped stone in the color of amber, orange / brown.

'My heart for you,
My Valentine true'
---
Free Valentine Greeting in Art Nouveau Style
Old drawing of a woman in a big blue dress with decorative pink flowers and a big hat with a pink ribbon. The woman is standing on a green lawn among birch trees holding up a small blackboard with a simple stick figure drawn on it.

'Valentine Greetings'

'Be Mine'
---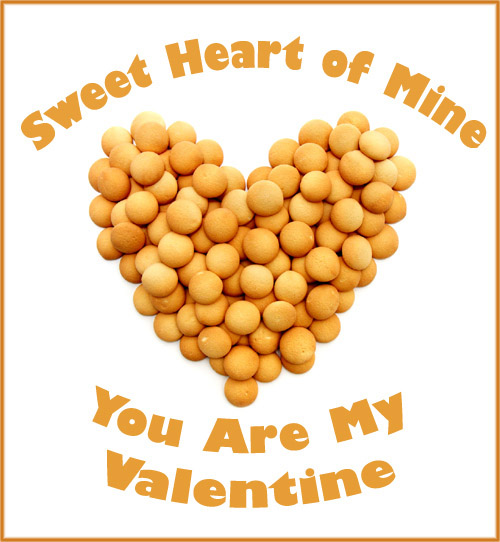 Modern Valentine Day Cards and Sweet Valentine Poems
Unusual photo of a heart created by small biscuits on a simple white background

'Sweet heart of mine,
You are my Valentine'
---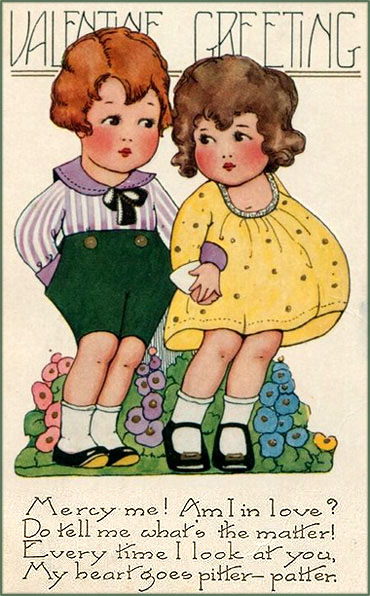 Free Valentine's in Vintage Style and Lovely Valentine Poetry
Sweet old drawing of little boy in green shorts and little girl in yellow dress looking at each other and holding each others' arms.

'Valentine Greeting'

'Mercy me! Am I in love?
Do tell me what's the matter!
Every time I look at you,
My heart goes pitter-patter'
---
Vintage Valentine Day Cards and Inspirational Valentine Thoughts
Colorful drawing of two brown sparrows flirting among lots of pink and purple flowers and pink hearts.

'My heart's gift,
with true love'
---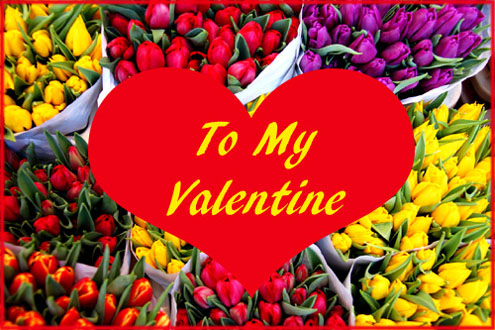 Neat photo of lots of colorful tulips already arranged in big bouquets. There are yellow tulips, red tulips and purple tulips. In front of these is a big red heart with a Valentine love message

'To my Valentine'
---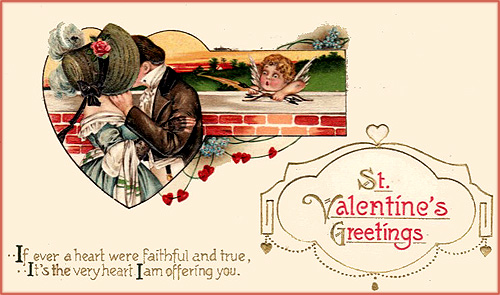 Free Valentines Pictures and Romantic Valentine Poetry for Your Love Letter
Old vintage Valentine card featuring a man kissing a woman and a small cupid with wings, bow and arrow looking at the scene behind a red brick wall.

'St. Valentine's Greetings'

'If ever a heart were faithful and true,
It's the very heart I am offering you.'
---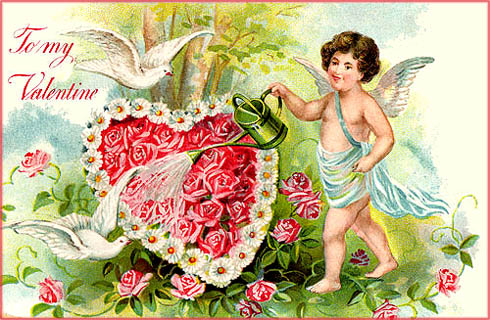 Free Valentine Card in Vintage Style with Thoughtful Valentine Greetings
A forest or garden scene with a dark haired cupid with a green pitcher watering a heart consisting of red roses in the middle surrounded by white marguerites. On the Valentine picture you can also see two decorative white doves.

'To my Valentine'
---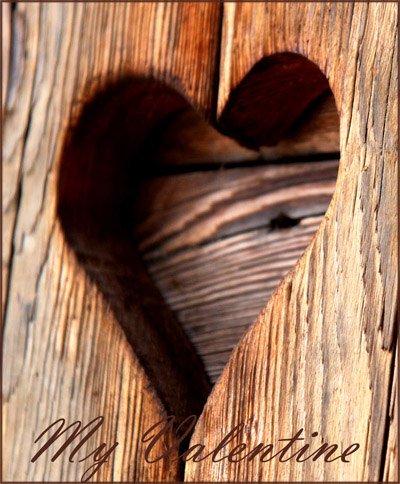 Modern photo of a heart cut into two wooden boards, probably on a door.

'My Valentine'
---
Old Valentine Day Card
Very old drawing of little boy sitting in a Ferris wheel winking at the reader. The little boy holds his arm around a scared looking little girl comforting her.
---
Free Valentine Greeting with Cute, Rhyming Valentine Poetry
Beautiful Valentine picture of a little boy with a painting brush in one hand and a painting palette in the other hand.

'With Love's Greeting'

'In this small sign I find a way,
To greet my Valentine to-day'
---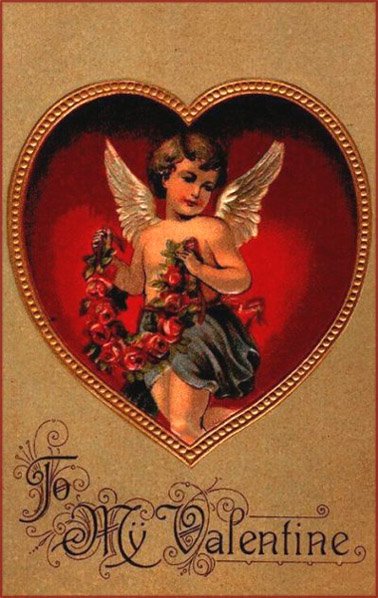 Very old Valentine card featuring a love cupid inside a red heart with a string of red roses in his hands.

'To my Valentine'
---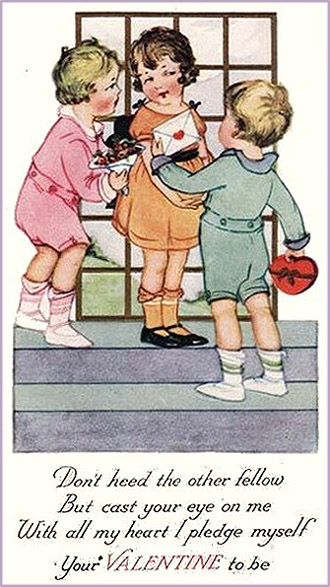 Rhyming Valentine Poetry for Inspiration to Love Letters
Old vintage drawing of little girl and two small boys. One boy in blue offers her a love letter and a red heart. The other one in pink offers her a bouquet of flowers. Lucky girl!

'Don't heed the other fellow
But cast your eye on me.
With all my heart I pledge myself
Your Valentine to be.'
---
Valentine picture of little boy in green holding his hat in one hand and a bouquet of three pink roses in the other.

'Here's to those who'd love us
- If we only cared.
Here's to those that we'd love
- If we only dared.'
---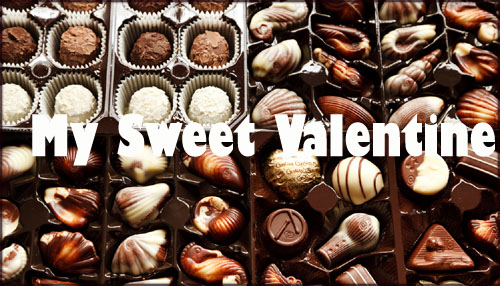 Modern close-up photo of the insides of a big box of chocolate. Lots of decorative chocolates in different shapes and in both brown and white.

'My Sweet Valentine'
---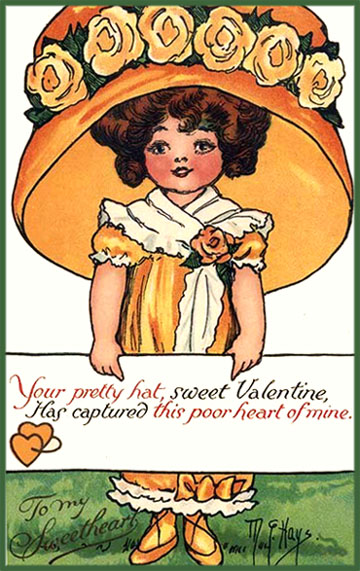 Cute Vintage Valentine Day Card to Print with Romantic Valentine Poetry
Colorful old drawing of a little girl or a young woman all in yellow / orange costume. She is wearing an orange dress with an orange rose and big bell shaped hat with lots of yellow roses.

'Your pretty hat, sweet Valentine,
Has captured this poor heart of mine.'
---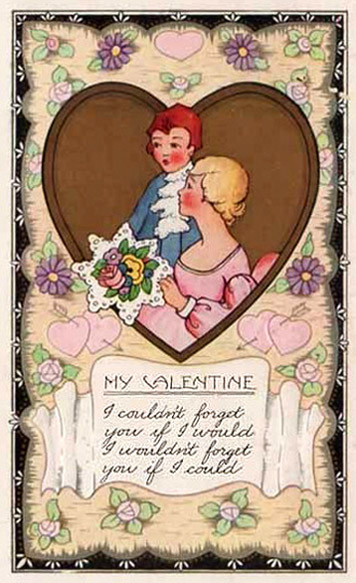 Valentine Poetry and card from the Colonial Period
Drawing of man in blue and a woman in pink dress and a pretty bouquet of different flowers. Both are sitting inside a brown heart.

'My Valentine'

'I couldn't forget if I would,
I wouldn't forget you if I could.'
---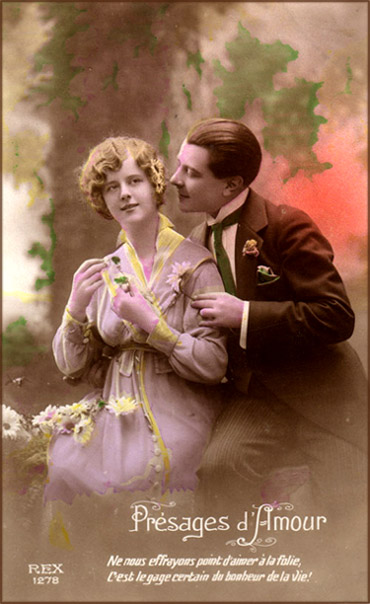 Old Valentine Photograph and Valentine Poem in French
Old brown photo with a few decorative specks of color here and there. The motive is a man leaning over a woman as if he intends to kiss her. The woman is holding a flower in her hand.

'Prédages d'Amour'

'Ne nous effrayons point d'aimer à la folie,
C'est le gage certain du bonheur de la vie!'
---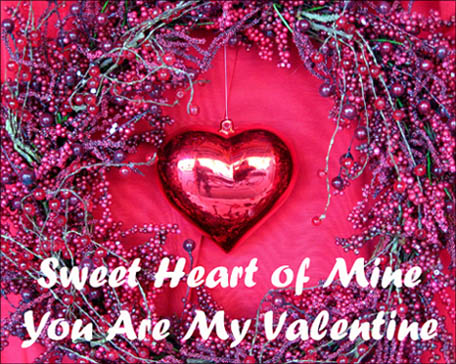 Photo of a red shiny heart in a string on a pink background and a garland of purple and pink pearls.

'Sweet heart of mine,
You are my Valentine'
---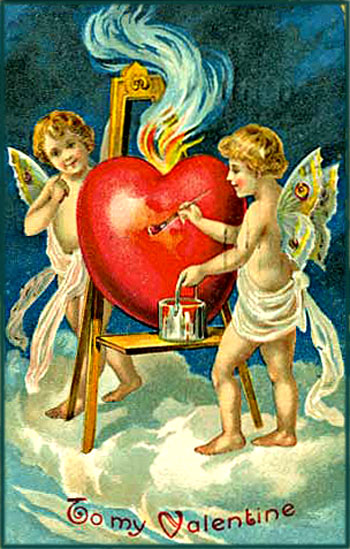 Old painted Valentine picture two cupids with butterfly wings standing on a cloud. The cupids are busy painting a red heart that is on fire.

'To my Valentine'
---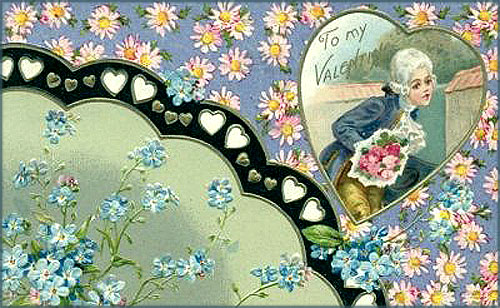 Old Valentines Pictures
Very old Valentine card featuring a young man with a bouquet of pink flowers.

'To my Valentine'
---
Free Valentine Day Card to Print and Valentine Poetry to Inspire
Vintage Valentine image with two cute cupids hugging in a big bouquet of purple flowers.

'To my Valentine'

'Ah, 'twould be the bliss of blisses
If I might greet my love with kisses.'
---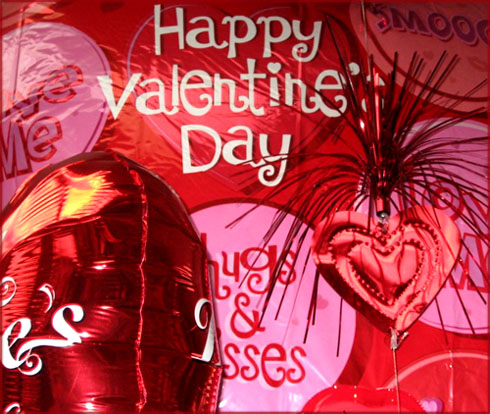 Modern Valentines Pictures with Happy Valentine's Greeting
Photo of red balloon with other Valentine decorations.

'Happy Valentine's Day'
---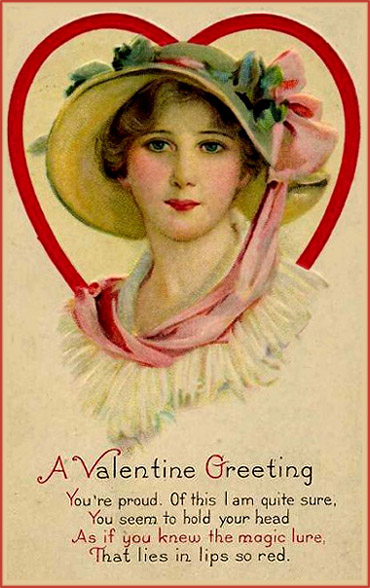 Vintage Valentine Day Card with Sweet Valentine Poems to Include in Your Love Letter
Detailed portrait of a young woman with a hat and a pink ribbon. She is framed by a red heart.

'A Valentine Greeting'

'You're proud. Of this I am quite sure.
You seem to hold you head
As if you knew the magic lure,
That lies in lips so red.'