• Funny Christmas cards, fun Xmas greetings and cute vintage Christmas postcards
• All cards on this page are bigger than they appear on the page
• And these are all free and eminently printable greeting cards
• ... So get your Christmas greeting cards here ...
• ... Just save one, edit it on your PC (or not), and print it on good paper ...
• ... or use it as an online Xmas greeting card and send it electronically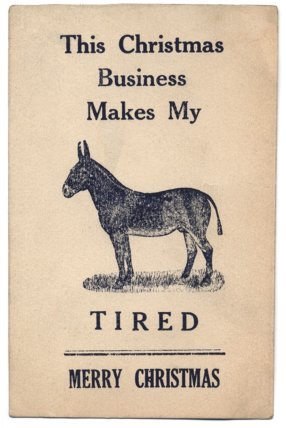 Depicted above: Two funny old-time printable holiday greeting cards. On the left we have a donkey in profile and the text says: "This Christmas Business Makes My [donkey/ass] TIRED - MERRY CHRISTMAS". The green one on the right brings us face to face with a [donkey/ass] standing inside a green wreath of holly and mistletoe and the text says: "Xmas Greetings from One to Another".
Free Funny Christmas Cards for You & Your Printer
So. You have reached a page that focuses on getting you to smile - as is the habit here on Quotescoop.com. This small collection of online Christmas cards are ready for you to save to your PC, edit as you wish (or not) and print out.

If and when you choose to print these little Xmas greeting gems, please consider using thick, high quality paper, slim cardboard or the paper you use for high quality photo printing. Those are the ones that work best, although of course you could also print out a the greeting card of your choice on plain old regular paper, cut it out and glue it onto a matching piece of cardboard if you wanted.

The next thing you'd probably do is write your personal message as well as the recipient on it, put on a stamp and hey presto! you've got yourself a free funny Christmas card. Making Xmas cards doesn't get much easier than that.

Feel free to add your own drawings, colored glitter glue and other such niceties to the printed cards at your leisure - thus creating true homemade Christmas cards.
Or, you could use the files as online Christmas cards by attaching one to your Xmas emails. It's all up to you.
How You May Use these Funny Christmas Cards
This collection of free printable funny Christmas cards is for your private entertainment and use only. These printable Christmas cards are not to be used commercially - thank you in beforehand!
How to Get Them
If you right-click one of the images on this page you will get the option of choosing 'Save link/target as' (in Firefox, or 'Save image as' in or Google Chrome or Internet Explorer ... or whatever the equivalent command is called in your favorite browser). This will let you save the bigger, good quality image image to your drive. After that you can print it out or attach it to an email or even make your own changes to it and save it again.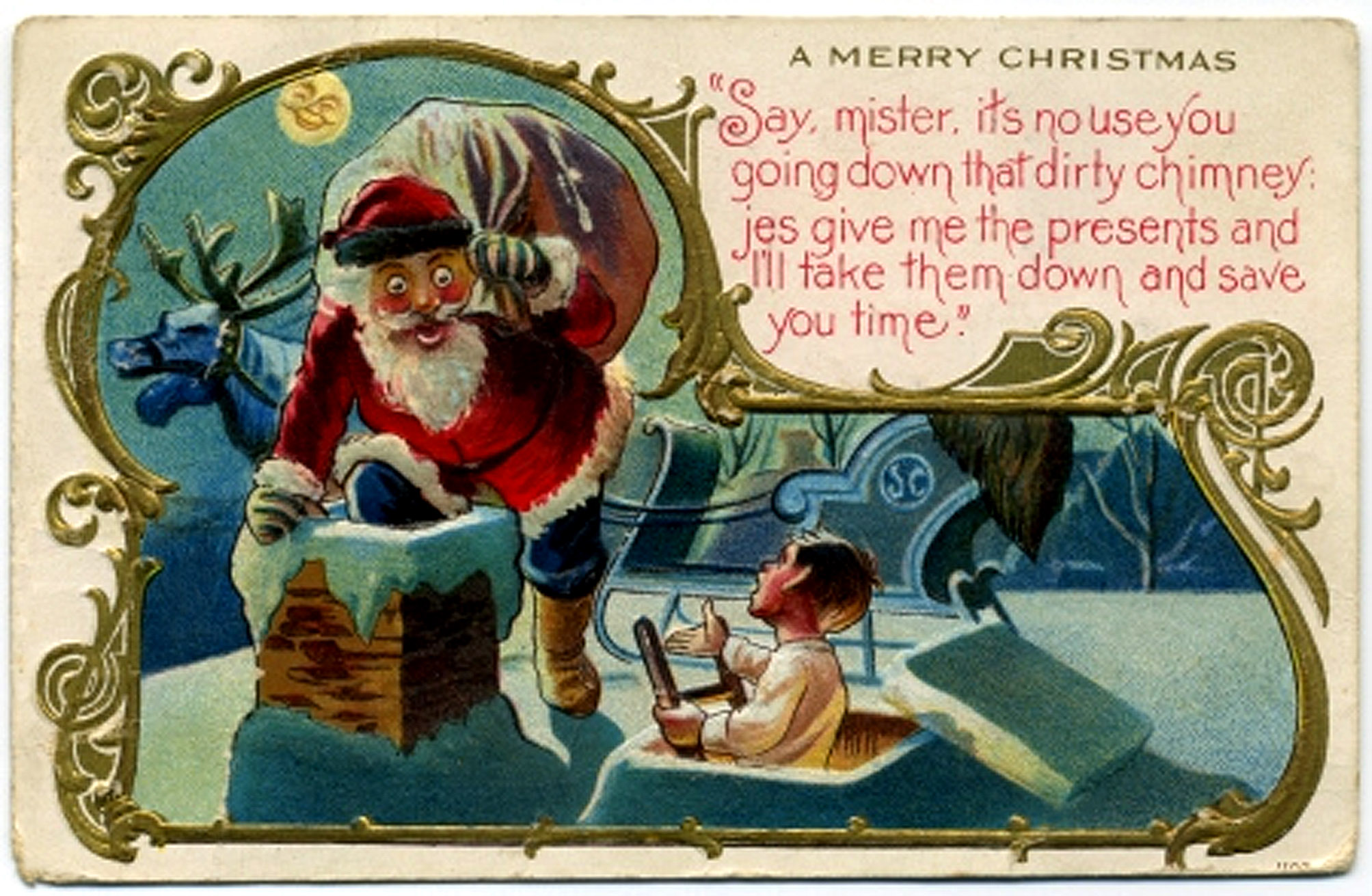 Depicted above: A vintage printable funny Christmas card where a boy on a snow covered roof tries to convince Santa Claus (his sleigh and the reindeer standing in the background) to hand over his loot. The kid says: "Say, mister, it's no use you going down that dirty chimney; jes give me the presents and I'll take them down and save you time:" On the greeting card there's also the text: "A Merry Christmas".
File Size and How to Use These Xmas Cards
To ensure that this page is within the capacity of most modern Internet connections each image is generally less than 300Kb in size, and they're all .JPG- or .GIF files of pretty good quality.
You should note, however, that the original images are BIGGER than they seem here!

In fact the original images are the same size as the original Christmas greetings cards, which typically means either 9x13 cm or 10x15 cm ... but you must beware HOW you print them ...
How to Use These Printable Greeting Cards
The reason you need to be beware HOW you print these funny Xmas greeting cards is that some programs for printing will automatically attempt to fill out the paper you are using with the image, thus creating either several identical images on your paper OR one awfully BIG homemade Christmas card!

So, when you print these free printable Christmas cards please make sure you choose the option 'original size' in your printing software.

And now, here are the ...
Above: Swedish funny Christmas card depicting two Scandinavian "nisser" (brownies or leprechauns) in their traditional red garbs walking with flags and different things used to decorate a Christmas tree. The text (in Swedish) reads: "Glad Jul!", which means "Happy Christmas!".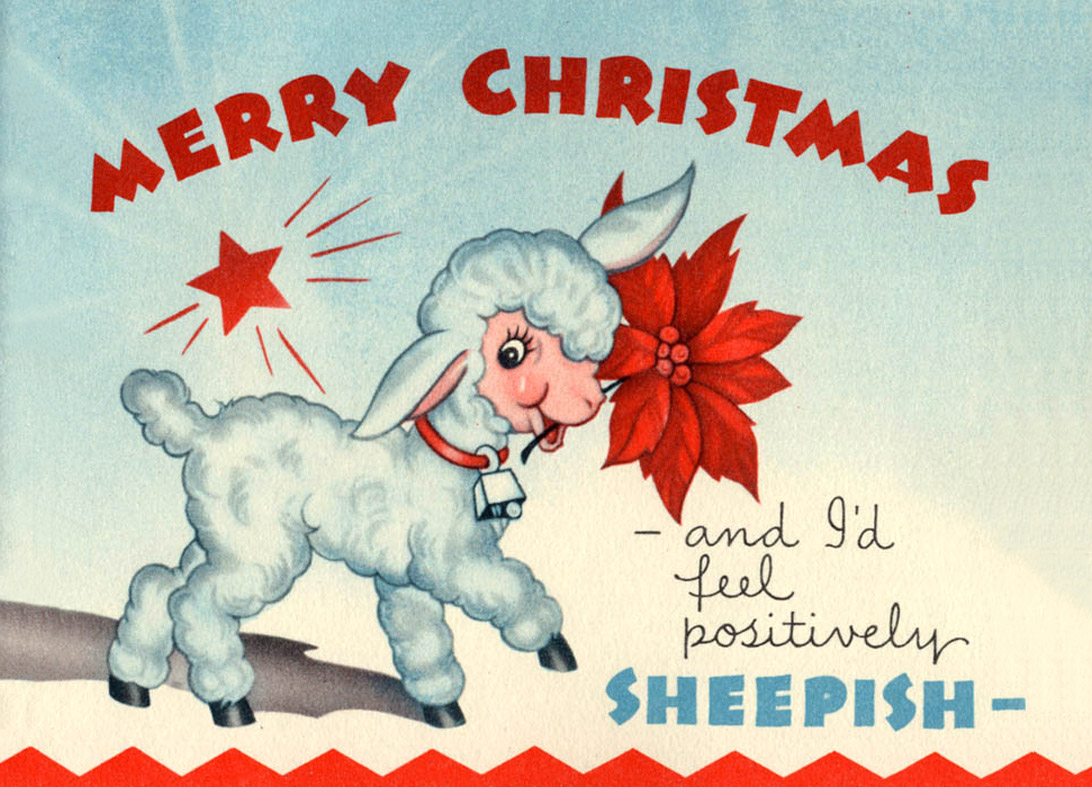 Above: Cute and amusing vintage Xmas card showing a lamb with a bell around its neck and a big red Christmas Rose in the mouth. There's a red star shining in the background and the text says: "Merry Christmas - and I'd feel positively SHEEPISH"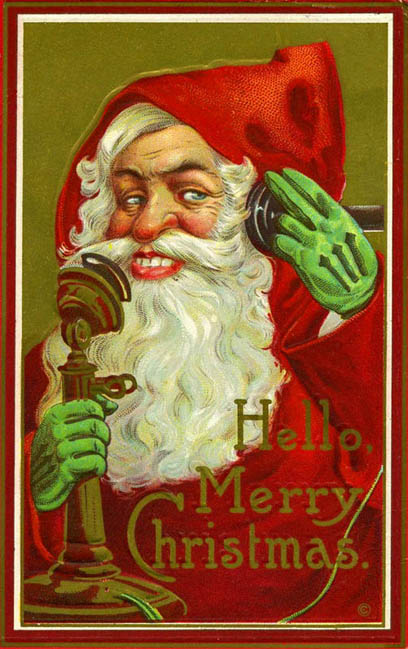 Above: A Silly looking blue eyed Santa Claus talking on a very, very old type of telephone (one where the receiver/microphone and headset are separated). Santa is in his (nowadays) traditional red garbs and also sports green gloves. This particular Xmas postcard dates back to 1914. The text says: "Hello, Merry Christmas."
Above: To the left a simple cute and amusing Xmas greeting card showing a baby inside a green wreath of holly. The text is what the very young child might lisp: "A merwy Kwithmuth." To the right an unusual depiction of Santa Claus. His traditional white hair and beard point in all directions and he is dressed in pink clothes! The text, which is in gold letters, says: "A Merry Xmas day to old friends all."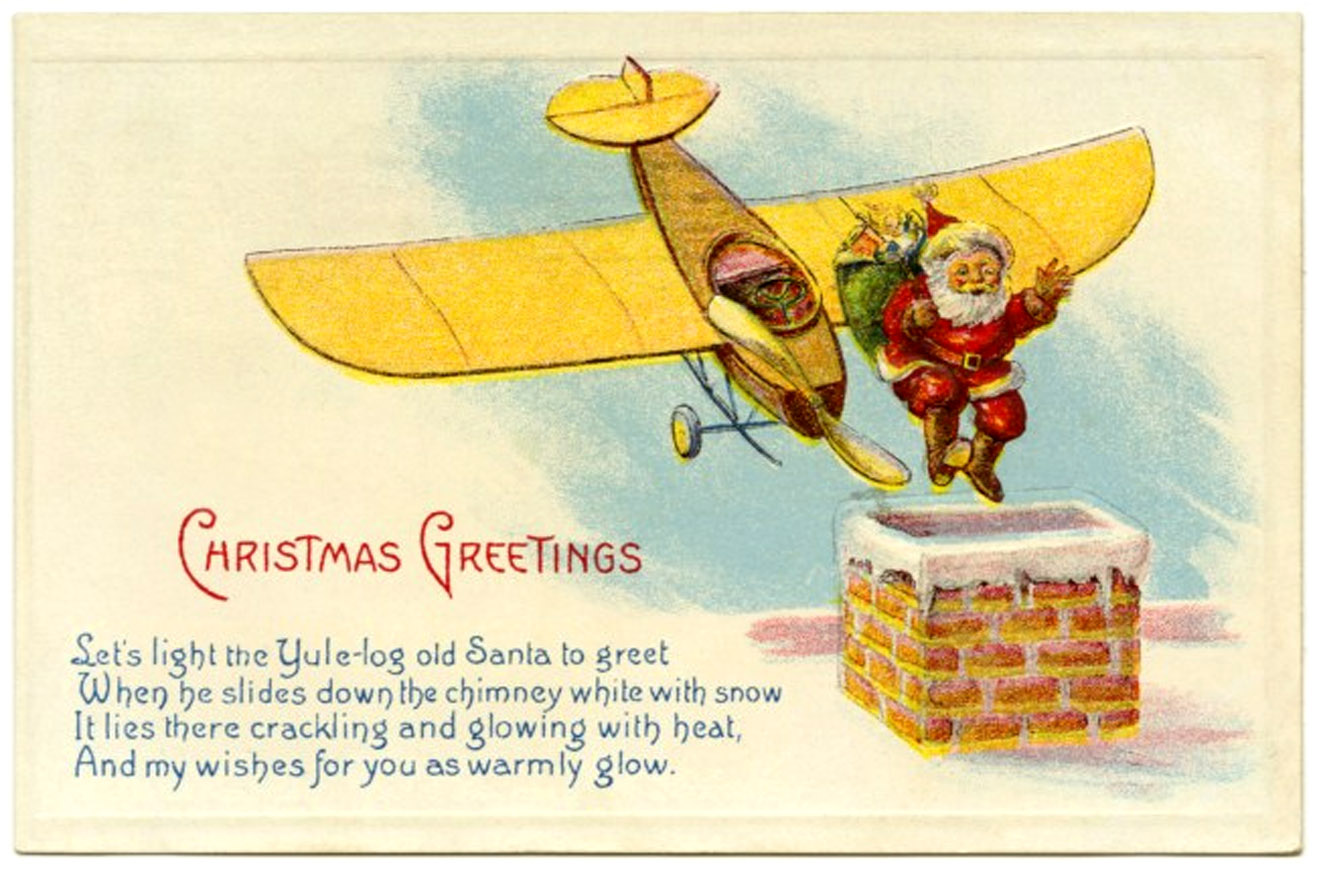 Above: This free printable Christmas card isn't that funny except that it has Santa Claus doing what MUST be a one-time stunt: Jumping out of a flying airplane and into a chimney. And not only that, but the now-pilotless airplane looks like it is going to crash into the very house Santa is visiting. Those things alone makes this amusing postcard kind of hilarious. The text on the card reads: "Christmas Greetings. Let's light the Yule-log old Santa to greet when he slides down the chimney white with snow it lies there crackling and glowing with heat, and my wishes for you as warmly glow." Not exactly Shakespeare, so some might argue that this poetry also adds to the merriment generated by this particular vintage Xmas card.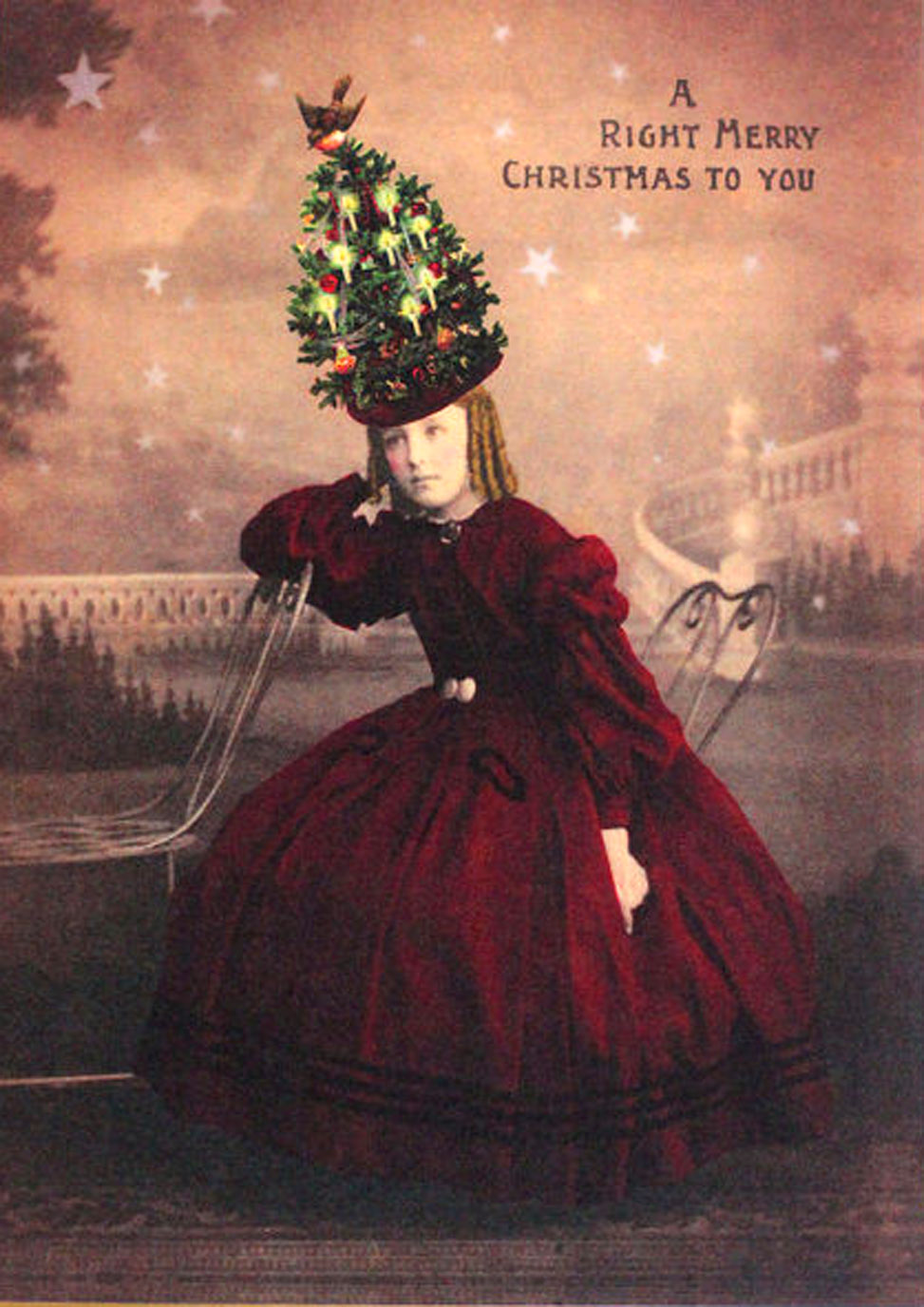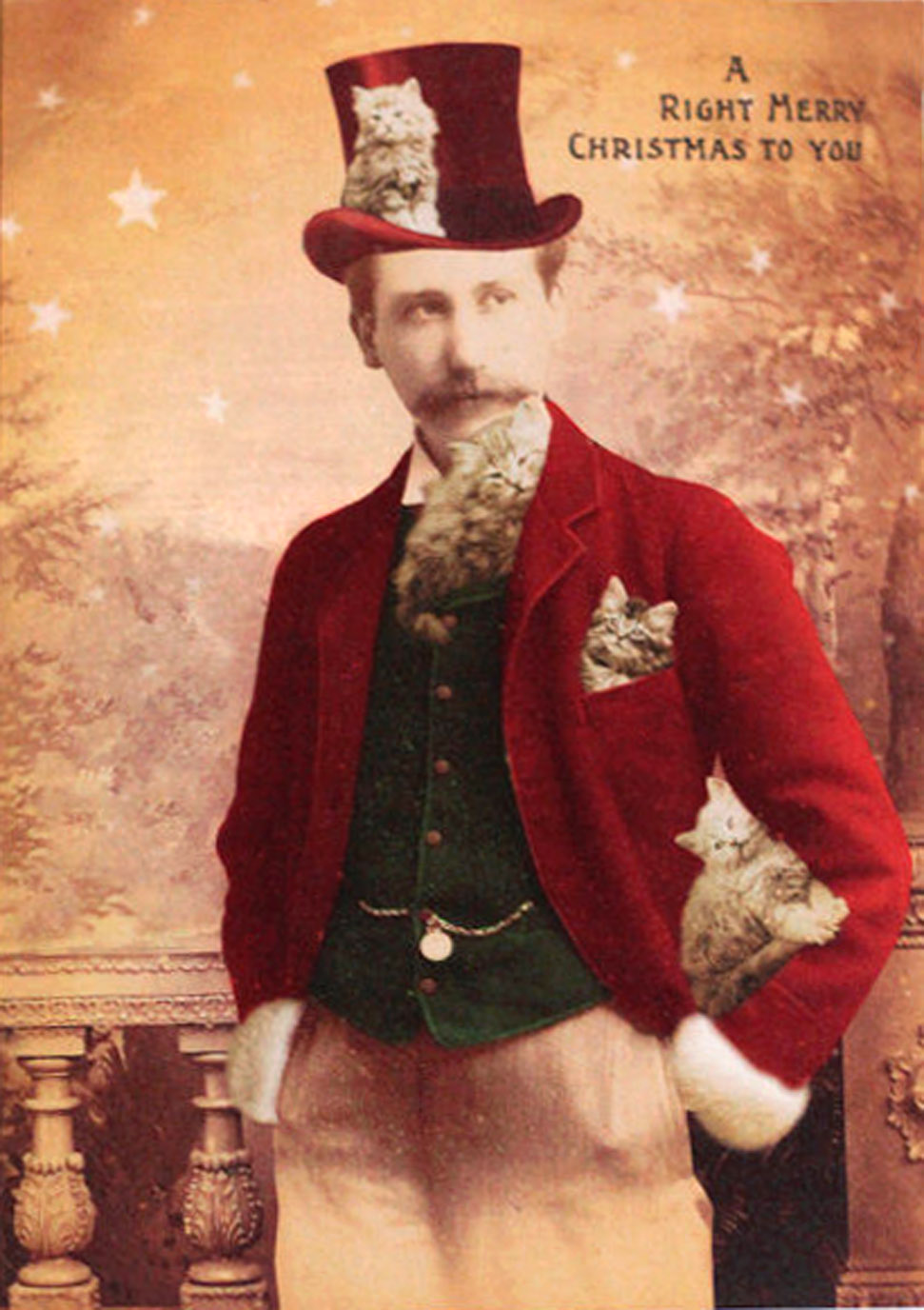 Above: Two vintage (hand colored) funny Christmas postcards. The one on the left shows a woman in a big red dres ... wearing a lit christmas tree on top of her head. The one on the right shows a man dressed in a green vest and a red jacket with a matching red top hat ... wearing cute and cuddly kittens in several places - under his arm, in his jacket pocket, instead of a tie and perching on his red top hat. Both christmas pictures carry the text: "A Right Merry Christmas to You"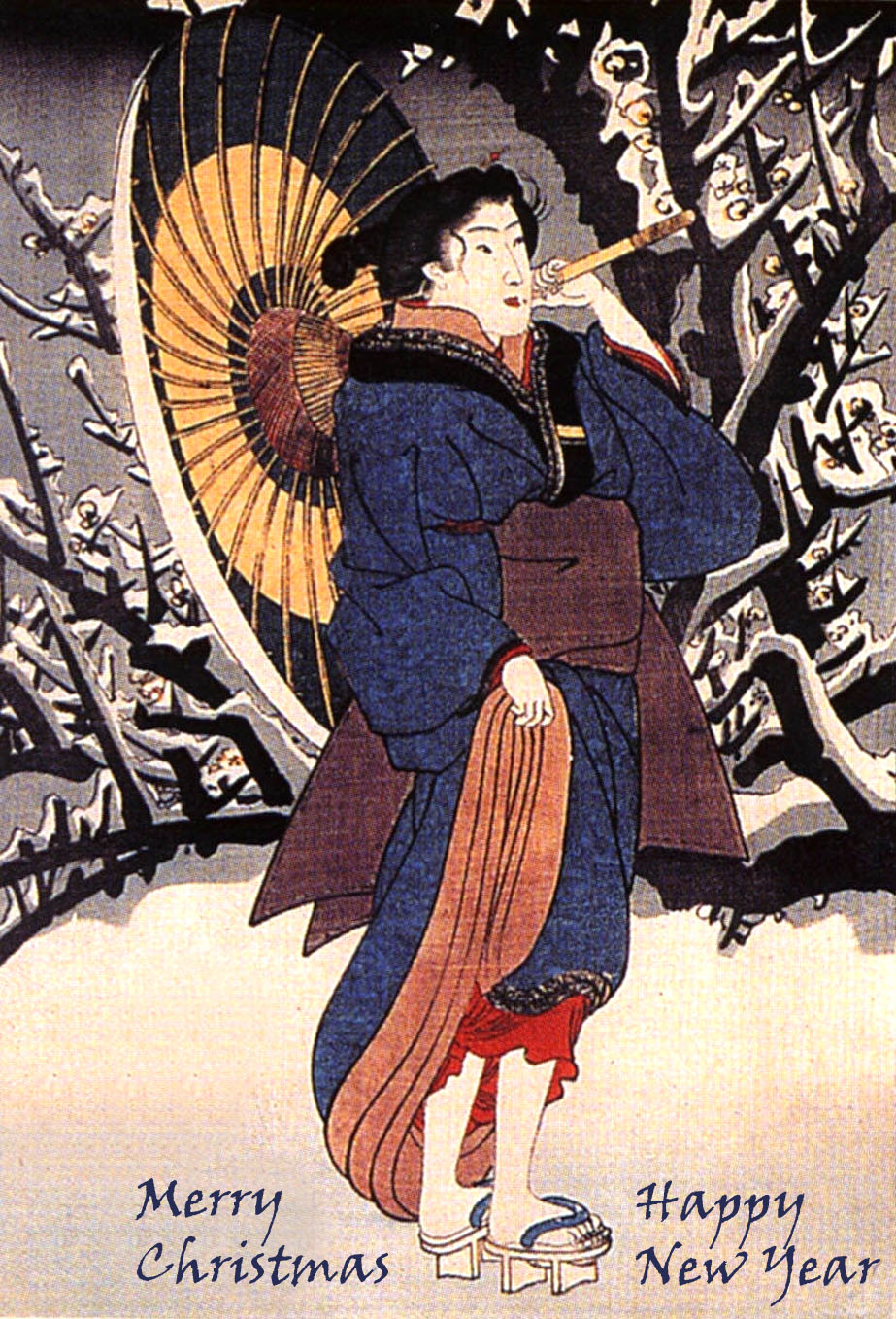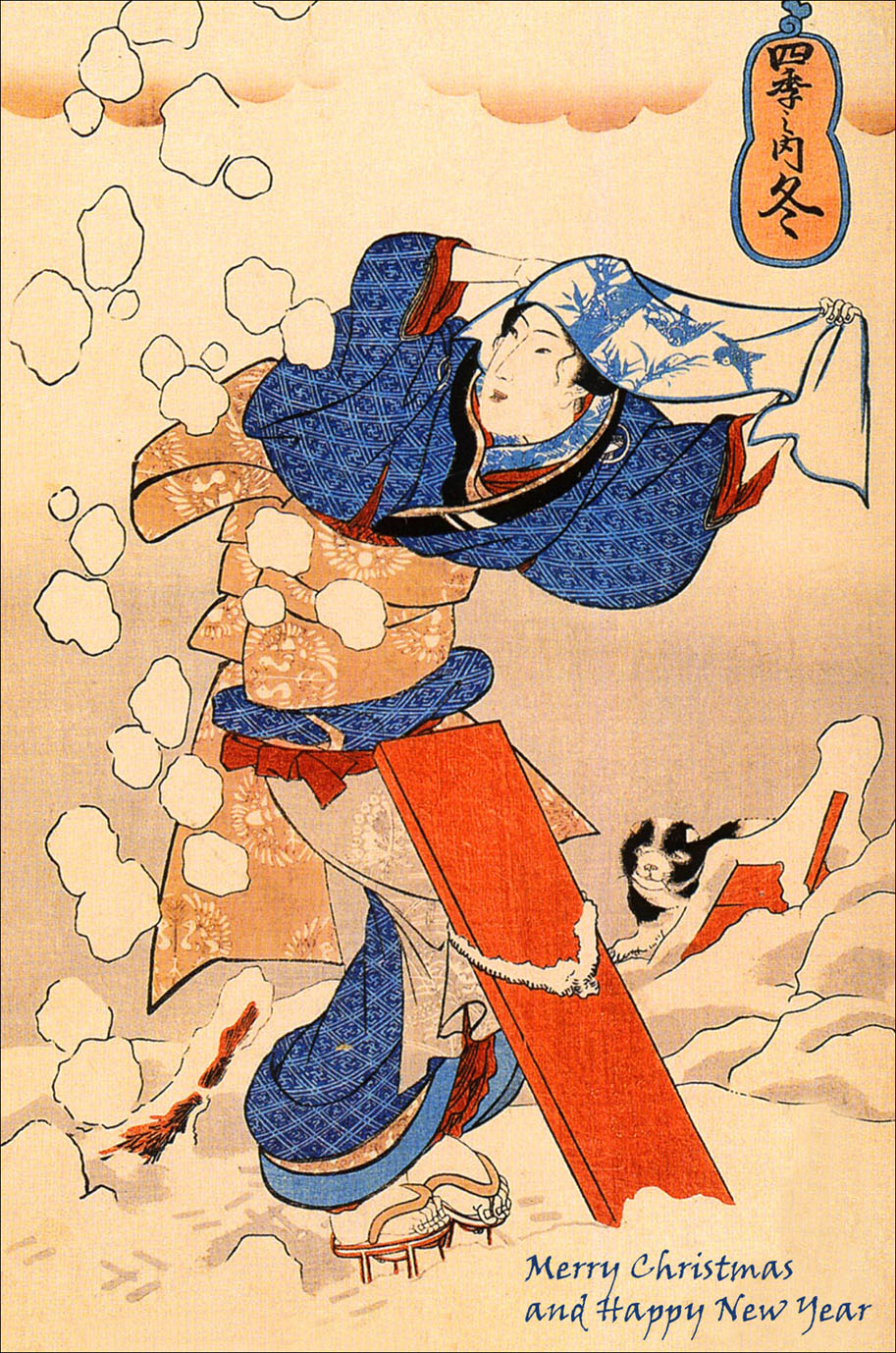 Above: Two combined Christmas and New Year cards by Kuniyoshi Utagawa. These are more interesting than actually funny - Xmas postcards painted in Japanese style and featuring Japanese women in the snow are (very) rarely seen. The woman on the left is wearing an umbrella and hiking up her thick oriental style clothing. The woman on the right tries to avoid a small avalanche of snow while her small black and white dog is looking on from a safe distance. Both women are dressed primarily in blue and wearing the traditional Japanese wooden sandals (and no socks) in spite of the weather. The text on both cards wishes you a Merry Christmas and a Happy New Year.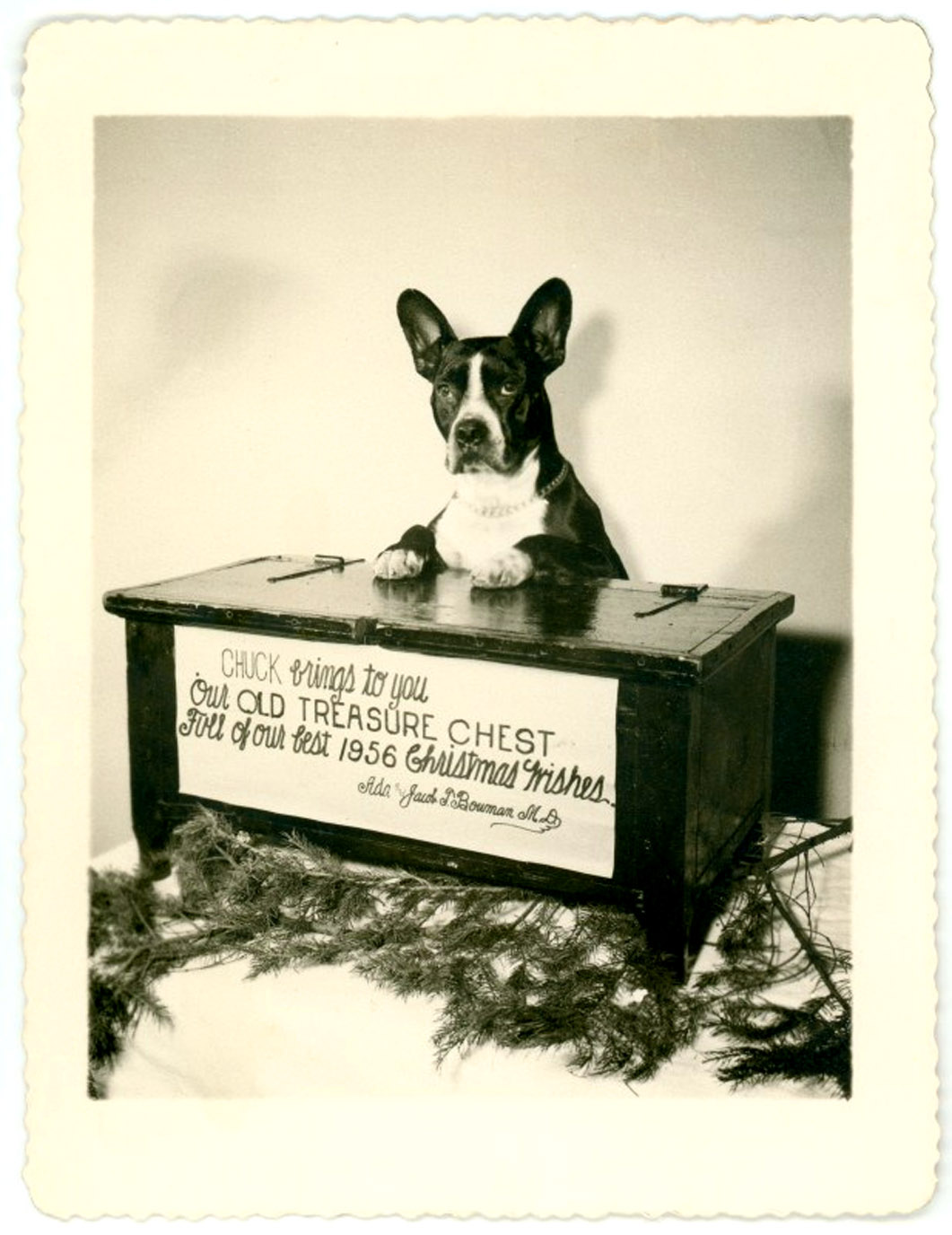 Above: Two funny vintage Christmas postcards. On the left a boy dressed up as a snow man in lots and lots of cotton woll (wadding). In his hand he's holding a bunch of twigs (brushwood). He is also wearing a rumpled old hat that has a tiny bird perched on it, and two other small birds are perched about a foot away. On the right we have an Xmas photo of Chuck the Dog's old treasure chest, which he is guarding with both paws solidly planted on top of the box. The sign on the box reads, "Chuck brings to you our old treasure chest full of our best 1956 Christmas wishes."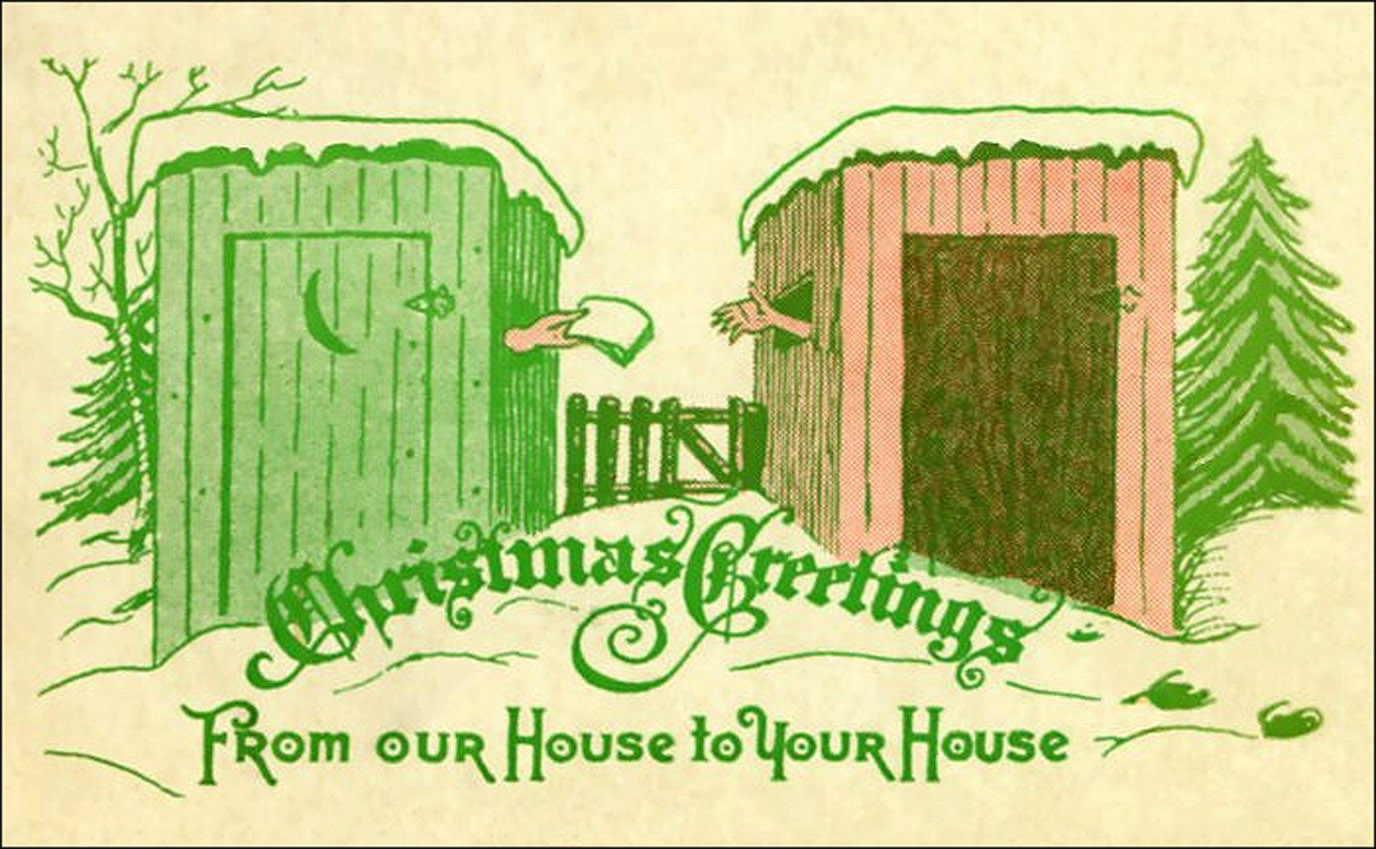 Above: "Christmas Greetings From Our House to Your House" - greetings, invitations - or maybe toilet paper - is being handed from a green outhouse to a pink outhouse sitting right next to the green one. Outside are trees (including a couple of Christmas trees) and lots and lots of snow. (Pulling your pants down under conditions like those is probably no walk in the park).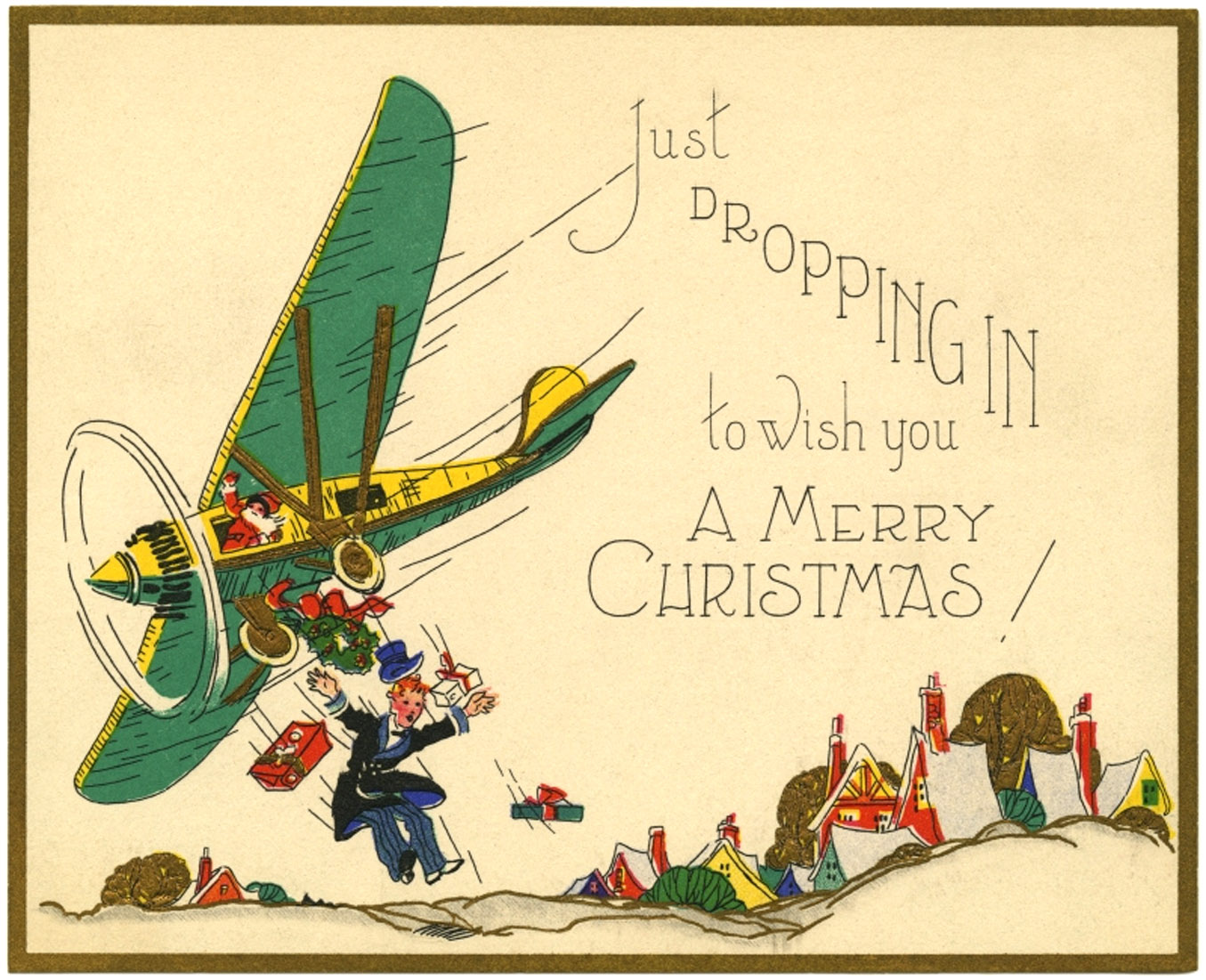 Above: Funny vintage Xmas card showing a man jumping out of an airplane down to a small snow covered village. Without a parachute, but with a wreath of holly, a small suitcase and several presents. Up in the door of the airplane Santa Claus is waving (or maybe Santa just pushed the guy out!). The text on the cards says, "Just dropping in to wish you a Merry Christmas!"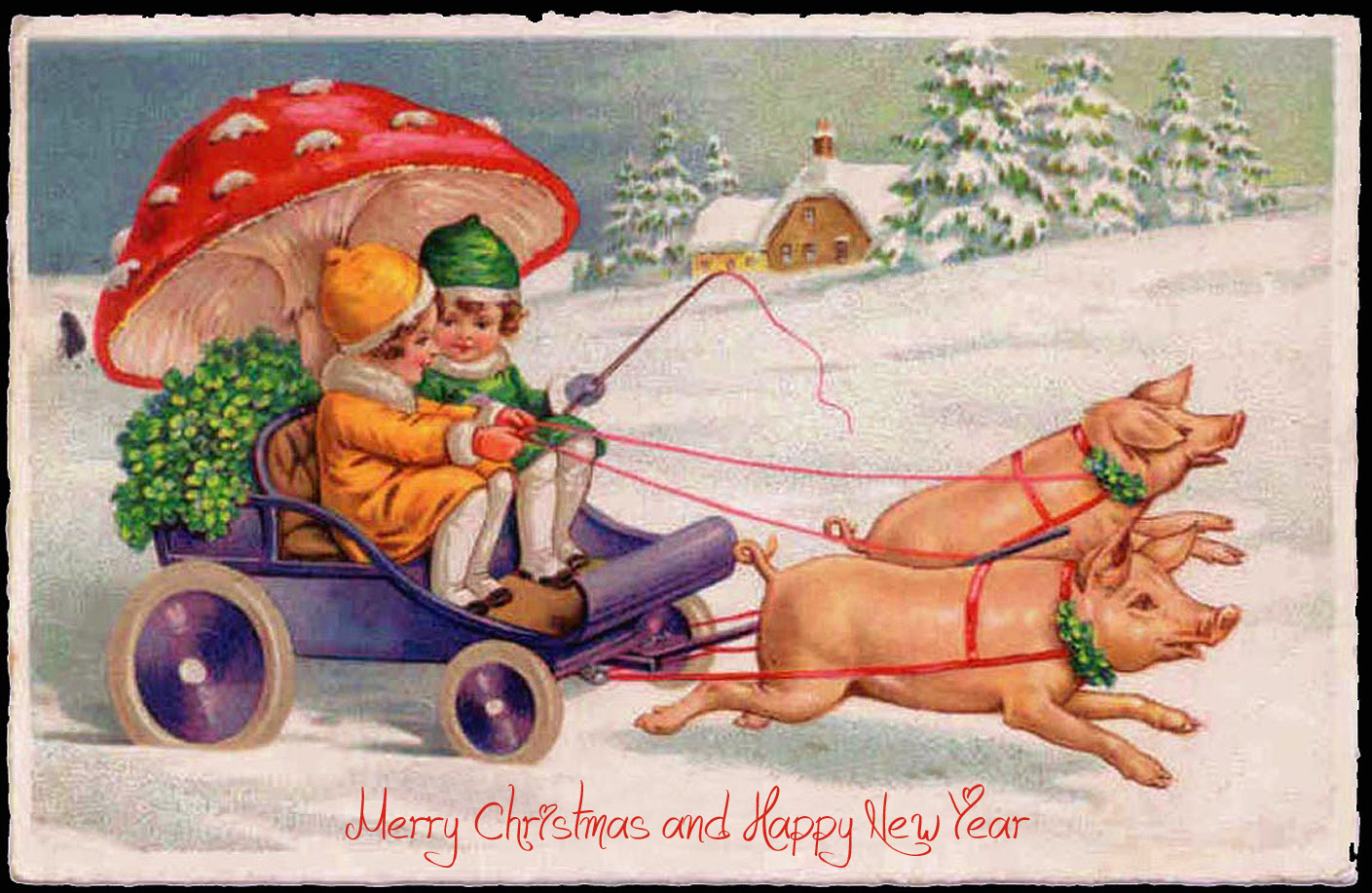 Above: Whilst using a huge red and white mushroom as an umbrella two young girls, one dressed in yellow, one dressed in green, ride a small blue buggy pulled by two pigs through a snow filled landscape. The text says, "Merry Christmas and Happy New Year". Looking at the strange, but colorful scenario one cannot help but wonder if perhaps the artist had been ingesting the very type of mushroom (Amanita Muscaria) she or he has depicted ... :-)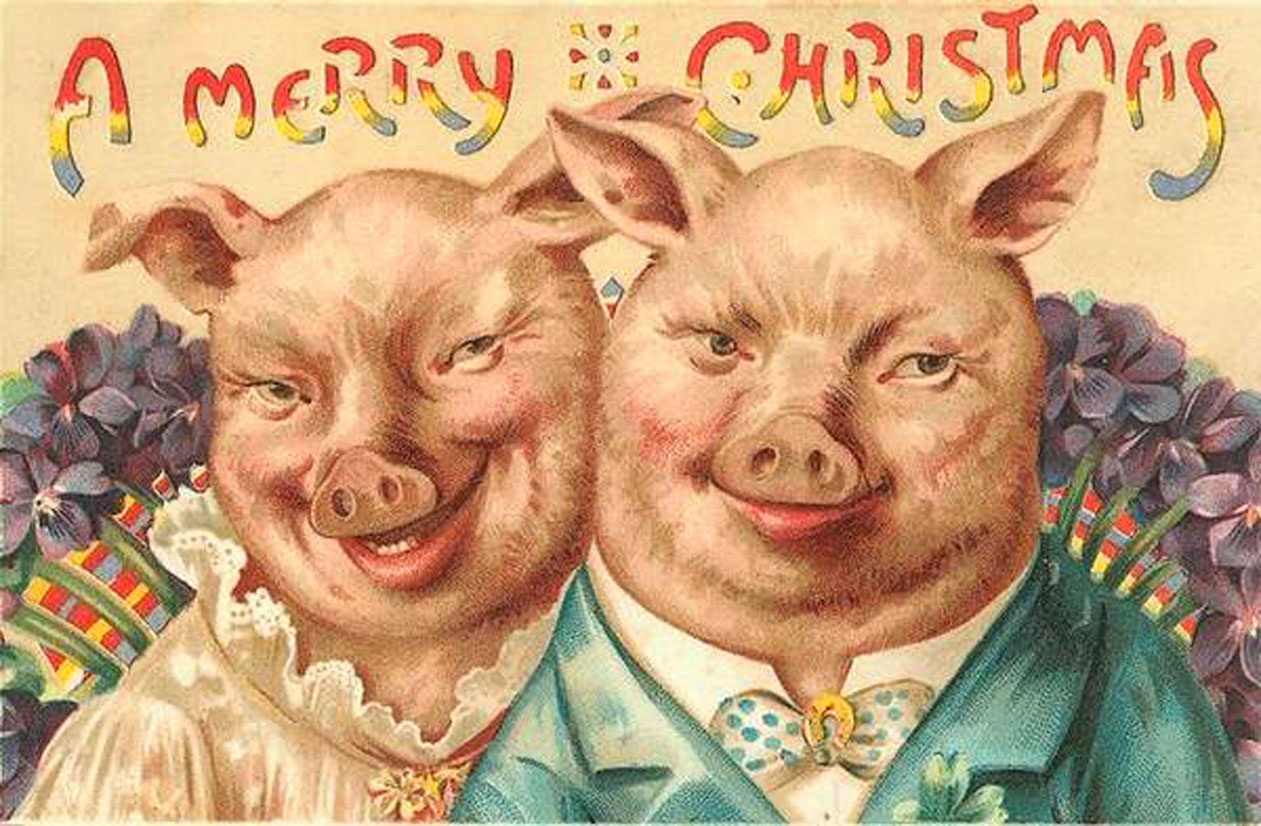 Above: Are they funny or ugly or scary or all three and more? Mr. and Mrs. Pig are depicted as wearing their finest clothes while smiling to the "camera" (or painter). Mrs. Pig displays a broad, inviting (ingratiating) smile, showing some of her tiny pig's teeth. Mr. Pig's smile looks more reserved, but he's clearly being friendly even if we don't entirely trust that he will keep his temper. This is actually an amazing picture (or: postcard), because we cannot help but be affected by it. Why? Because this "loving couple" look way too much like pigs while ALSO looking way too much like humans. Our brains can't decide what they are and how we feel about them, and so we're alternately amused and creeped out! Text: "A Merry Christmas".
Next, we present something else that's rare: a series of four related vintage postcards. Together, and when watched in the right order, they tell a small story, based on or contrasted with the only words in the cards - the sign hanging on the wall that says, "Love one another". (Beneath the images, on each card, is some standard fare greeting text, cards no. 1 and 4 referring to Christmas and cards 2 and 3 referring to New Year. The picture quality in these is not in as good as the other funny Xmas cards on this page, but since these four are so unique we'll present them anyway: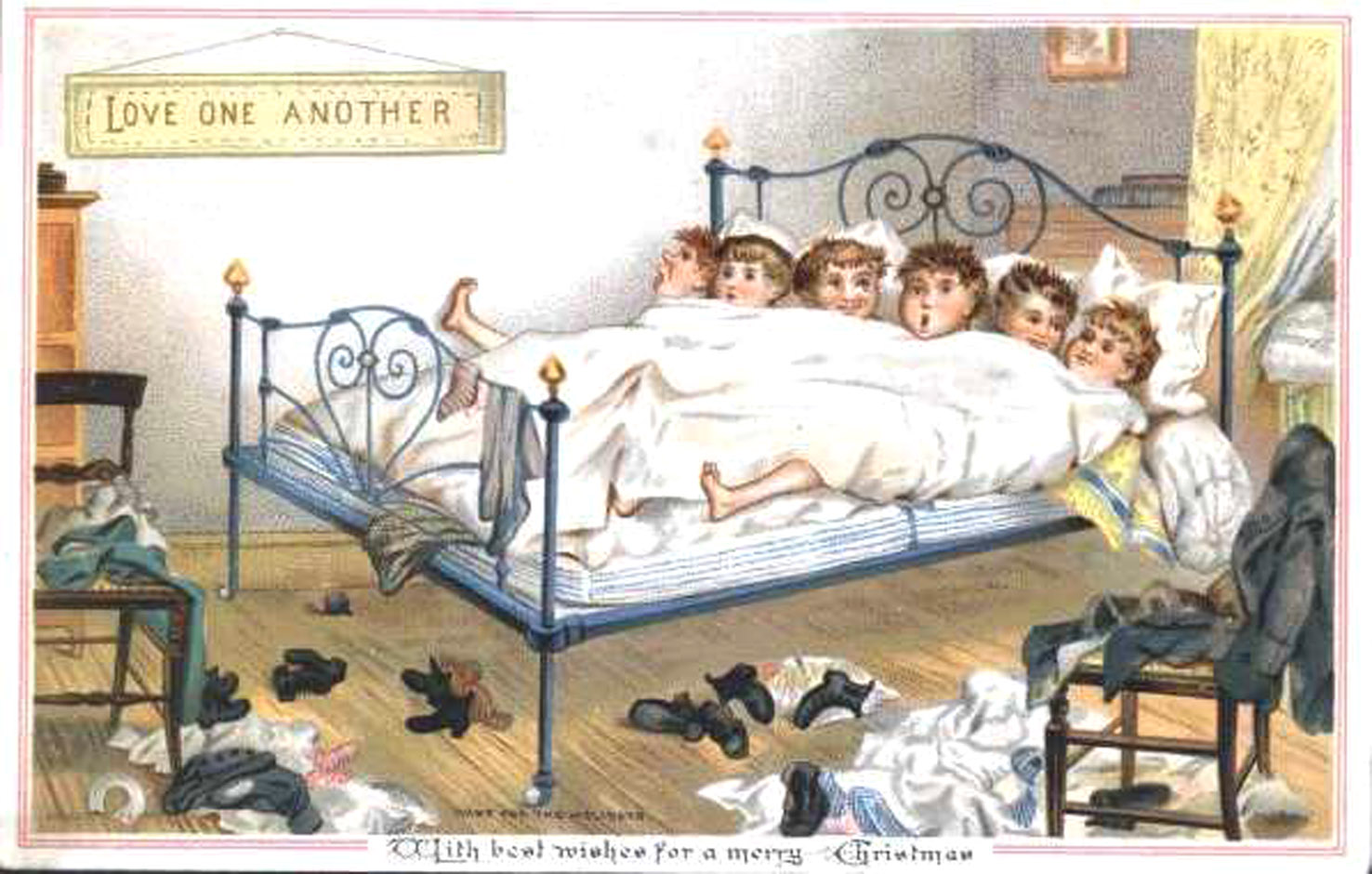 The text on the back of the above card (no. 1 of 4), credited to "A.J.F." says,
"Hooray for the holidays! granted at last,
The lessons are over, the sums are all cast,
And here we are home again, jolly and free,
As jolly as sandboys and bent on a spree;
While Ma looked so happy, and Pa cried "Well done"
We showed them the prizes that each of us won;
And when we were tired and prayers had been said,
We begged them to let us all sleep in one bed."
The text on the back of the above card (no. 2 of 4) credited to "A.J.F." says,
"What can you expect from six boys in a bedroom,
And only one bed, where they scarcely find headroom?
But pulling and tugging and calling hard names,
And fighting with bolsters and all such rude games
There's Jack at the foot making signs with his hand
Of defiance to battle, which all understand;
There's poor little Willie beginning to cry,
And Tiny and Jim out of bed very nigh:
While Tom with the pillows--that naughty young elf,
Determines to have the bed all to himself!"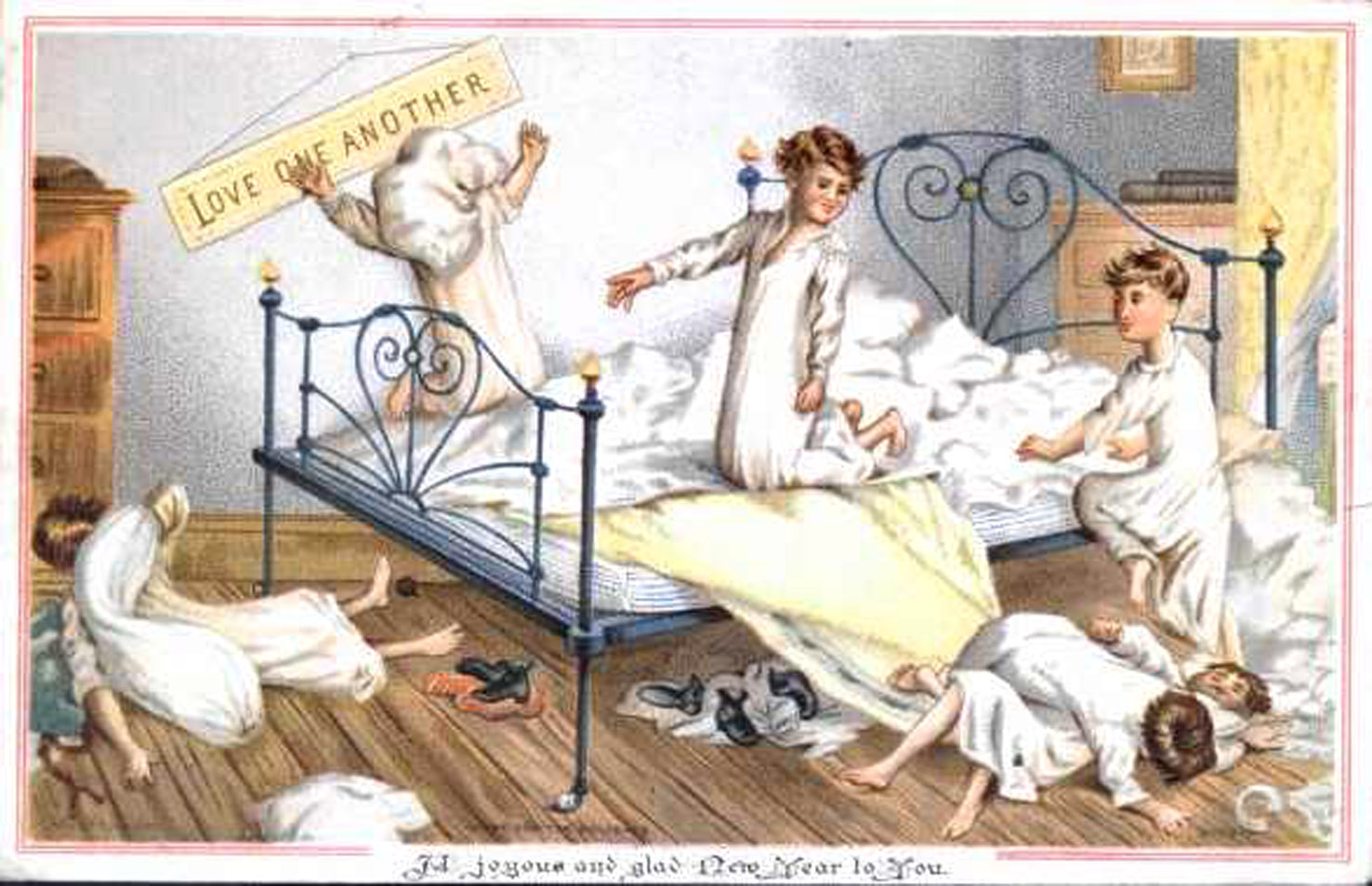 The text on the back of the above card (no. 3 of 4) credited to "A.J.F." says,
"Who' king of the castle, you plainly can see,
'Tis Tommly the conqueror, now in high glee;
With pillows for weapons his victims he floors,
That's Jacky whose noddle lies close to the drawers,
You might hear the whacks he gave, quite out of doors:
And Benny who staggers neath "Love One Another"
May well think the motto misread by his brother,
For surely his screams will be heard by his mother!
Tommy kicked the two little ones out--cruel urchin--
So I"m sure you'll agree that he merits a birchin!"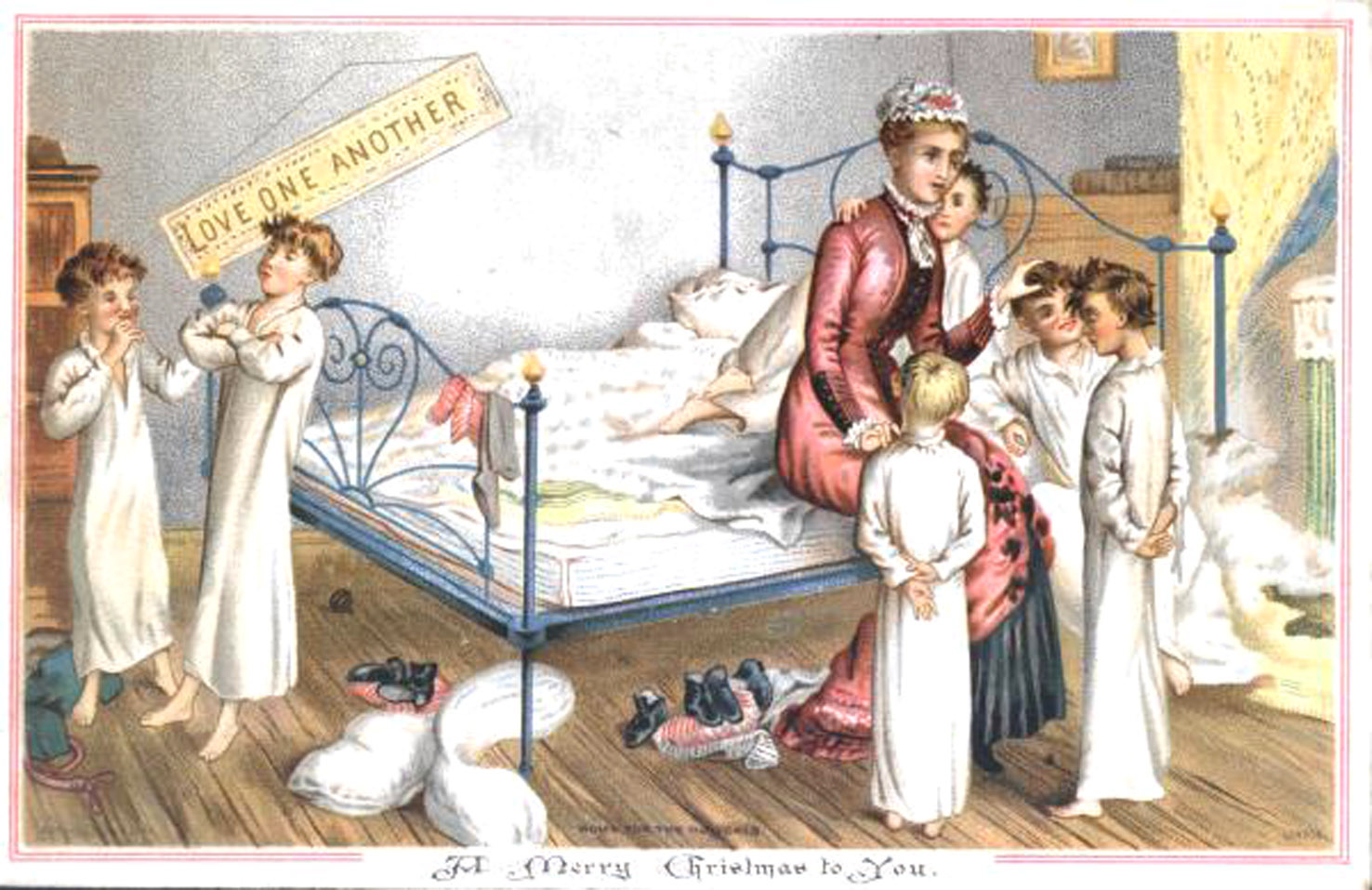 The text on the back of the above card (no. 4 of 4) credited to "A.J.F." says,
"Poor little mother! it surely is sad,
When her boys are all home and she ought to be glad
That they cannot behave themselves out of her sight,
Nor give her a moment of peace e'en at night;
Instead of their sleeping as quiet as mice,
Only romping and fighting and noise will suffice:
If conduct like this she can take as a sample
The big boys are setting a fearful example:
So she warns them, the next time they quarrel in bed--
She wont come up to them--Pa shall instead!"
Next, and as our final treat, we have several funny christmas cards by Donald Fraser Gould McGill ...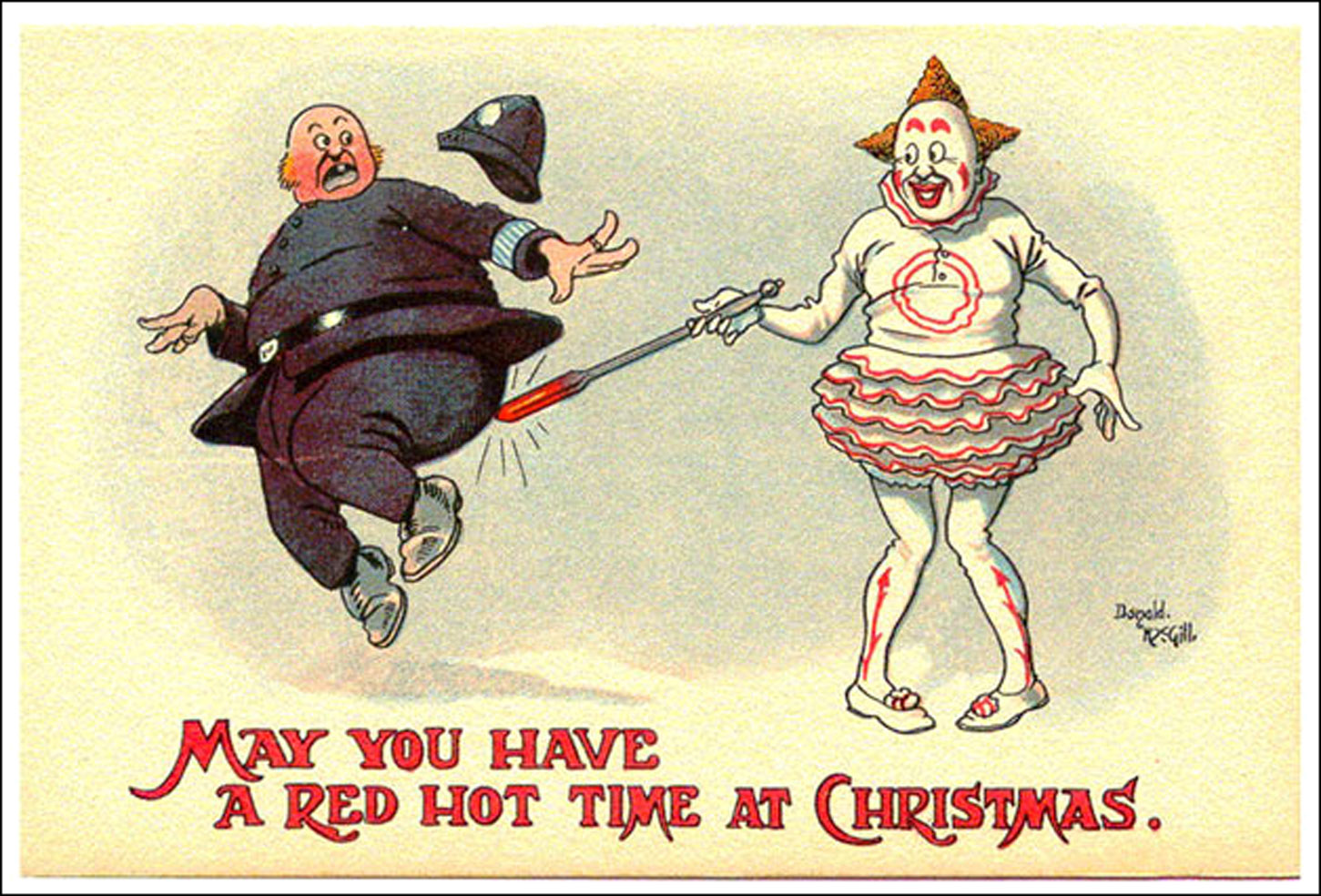 Depicted above: A clown dressed in white touches a chubby policeman on the buttocks with a red hot poker, which makes the cop jump and lose his traditional British Bobby-hat. The text reads, "May you have a red hot time at Christmas."
Donald F. G. McGill, who was born 1875 and died in 1962, was an English artist who produced an enormous amount of hand colored drawings for postcards. It is estimated that he made over twelve thousand postcards, most of them more or less funny, and most of them depicting life on the beaches of Britain. His name and distinctive style of drawing became almost synonymous with the genre known as "saucy seaside postcards".
Donald McGill also did some Christmas cards, though, another four of which follow here ...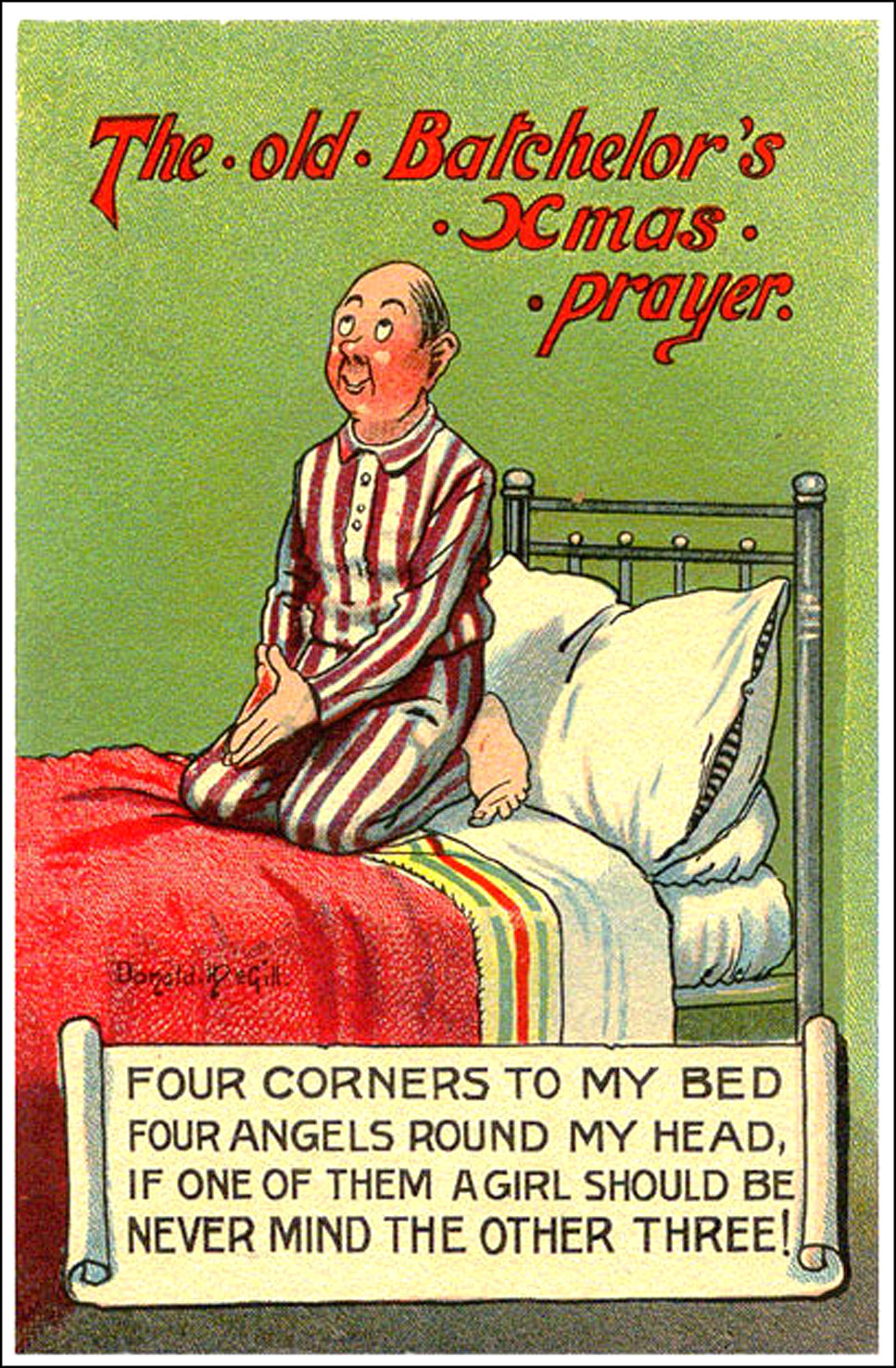 Above: to the left we have a man kneeling in his bed doing what the card describes as "The old Batchelor's Xmas prayer", which, again according to the card, goes like this: "Four corners to my bed, four angels round my head, if one of them a girl should be, never mind the other three!" The card on the right is called "A Christmas Wish" and depicts a woman lying alone in her bed over which the following sign hangs, "It is not good that man should live alone". The woman has hung a sock as well as a pair of man's trousers on the end of the bed, and she, too is saying a prayer. The prayer goes like this, "Oh, Father Christmas, dear old thing, Don't think me very shocking, But if you'd fill those trousers up, Never mind my stocking!"
The card on the left qualifies as saucy because the text says, "A Merry Christmas, and don't let either of these pass without a taste", while the picture shows a pretty serving maid with a Christmas dish on her tray, but standing under some mistletoe up in the ceiling. On the card to the right a portly, well dressed man has his face entirely obscured from getting hit by a huge snowball. The text on this final card reads, "Hoping to see your face again this Christmas."
Where Would You Like to Go Next?
Christmasy Quotes, Sayings, Poems and Greetings
Beautiful Christmas Cards to Print
Humorous Reflections on Christmas
Fun Games for Christmas