Get your free printable Christmas cards here, it's, well, free. :-)

By the way, did you know that railways are intricately linked with Christmas cards and post offices and stamps?

They are, or they were, because times they are a'changing and most everything is coming online, including online Christmas cards (ecards) - one form of which is what you'll find here on this page.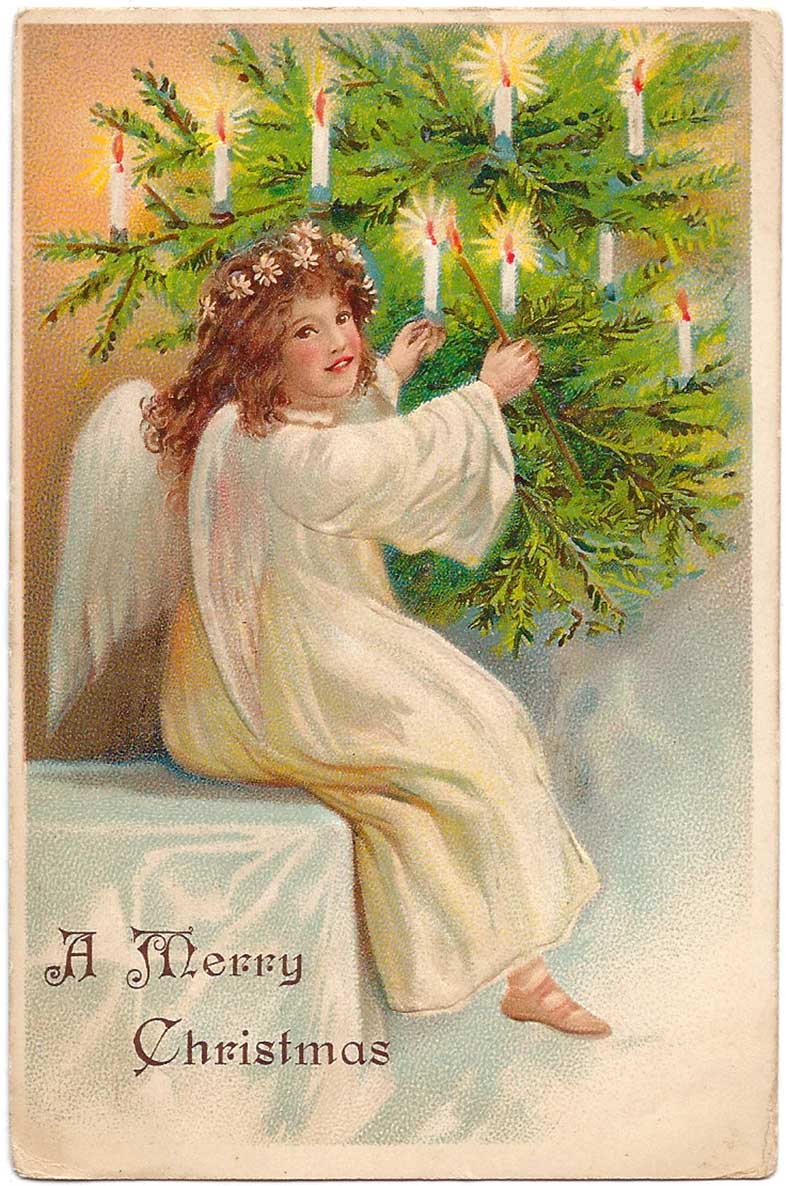 Depicted above: An antique postcard from 1909 (Victorian style) with a cute angel lighting candles on a Christmas tree. Text says: "A Merry Christmas"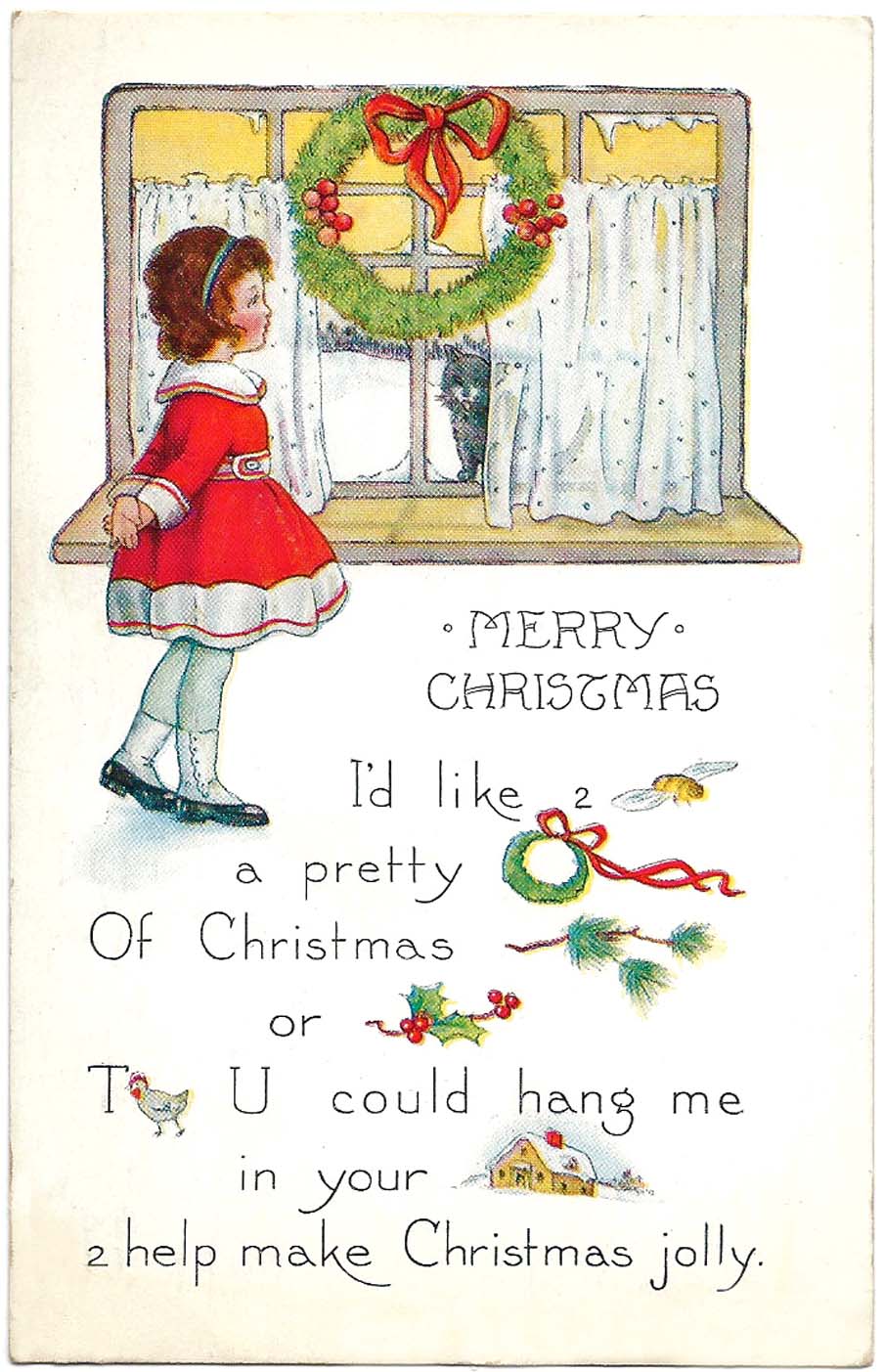 Depicted above: A Christmas rebus card by Whitney from 1923 with a girl in a red dress, a laurel, a cat outside the window and, of course, the rebus ...
The History of the Christmas Card
Anyways, the history of the christmas card is such that once the railroads were spread out over the country (in the Western world that happened during the mid-to late 1800s), well then a lot more mail could be transported around by trains than by the horse and carriage that had been used up until then.
So, this coincided with the first postal services that regular people could afford, generally offered by government controlled post offices.
This in turn coincided with the idea of sending "open one page letters" (antique postcards) as well as with the idea to print some sort of picture on one side of those very vintage postcards. And there you go: the birth of the postcard.
The very first of the picture postcards that we'd recognize as an actual Christmas card was printed and sent in Great Britain in 1843 by Sir Henry Cole. He'd commissioned a friend, an artist by the name of John Horsley to draw a merry scene with people eating, drinking and celebrating.

This, the world's first Christmas greeting card (which was in fact also a New Year card) looked like this:
Depicted above: The very first Christmas card in the world - by artist John Horsley and Henry Cole in 1843. Shows a merry christmas dinner scene with adults as well as children drinking red wine. The card carries the text, "A Merry Christmas and a Happy New Year to You (From ...) "
Now, the above picture is printable to be sure (and bigger in reality than it looks on the screen), if you want to send someone a copy of the world's first Christmas card. And since it's Henry Cole's original design you can even add your name in the bottom right corner. The quality is as high as we could make it, but this is an antique postcard, so please note that the quality isn't quite as high as with the following printable Christmas cards (below).
More Christmas Card History
Around the turn of the 18th century (circa 1900) prices of postcards and stamps were low enough that a large percentage of the population in many Western countries could afford to send a Christmas card, and so production and use of these quaint little greeting cards exploded.
Favorite subjects for the images on the Christmas postcards were and still are: religious themes, winter scenes (preferably with snow), drawings or photos of flowers and plants as well as birds and other animals, pictures of children, presents, Christmas trees (and decorations) and of course drawings of Santa Claus, his sleigh and his reindeer.
Depicted above: A printable vintage Christmas postcard with Santa Claus carrying holly branches and Christmas presents for children. The card's text reads: "St. Nick's prowling around in the snow. While you're snuggling comfy and all aglow. He's headed straight for your own house. And in he'll steal as quiet as a mouse."
Sometime after 1910 people also started to make their own home made Christmas cards - adding all sorts of things like their own drawings, glitter, foil, ribbons, buttons and other paraphernalia ... this practice has continued to this day where homemade greeting cards is practically an art form!
Your Use of these Free Printable Christmas Cards
This collection of free printable Christmas cards, vintage Christmas cards and Christmas card greetings, etc. is for your private entertainment and use only. They are not to be used commercially - thank you in beforehand!
All the free printable Christmas cards here are .JPG of pretty good quality. You should note that the original image you'll be saving is BIGGER it seems on the screen - it's supposed to print in a proper postcard size around 3.5 to 4 inches x 4.5 to 5 inches (equalling from 9x13 cm to 10x15 cm) in a good print quality (usually 250-300 dpi).
So, a good way to proceed is usually to pick the option 'original size' in your printing software. And, of course, using heavy (thick) printing paper (or light card board paper meant for printing).
If you right-click an image you will get the option of choosing 'Save image as' or 'Save link as' or something along those lines. You can then edit and/or print it at your leisure.
But enough talk, now. Let's have some totally free printable Christmas Cards ...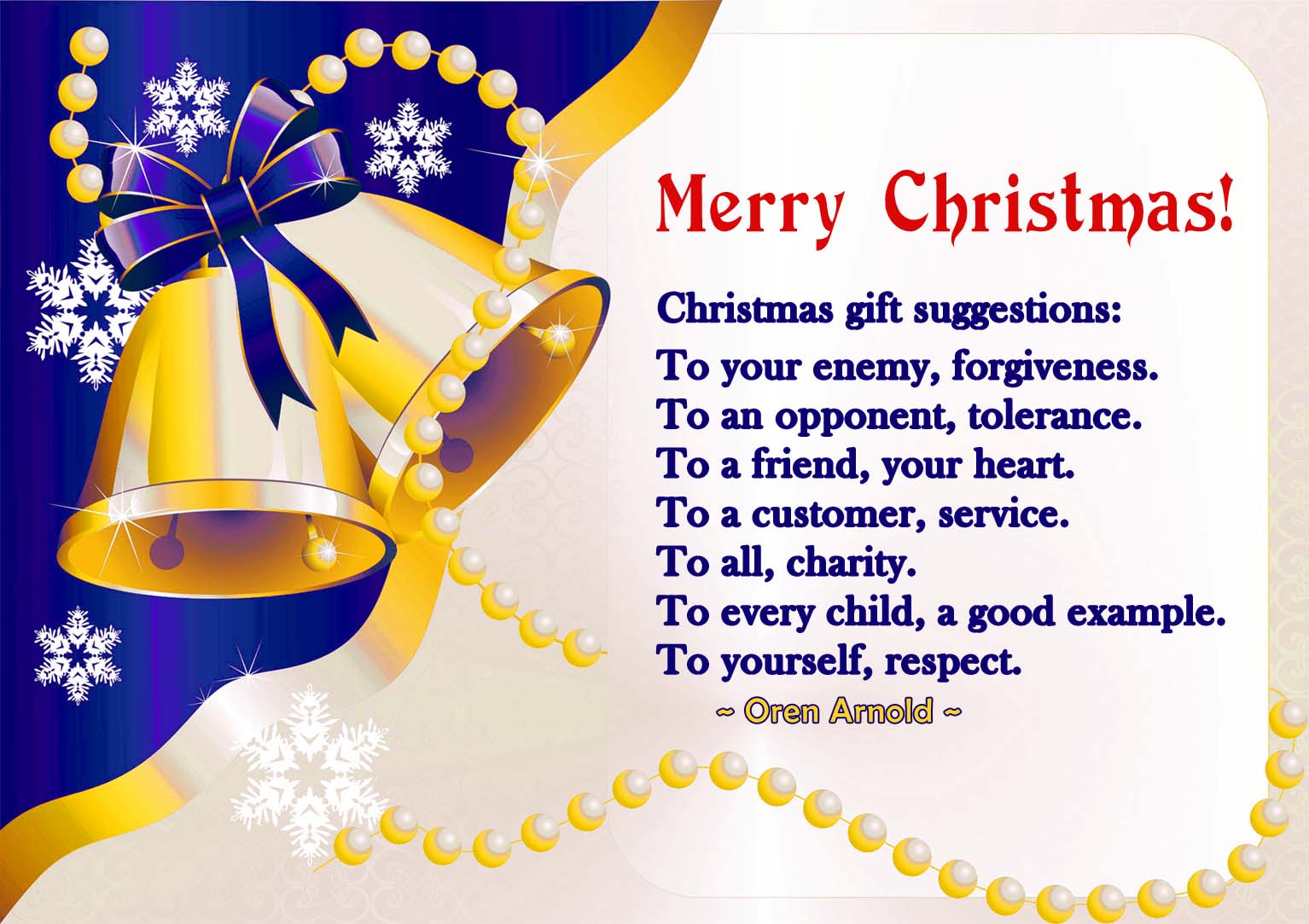 Depicted above: printable modern Christmas card, blue with golden bells, snowflakes and a quote on gifts by Oren Arnold that reads: "Christmas gift suggestions: To your enemy, forgiveness. To an opponent, tolerance. To a friend, your heart. To a customer, service. To all, charity. To every child, a good example. To yourself, respect."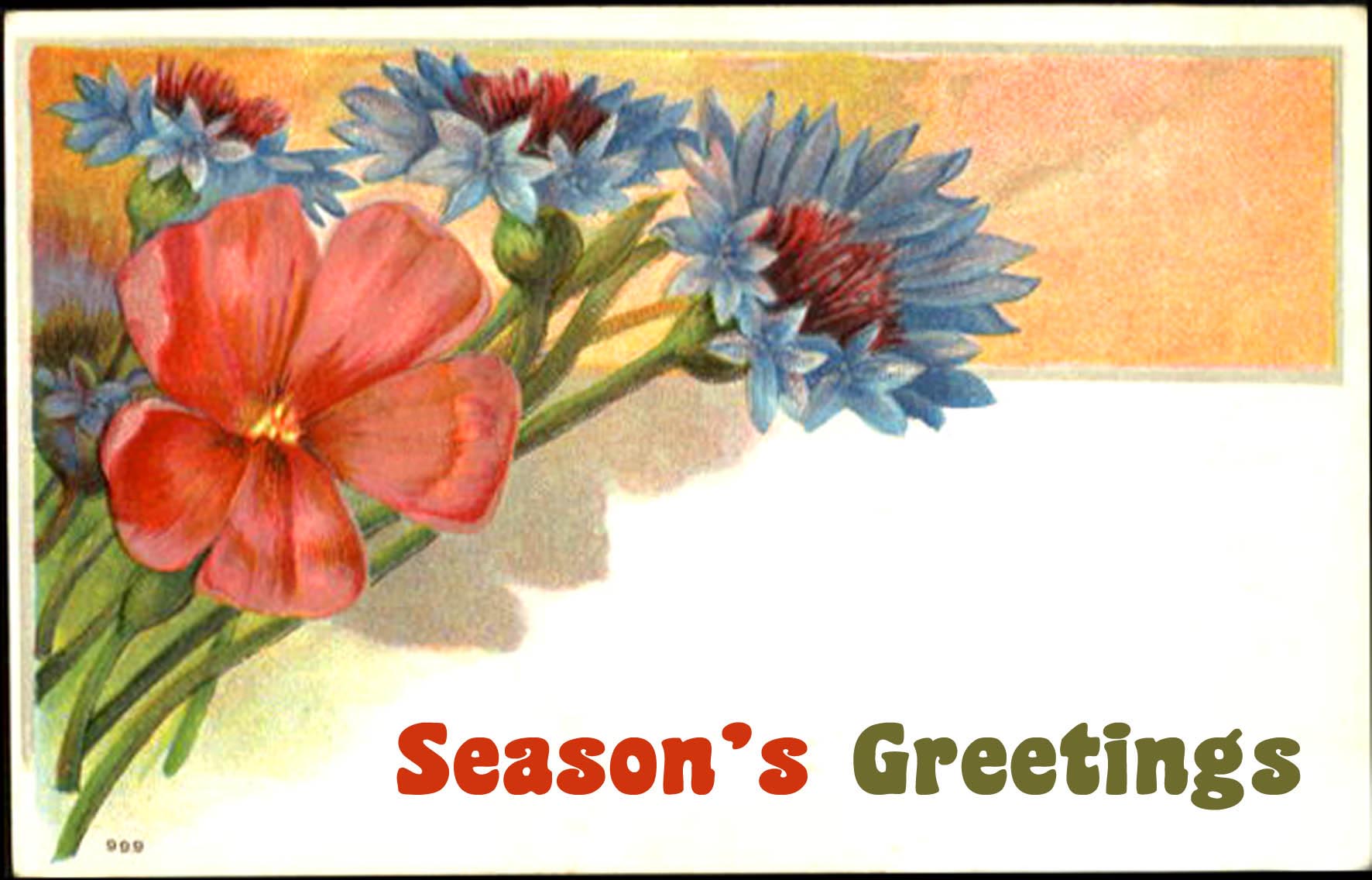 Depicted above: A printable vintage greeting card with drawing of flowers and the text: "Season's Greetings" (text added later).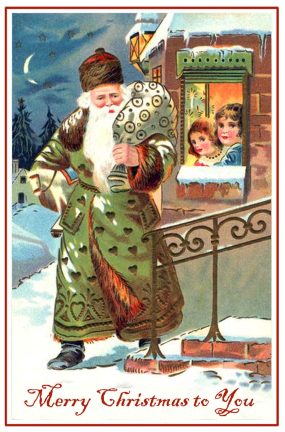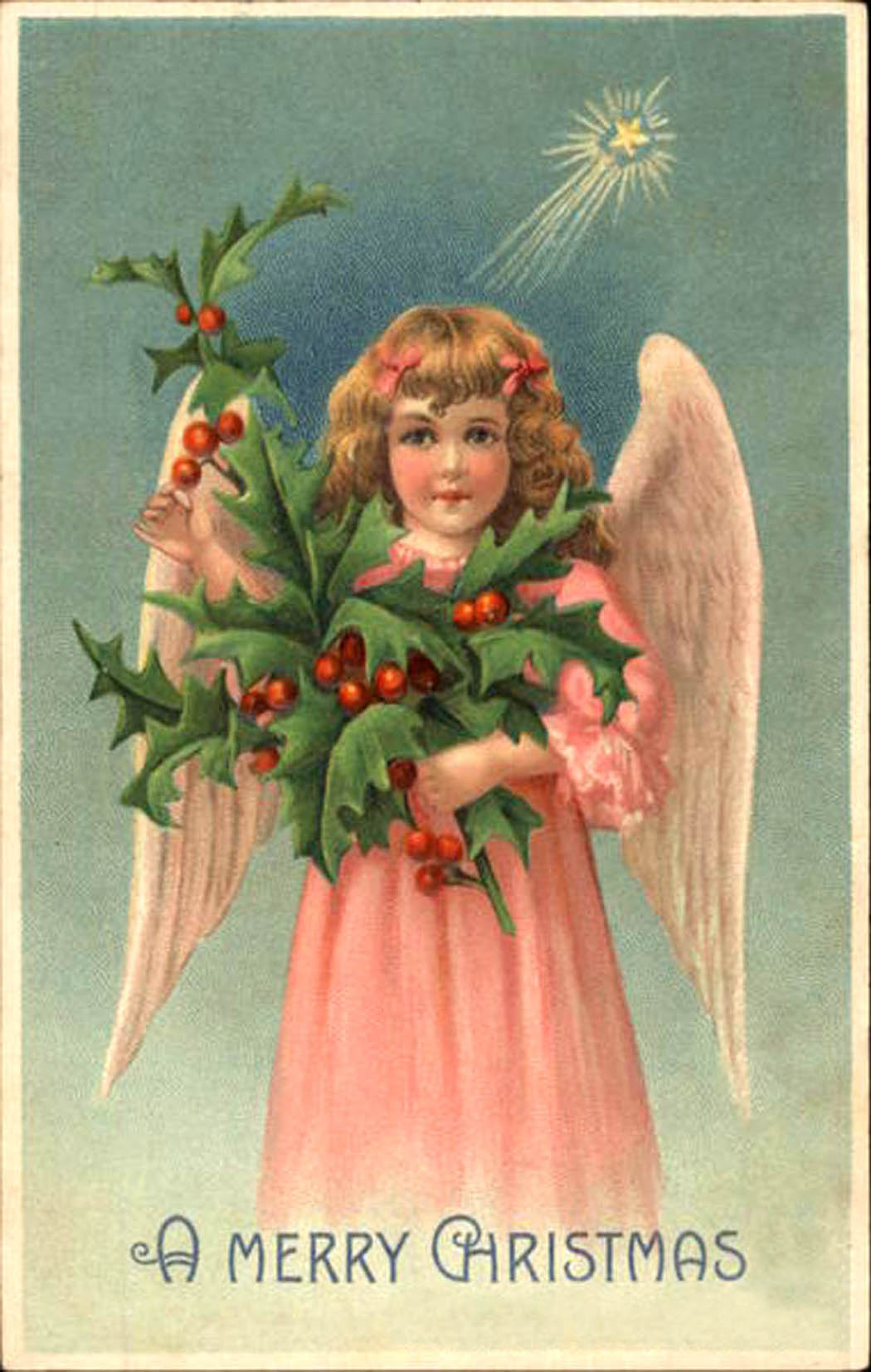 Depicted above, left: An antique printable card (bigger than it looks!) of an angel girl in pink dress holding a holly branch while a a star is shining down from above. The text reads: "A merry Christmas"
Depicted above, right: printable Victorian Christmas post card (bigger than it looks!) of a green clad Santa Claus carrying a bag whilst two children in a house are looking at him through a window. The text says: "Merry Christmas to You"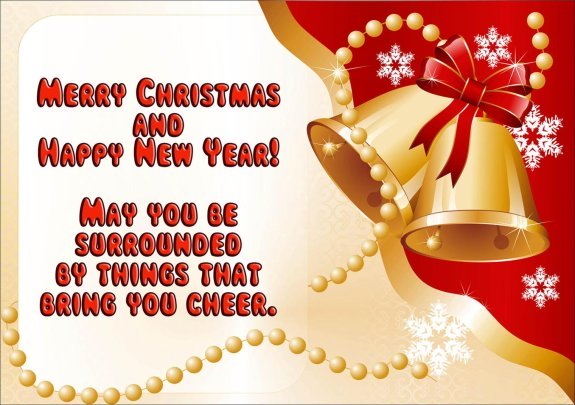 Depicted above: Printable red modern Christmas card with golden bells, snowflakes and a greeting, saying: "Merry Christmas and Happy New Year! May you be surrounded by things that bring you cheer."
Depicted above, left: Vintage New Year and Christmas greeting card (larger than it looks!) with a watercolor painting of 2 colorful winter birds and a white border with the words: "Merry Christmas and Happy New Year"
Depicted above, right: Negishi - a Japanese woodblock print (larger than it looks!) by Charles W Bartlett made in 1916 showing a small snow covered village and trees, three people and a lake. The red and yellow text in oriental lettering, added later, reads, "Merry Christmas"
Depicted above: A Christmas card showing a happy snow man with green gloves, a red bell, small golden bells as buttons, a black hat and a broom with a greeting written on it, "Hi There! Merry Christmas"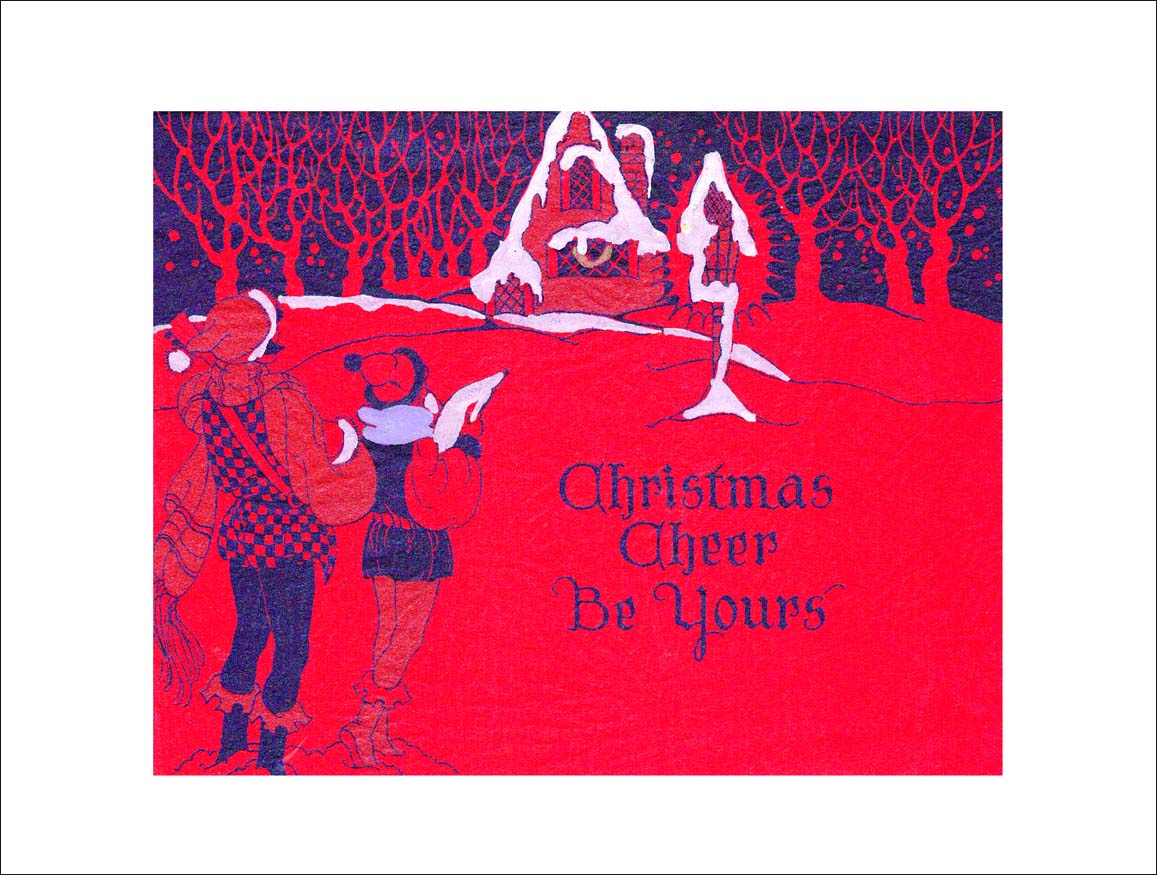 Depicted above: A red, blue and white holiday greeting card from the 1930s of a forest (or suburb) scene with two people in what looks like medieval clothes and (somewhat incongruously) Christmas hats, a snow covered lamp post and house. The text says, "Christmas Cheer Be Yours"
Depicted above: An antique die cut Christmas greeting card, somewhat art nouveau-like from circa 1900, with silver and holly and the text, "With Best Christmas Wishes".
Here at Quotescoop.com we sincerely wish you a wonderful Christmas as well! :-)
More additional paragraphs go here
Last paragraph here
Where Would You Like to Go Next?
Christmasy Quotes, Sayings, Poems and Greetings
Beautiful Cards for Christmas
Humorous Reflections on Christmas
Fun Games for Christmas