Is Christmas fun? Is it relaxing and heartwarming? It can be, and maybe it should be, but is won't be if you're stressed out from all the shopping and preparing and worrying whether your Christmas is going to be 'perfect' enough.
So at Quotescoop.com we come to the rescue with a collection of Christmas quotes and Christmas thoughts that may cheer you up and - hopefully - make you relax and get in the right mood for what CAN be the most heartwarming of seasons.
Let's Start out with 15 Really Short Quotes on Christmas
Blessed is the season which engages the whole world in a conspiracy of love!
~ Quotes on Christmas by Hamilton Wright Mabie ~

There has been only one Christmas - the rest are anniversaries.
~ W. J. Cameron ~

The best presents we can give each other are love and attention.
~ Soren Lauritzen ~ , the Personal Development Guy

There's nothing sadder in this world than to awake Christmas morning and not be a child.
~ Erma Bombeck ~

Christmas: Several weeks of Hell for Christ's sake!
~ Funny Christmas Quotes & Sayings ~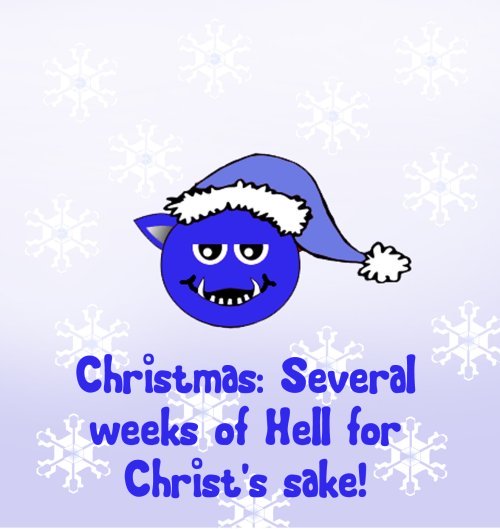 A hug is the perfect gift; one size fits all, and nobody minds if you exchange it.
~ Funny Christmas Sayings ~

Christmas: make people forget the past with a present.
~ Funny Christmas Sayings ~

Hey Santa, how much for your list of naughty girls?
~ Funny Quotes about Christmas ~

Christmas is the season when you buy this year's gifts with next year's money.
~ Funny Christmas Sayings ~

Christmas isn't a season. It's a feeling.
~ Edna Ferber ~

A lovely thing about Christmas is that it's compulsory, like a thunderstorm, and we all go through it together.
~ Garrison Keillor ~

Something about an old-fashioned Christmas is hard to forget.
~ Hugh Downs ~

You cannot receive what you don't give. Outflow determines inflow.
~ Eckhart Tolle ~

They err who thinks Santa Claus comes down through the chimney; he really enters through the heart.
~ Mrs. Paul M. Ell ~

The one thing women don't want to find in their stockings on Christmas morning is their husband.
~ Joan Rivers ~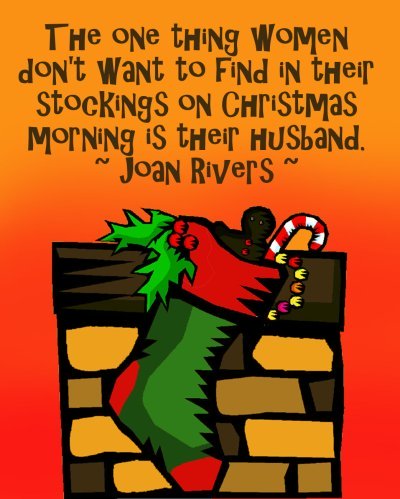 Famous Christmas Quotes for Your Entertainment
So much (for now) for the short Christmas sayings and funny Christmas quotes - we'll top those off with a few famous Christmas quotes. First, one from an American juggler, comedian, actor and writer (and alcoholic) whose birth name was actually William Claude Dukenfield:

Christmas at my house is always at least six or seven times more pleasant than anywhere else. We start drinking early. And while everyone else is seeing only one Santa Claus, we'll be seeing six or seven.
~ Famous Christmas Quotes by W.C. Fields ~

And secondly, this is one of those funny Christmas quotes that require you to know a bit about film history. In this case the fact that famous actress Shirley Temple Black began her film career in 1932 at the tender age of four. (She was born 1928 to a father who was businessman and banker in Southern California and a mother who loved dancing - a fact that surely helped the young girl succeed).

I stopped believing in Santa Claus when my mother took me to see him in a department store, and he asked for my autograph.
~ Shirley Temple ~

World famous Danish-born American entertainer Børge Rosenbaum, better known as Victor Borge who was born in 1909 and died in 2000 loved to be with his family, yet ever the entertainer, he had this to say:

Santa Claus has the right idea - visit people only once a year.
~ Victor Borge ~

And, in a more serious and heartwarming vein, here's one of the famous quotes about Christmas that was spoken by a U.S. president - the 30th President of the United States (1923-29):

Christmas is not a time nor a season, but a state of mind. To cherish peace and goodwill, to be plenteous in mercy, is to have the real spirit of Christmas.
~ Calvin Coolidge ~

Here's another one of those famous quotes about Christmas that keep you warm in a cold season, this one from a world famous Scottish poet and novelist, Sir_Walter Scott:

Heap on the wood! - the wind is chill;
But let it whistle as it will,
We'll keep our Christmas merry still.
~ Walter Scott, Sr. ~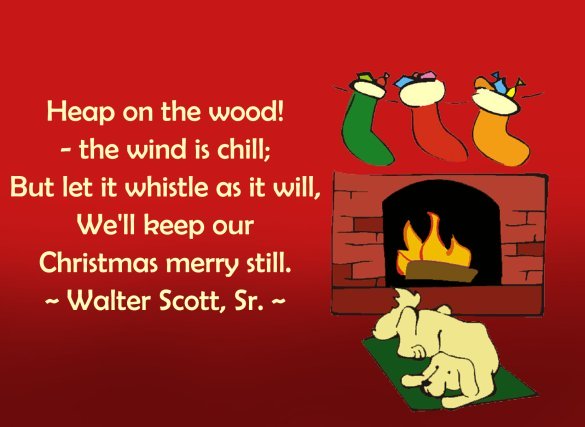 And, finally, a good handful of very famous Christmas quotes from a British novelist who in some ways is actually synonymous with Christmas, Charles John Huffam Dickens (1812-1870). Dickens lived and wrote (e.g. the almost timeless 'A Christmas Carol' of 1843) during the Victorian period, and he is generally considered one of the greatest English novelists of that age:

I will honour Christmas in my heart, and try to keep it all the year.
~ Charles Dickens ~ (from: 'A Christmas Carol')

There is nothing better than a friend, unless it is a friend with chocolate.
~ Charles Dickens ~

Christmas was close at hand, in all his bluff and hearty honesty; it was the season of hospitality, merriment, and open-heartedness; the old year was preparing, like an ancient philosopher, to call his friends around him, and amidst the sound of feasting and revelry to pass gently and calmly away.
~ Charles Dickens ~ (from: 'The Pickwick Papers')

... for it is good to be children sometimes, and never better than at Christmas ...
~ Charles Dickens ~ (from: 'A Christmas Carol')

There is nothing in the world so irresistibly contagious as laughter and good humor.
~ Charles Dickens ~ (from: 'A Christmas Carol')

I do come home at Christmas. We all do, or we all should. We all come home, or ought to come home, for a short holiday -- the longer, the better -- from the great boarding school where we are forever working at our arithmetical slates, to take, and give a rest.
~ Charles Dickens ~

A merry Christmas to everybody! A happy New Year to all the world!
~ Charles Dickens ~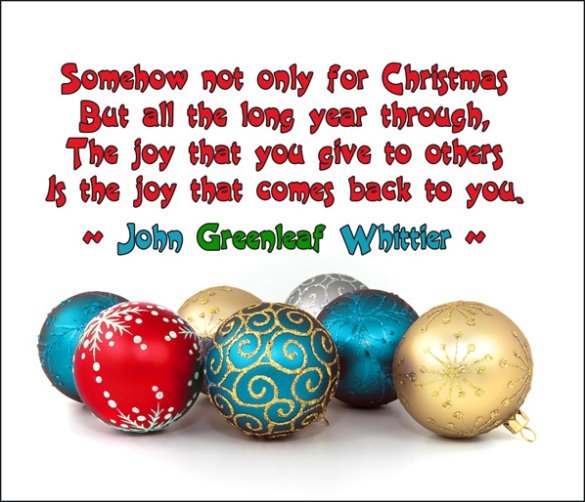 Some Christmas Thoughts and Questions that Make You Think
What do you want for Christmas? A friend, a lover, a Porche, a yacht, success, fame and loads and loads of money. In short, everything, right?

Okay, so this is one of the Christmas quotes that hints that perhaps materialism does not satisfy the soul:

He who has not Christmas in his heart will never find it under a tree.
~ Roy L. Smith ~

In fact, materialism doesn't even satisfy the feelings or the mind. We all know that when people long for something - and manage to get it - they will only want something more.

Most people are never satisfied with what they have already obtained. There is always something more, something better that they feel they must have. This is one of the basic functions of our ego - that small part of us which most people assign way too big a role in their lives, much to their own detriment.

Calvin: Well. I've decided I do believe in Santa Claus, no matter how preposterous he sounds.
Hobbes: What convinced you?
Calvin: A simple risk analysis. I want presents. Lots of presents. Why risk not getting them over a matter of belief? Heck, I'll believe anything they want.
Hobbes: How cynically enterprising of you.
Calvin: It's the spirit of Christmas.
~ Bill Watterson ~ (from his 'Calvin and Hobbes' comic strip)


You may stock up plenty of something, but still need still more to complete what you have planned with the supply you have. If you are collecting things that come in a set, you won't be satisfied until the complete set is in your possession.

Then, when the entire set is in your possession ... surprise, surprise ... you want the next set!

You spend your energy and health collecting, storing away.

When you have accumulated a lot of belongings, it is a lot of work to store them and keep them neat. If you have too much stuff, you cannot find what you want when you need it anyway, what good is it?

If you got everything you ever wanted for Christmas ... where would you put it?
~ Christmas Thoughts ~

When you finally quit storing away, are you too ill or weak to enjoy what you have stored?

Do you even have time to enjoy all your stuff? And when you're gone, will your heirs and benefactors appreciate all your stuff as much as you did? Will they sell it at a low price to get rid of it? Will they throw it away? Was it all for nothing?

Here's the thing: Wanting never stops. In itself this is not a problem ... do you know when it is a problem and when it isn't? There is a simple answer to that:

We all want something. All the time. If that want comes from love - like wanting to realize your potential - there is no problem. It is when what we want comes from fear and lack that we go nuts and become a danger to ourselves, others and the environment.
~ Soren Lauritzen ~ , the Personal Development Guy

A very merry Christmas
And a happy New Year
Let's hope it's a good one
Without any fear
~ John Lennon ~
Quotations about Christmas, Age and Santa Claus
'Twas the night before Christmas, when all through the house
Not a creature was stirring - not even a mouse:
The stockings were hung by the chimney with care,
In hopes that St. Nicholas soon would be there.
~ Clement C. Moore ~

St. Nicholas, or Santa Claus as we prefer to call him today, is actually a pretty modern invention, at least the way we know him today: Big, burly, bearded and dressed in red.

Let's get Santa Claus ... 'cause;
Santa Claus has a red suit
He's a communist
And a beard, and long hair
Must be a pacifist
What's in the pipe that he's smoking? Santa Claus comes in your house at night.
He must be a dope fiend to get you up tight.
Why do police guys beat on peace guys?
~ Arlo Guthrie ~ (from: 'The Pause of Mr. Claus')

When you were a child, Santa looked really old. You were afraid to sit on his lap at first! (You know, the guy dressed as Santa - at home or in the department store).

There was the little boy who approached Santa in a department store with a long list of requests. He wanted a bicycle and a sled, a chemical set, a cowboy suit, a set of trains, a baseball glove and roller skates.

"That's a pretty long list," Santa said sternly. "I'll have to check in my book and see if you were a good boy."

"No, no," the youngster said quickly. "Never mind checking. I'll just take the roller skates."
~ Funny Stories and Quotes about Christmas ~

Then, when you grew to adulthood, maybe you dressed up like Santa for your children. Then, one day, you looked at Santa and he didn't look old at all!

You know you are getting old when Santa starts looking younger.
~ Robert Paul ~

There are three stages of man: he believes in Santa Claus; he does not believe in Santa Claus; he is Santa Claus.
~ Bob Phillips ~

These are a couple of the funnier quotes about Christmas, how true those Christmas quotations are! When Santa no longer looks old to you, the kids driving cars look too young to have a driver's license! Yes, as far as we know, old age happens to all of us. When you are young you don't believe it will happen to you.

In fact, you don't even think about old age until it happens.

The tragedy of old age is not that one is old, but that one is young.
~ Oscar Wilde ~

When you are old, you pay for everything you did in your youth that was not profitable for you or your body.

You know you're getting old when your back starts going out more than you do.
~ Phyllis Diller ~

When you are young you may tend to think nothing bad can happen to you - to others, yes - but not to you.

You may feel you are above all unfortunate happenstance. In fact, you may even feel like you are better than others, particularly those who are older than you. In time you will come to see this is merely the ignorance (perhaps even the arrogance) of youth.

If I knew I was going to live this long, I'd have taken better care of myself.
~ Mickey Mantle ~

An older person usually cannot communicate to a younger person what is to be so the youth can prepare for the sure future. If they would only listen to the wisdom of old age! But no matter, you will feel the exact same thing soon enough. :-)
A Few Santa Claus Jokes
This page is coming to an end. We want to end it as we started it, with a bunch of Christmas quotes, so that's what we're going to do - only this time they're longer than in the beginning, and we've thrown in a few good Christmas Jokes and Santa Claus jokes as well:

There's something very fishy about a Santa Claus who not only neglects to visit children in cultures based on, say, Buddhism or Hinduism, but who also bestows his gifts based on some highly questionable standards of 'good' children versus 'bad' children ... with reality showing that children of rich parents must obviously be much more 'good' than children of poor parents.
~ Funny Santa Claus Jokes ~

Let's be naughty and save Santa the trip.
~ Gary Allan ~

It is the personal thoughtfulness, the warm human awareness, the reaching out of the self to one's fellow man that makes giving worthy of the Christmas spirit.
~ Isabel Currier ~

Good things come in small packages ... and in big packages, medium packages, pretty packages, ugly packages and just plain boring packages. And you know what? It's not the package that counts.
~ Soren Lauritzen, thePersonalDevelopmentGuy.com ~

Christmas! The very word brings joy to our hearts. No matter how we may dread the rush, the long Christmas lists for gifts and cards to be bought and given - -when Christmas Day comes there is still the same warm feeling we had as children, the same warmth that enfolds our hearts and our homes.
~ Joan Winmill Brown ~

You get what you give - multiplied. This is true both for the farmer sowing seeds and for you doing deeds in the world. But please note the order or sequence involved: You give first, then you get.
~ Soren Lauritzen ~ , the Personal Development Guy

Dear Santa,
I'm writing to let you know that I've been naughty...
and it was worth it.
You fat, judgmental bastard!
~ Funny Santa Claus Jokes ~

Why is Christmas just like a day at the office? You do all the work and the fat guy with the suit gets all the credit.
Christmas Jokes
Top Five Things To Say about A Christmas Gift You Didn't Want

5. Wow. This is perfect for wearing around the basement.

4. Boy, if I had not recently shot up 4 sizes this would've fit.

3. If the dog buries this, I'll be furious!

2. To think - I got this the year I vowed to give all my gifts to charity.

1. Gosh. I hope this never catches fire! It is fire season though. There are lots of unexplained fires.

Where Would You Like to Go Next?
Christmasy Quotes, Sayings, Poems and Greetings
Beautiful Cards for Christmas
Humorous Reflections on Christmas
Fun Games for Christmas