New Year's Eve: the time to let roam your New Years Eve party ideas and when alcohol mixes with way too much fun and extreme exhaustion to make an unforgettable night that very few people seem to remember the next morning.
It can be entertaining to note how many people greet the New Year with smiles on their faces and a pounding in their head, and that is thanks in large part to the many great party ideas for New Years Eve that turns the night from a night to remember into a night where we swear off drinking for the rest of our lives. :-)
There are many excellent party ideas that you can use to make your celebration to kick the year off one of the best of the year, though the average New Years Eve party needs no help.
The spirit of festivity and merriment always reigns over the evening, while the scents of every conceivable mixture of alcohol and bad breath floats through the air at nose level.
New Years Eve truly is a time for fun and merriment, so it is best to use some fun New Years party ideas to help you plan a party that all of your friends and family will attend.


---
Creating the Perfect Match between the Guests and Party Ideas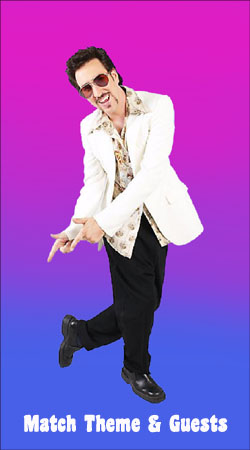 Keep in mind that the people attending your party will directly affect the theme of your party. After all, you don't want to throw a lingerie party for your family or a very wild party for your boss and coworkers.
The guests at the party will need to be considered before you choose the theme and the activities of the party.

Always make sure that you know who is attending the party before you go wild and end up dancing on the table while a crowd of your aunts and cousins look on in horror.


---
Party Idea No. 1: When Keeping It in the Family
Family parties will need to be a lot more controlled, though no one says they have to be boring. You will need to keep your New Years party ideas much more family oriented, as too much alcohol may result in disaster.
However, you can still cut loose and have fun with some great New Years Eve ideas that will turn your party into a time of fun and merriment.
One great way to turn a family New Years party into a time for bonding and reflection is by having a candlelight service. This service is when you give thanks for all of the good things that happened in the year, after which alcohol is served as you have fun laughing and enjoying each other's company.
If you are spending New Years with your family, you are probably too close-knit with your family to get out and have fun with total strangers, so you can have lots of fun looking back at the last year with your family as you enjoy a nice drink.


---
Party Idea No. 2: New Years Games with Work Colleagues
Work parties can be a lot more fun, and you will find that you can cut loose a lot more.
However, remember that shagging your boss' secretary on his desk may not result in that promotion you have been hoping for, and, yes, asking the women in the office to show you their boobs will probably count as sexual harassment.
This party you will need to keep your alcohol consumption to a healthy level, healthy being the term describing "still fairly in control of your wits to the point that you are standing at a 45 degree angle at least".
Setting up CEO-themed party can be a lot of fun, though some women may find that having to dress up as sexy secretaries may not be their idea of a good time.
For companies with primarily female bosses, the woman can be the executives and the men can be the executive assistants to shake things up a bit and add some fun to the party. Some people may protest the theme, but it will still be a heck of a lot of fun.
If your company is more reserved and less prone to drinking and public nudity (what a sad company to work in;-), you can always throw a costume party.
There are three or four New Years Eve costumes you can choose from, and you can see how many more creative ideas your coworkers can choose. (some may be Father Time, the Crystal Ball from Times Square, or a calendar of the New Year).
Few people will end up partying with their coworkers, though a work New Years Eve party is not completely unheard of.


---
Party Idea No. 3: Letting Loose with Total Strangers
When it comes to partying with total strangers, you will find that this is where you can have fun and let loose.


---
Playing the Game of 'Edward 40 Hands'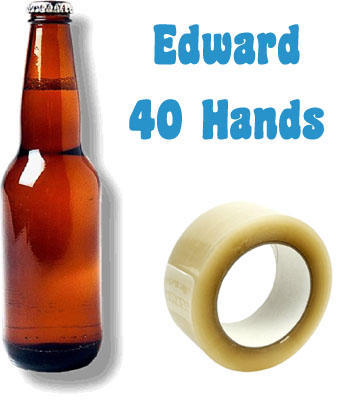 This game involves everyone having a 40-ounce beer bottle being taped to their hands, and they cannot remove the bottles until the beer has been drunk completely.
This will usually lend to an excellent party atmosphere, though don't expect everyone to stay completely sober as you break into choruses of "Deck the Halls with New Year's Holly" or "The Drunk Scottsman at New Year".


---
Celebrating New Years in the Style of Mardi Gras - Bead Necklaces
This is one of the best ways to pass the time, and you will find that passing out bead necklaces to every guest at the party can be a great way to get the fun started.

Don't expect a PG-13 party if you combine beads for favors and alcohol, as some people will do pretty much anything to get another string of beads around their necks.
Still, you will be hard pressed to find a theme that will be more fun than with the Mardi Gras bead party ideas for New Years Eve.


---
Handing out Monopoly Money as a Risqué Variation of the Game
Gather all your guests at the party and tell them to collect as much as they want. Don't set the rules for the game, but tell them they can do anything to get money.
If promiscuity and nudity are not your idea of New Years Eve fun (you Puritan!;-), you will find that this is not the best party idea for you.
Make sure that you declare the person with the most money the winner, and see who will collect the bug bucks by doing whatever it takes. Just because it's New Years Eve doesn't mean all the fun has to be nudity and alcohol.


---
Printable New Years Party Games bargain bundle!
---
Party Idea No. 4: Set up a Great Wine Tasting Event with some of Your Neighbors.
You can collect a number of your favorite cheeses, hams, cold cuts, olives, and some bottles of wine, and have each of your guests bring a bottle of their favorite wines as well.
Uncork the bottle, pull out the wine glasses, and let the elegant and refined fun flow. However, don't be surprised if the originally sober and elegant party turns into a lot more fun than you had expected.


---
Party Idea No. 5: Friends, Friends of Friends, and the People No One Invited But Just Showed Up Anyway
This is when you can really let it all hang out, and this is when the crazy party games and fun New Years Eve party ideas begin to flow.


---
Toga Parties Are Always a Popular Choice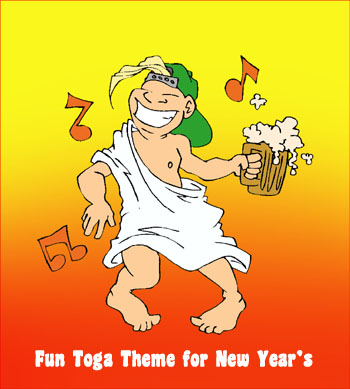 When trying to come up with a great theme to have a lot of fun, but don't be surprised if you find yourself with your toga wrapped around your ankles, literally.
There will always be that one prankster that goes around loosening everyone's toga, but you can make up fun rules that anyone who loses their toga will have to take shots.
Have fun with this truly classic fun theme.


---
The Creative 'Anything but Clothes' Theme
You may find that your friends love this idea, as they have to wear anything they want that is not clothing.
It can be saran wrap, tin foil, foliage, or even food, but this is a great way to add a slightly risqué touch to your party. You will find that people will get very creative when planning their outfits, and you can have a lot of fun getting your own costume ready.
You can also set your own costume party using any theme you want. You don't have to do New Years related themes, but you can do the popular ones like pirates, vampires, or Harry Potter. You can also do crazy themes, such as Pirates versus Ninjas, Robots vs Aliens, and pretty much anything else that you want.
Having people dress up in crazy costumes can be a lot of fun, and you will find that people will be more than willing to get out their costumes from their closet and alter them to be completely crazy according to the theme of your party.


---
Mustache Parties Can Be a Lot of Fun or "Come as Ugly as You Can!"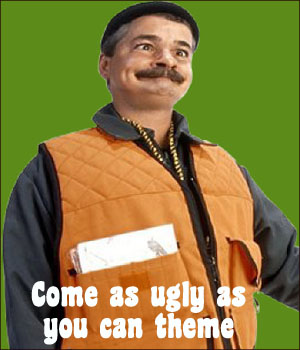 Rather than dressing up for the party, you will find that your friends will have loads of fun dressing up in their ugliest clothing, painting their faces with scars, using mascara to give themselves uni-brows, and coloring their teeth black or weird colors to make them look rotten.
This will make a great change to the regular party ideas where everyone tries to dress as attractively as possible.

You may find that dressing as ugly as possible is actually a lot more fun and takes the pressure off you as you interact with your friends at the end of the year.
If you and your friends are in the mood for something a bit more risqué, you will find that having a lingerie party will certain add a bit of the "ho-ho-ho" to your holiday cheer. You may find yourself ringing in the new year with more than just a few kisses, but heck, that's the fun and what New Years Eve is all about.
It will be a delightful treat to see your more attractive friends in their sleepwear, and will give you a chance to show off that body that you have worked all year to build.


---
A Nuts and Bolts Party - A Unique Theme
The purpose of the party is for every girl to bring a nut and for every guy to bring a bolt.
When the people arrive at the party, their goal is to find someone that has a nut or bolt of the same size as them.

You can take that theme as far as you want, and you will find that it will help to break the ice when meeting friends of friends or random strangers for the first time.


---
Wrestling Party for Hot Climates
If your New Years Eve is in a climate where it is a warm time of the year, you will find that fun wrestling parties can start your New Year with a bang.
You can set up a tub full of KY jelly or alcohol laced Jell-O, and you can have your friends wrestle inside the tub for prizes. You can also have pillow fights, or you can play Sock Wars or any other evening activity.


---
Why Is It that the New Years Eve Party Ideas Always Tend Towards the More Risqué?
The simple fact is that most people are looking to have a bit of fun on the last night of the year, and what can be more fun than some frolic in next to nothing.
You can find many great New Years Eve party ideas that do not involve clothes coming off, and they are the perfect New Years party ideas if you are more conservative.
However, using some of the many party ideas above is a great way to have as much fun as possible and bring in the new year with a bang.
Where Would You Like to Go Next?
Cards for New Years
New Year Quotes, Greetings and Wishes
New Year Resolutions
Games and Ideas for the New Year Party