Welcome to this large collection of free, happy New Year Cards in beautiful colors and of high quality.
Feel free copy these wonderful, colorful and printable New Year greeting cards to your own computer, print them out or if you're very creative, edit them to add your own personal touch.
Some of these happy New Years cards also display short, sweet and rhyming New Years poems that you can use with or without the New Year card on which it is written.
Old Vintage and Modern New Years Greeting Cards
As a special treat we've collected or created several types of New Year Greeting cards for you.

Vintage Cards for New Years: Here you will find both old vintage cards from the early Victorian 1900s as well as cards painted in the elegant Art Nouveau style. Whichever art style you prefer!

Contemporary Cards You will also find a few modern New Year greeting cards which are, among other things pretty, colorful photos of fireworks.
Ideas of How to Use these Free Cards
There are many ways to use these pretty online New Years cards.

Here are a few ideas:
Choose your personal favorite (perhaps it represents something about yourself, the intended receiver or maybe it's just simply pretty) and print it out on some sort of thick paper, preferably good photo paper. Find or buy some cardboard in matching color and glue your card onto it, so that your card will look nicely framed.


If you know a little bit about image editing, you can play around with your happy New Year card in e.g. Photoshop and include your own message on the card itself and send to your loved ones in an email or print it out.


You can also choose to create your own homemade New Years cards and just use the great New Years poems one this page as a sweet, final touch on your own card.
Conditions of Use
We are more than delighted to present you with these happy New Years greeting cards for your own private purposes and joy. These free online happy New Year cards are not to be used for commercial purposes. Thank you for respecting that! :-)
User Guidelines
All of these New Year pictures are created as .JPG files and are of pretty high visual quality.

When you've chose your personal favorite, there are probably several ways to save your image.

One of the simplest ways, though, is to simply right click on the chosen card and when the small new window opens, chose 'Save image as'. And after choosing a saving location on your pc, you will now have the chosen card saved on your computer.

Simple, neat and easy!

And now leaving the scene for the collection of happy New Years cards along with a few happy New Years poems.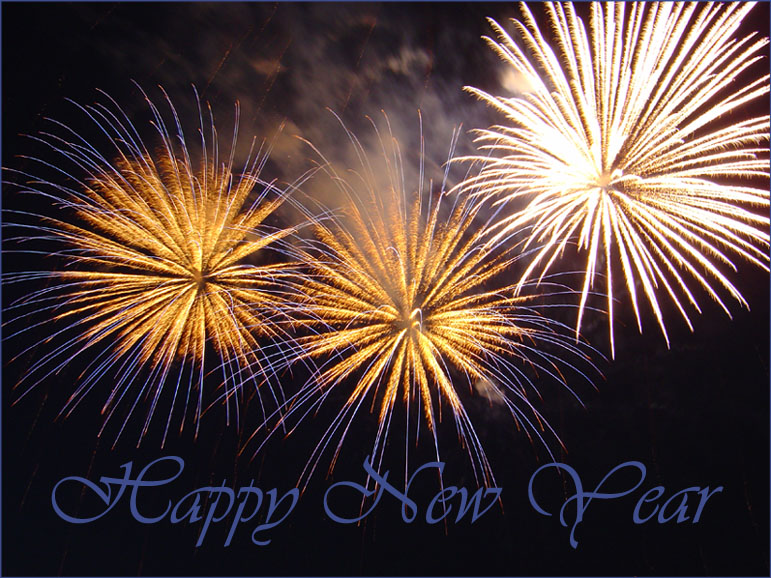 Modern New Year card. Photo of the black night sky with three colorful blue, golden and white fireworks.

'Happy New Year'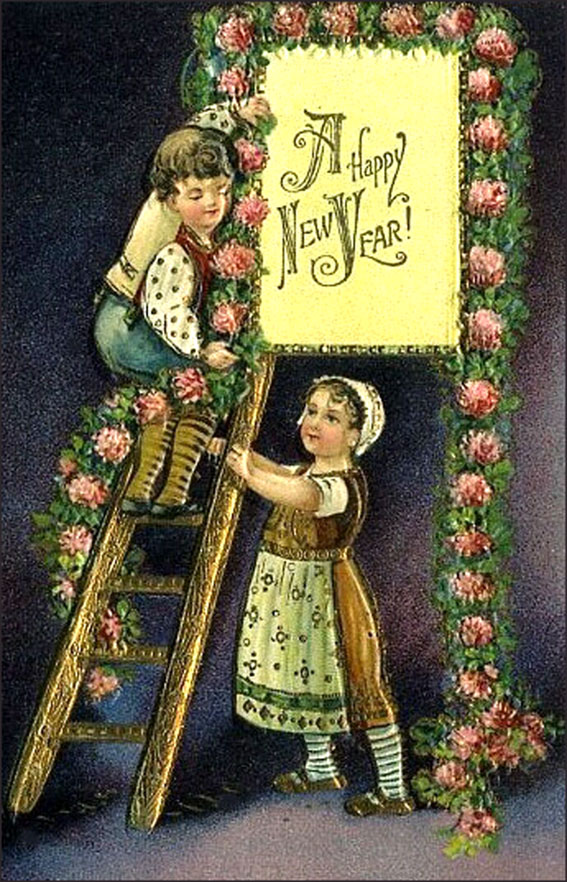 Old style New Year card. Sweet drawing of little boy on a ladder and girl setting up a New Year sign ornamented with pink flowers.

'A Happy New Year'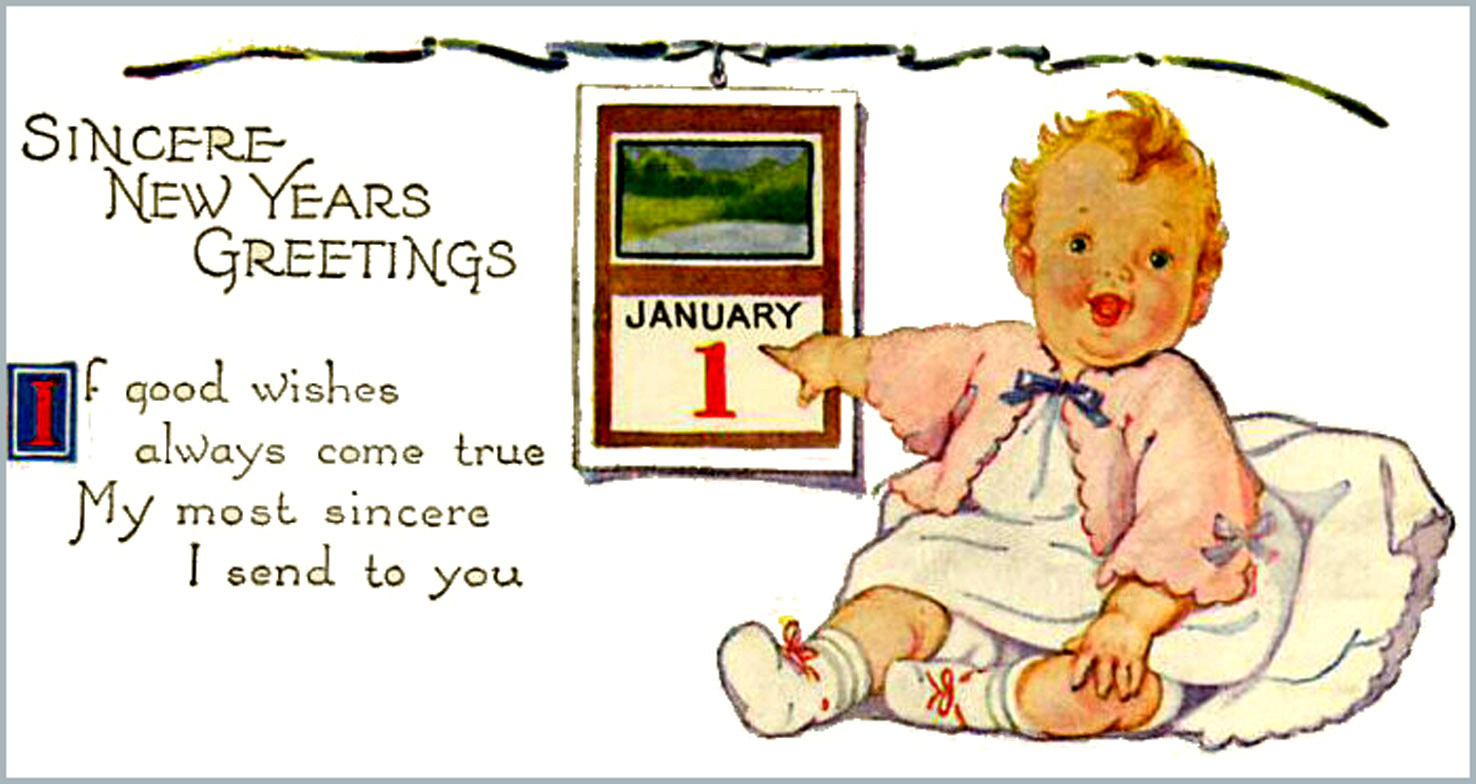 Cute vintage card with a rhyming New Year poem. A sweet blond baby girl in pink cardigan pointing at a calendar featuring the first of January.

'Sincere New Years Greetings'

'If good wishes always come true,
My most sincere I send to you'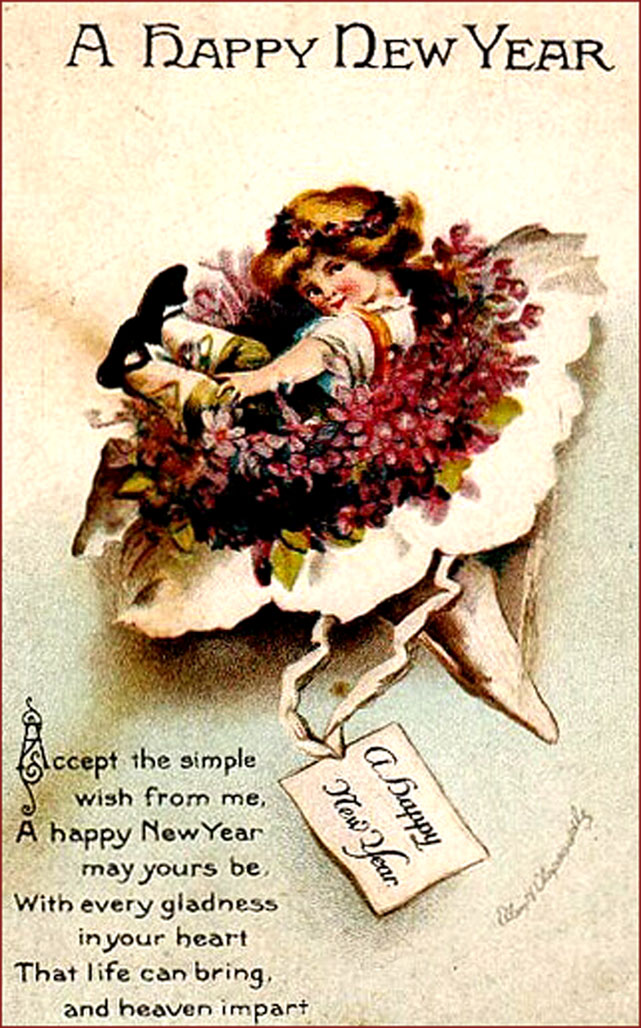 Yet another lovely and decorative old style New Year card with rhyming poem this time featuring a little girl sitting in a bouquet of flowers.

'A Happy New Year'

'Accept the simple wish from me,
A happy New Year may yours be,
With every gladness in your heart,
That Life can bring and heaven impart'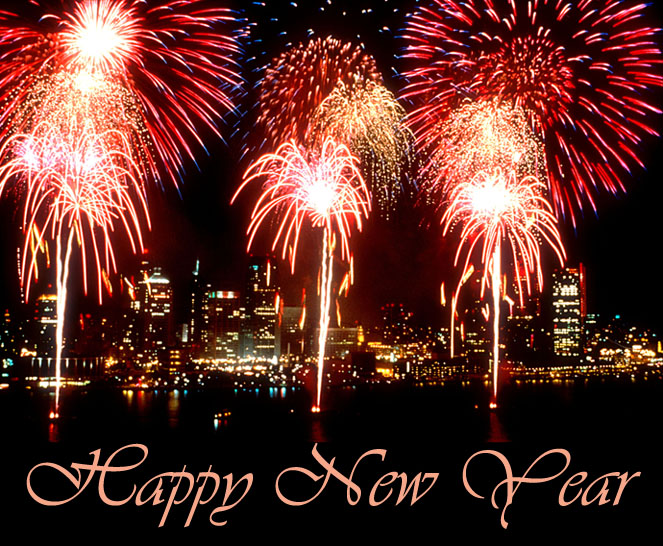 Photo of modern city with lights from skyscrapers along with lots of pink and red fireworks from the water.

'Happy New Year'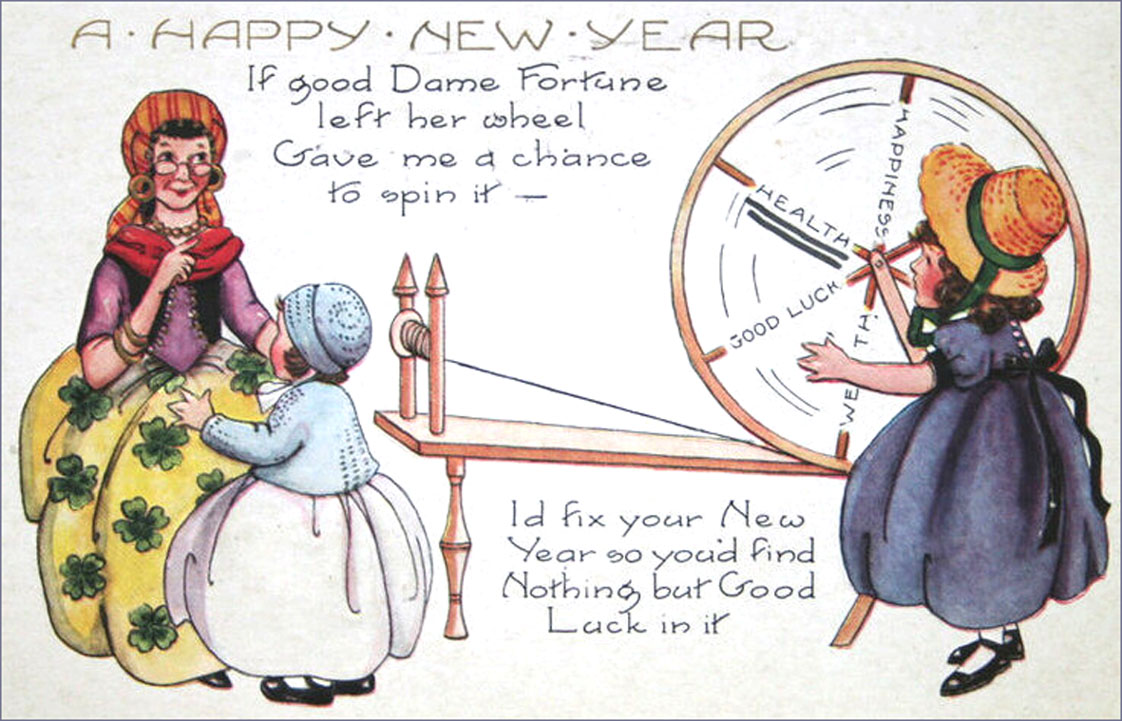 Old Card with a Happy New Years Poem about Dame Fortune.
Old vintage drawing of a gypsy woman, Dame Fortune, and two young girls in hats. The little girl in the blue dress is rolling the spinning wheel of happiness, health, good luck and wealth.

'A Happy New Year'

'If good Dame Fortune left her wheel,
Gave me a chance to spin it -
I'd fix your New Year so you'd find,
Nothing but good luck in it'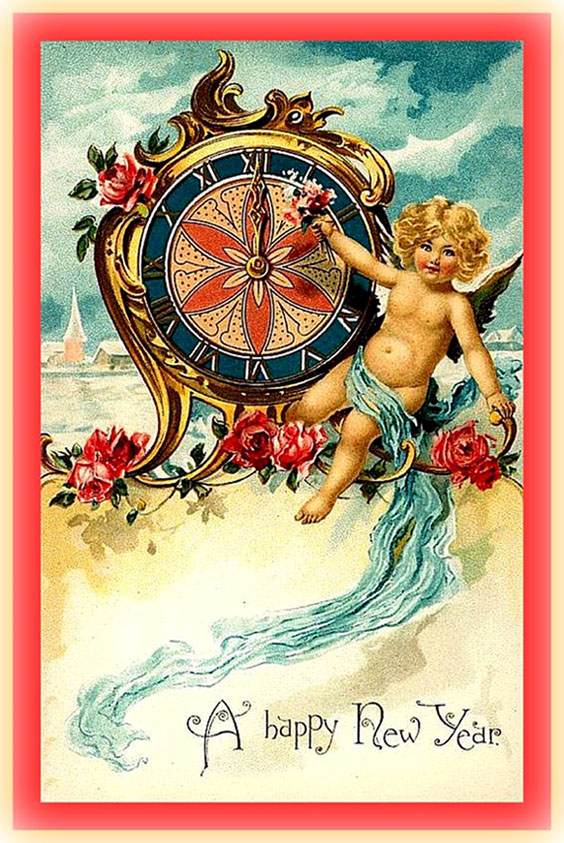 Colorful drawing of little angel child with wings flying next to big old clock with Roman letters, ringing at midnight.

'A Happy New Years'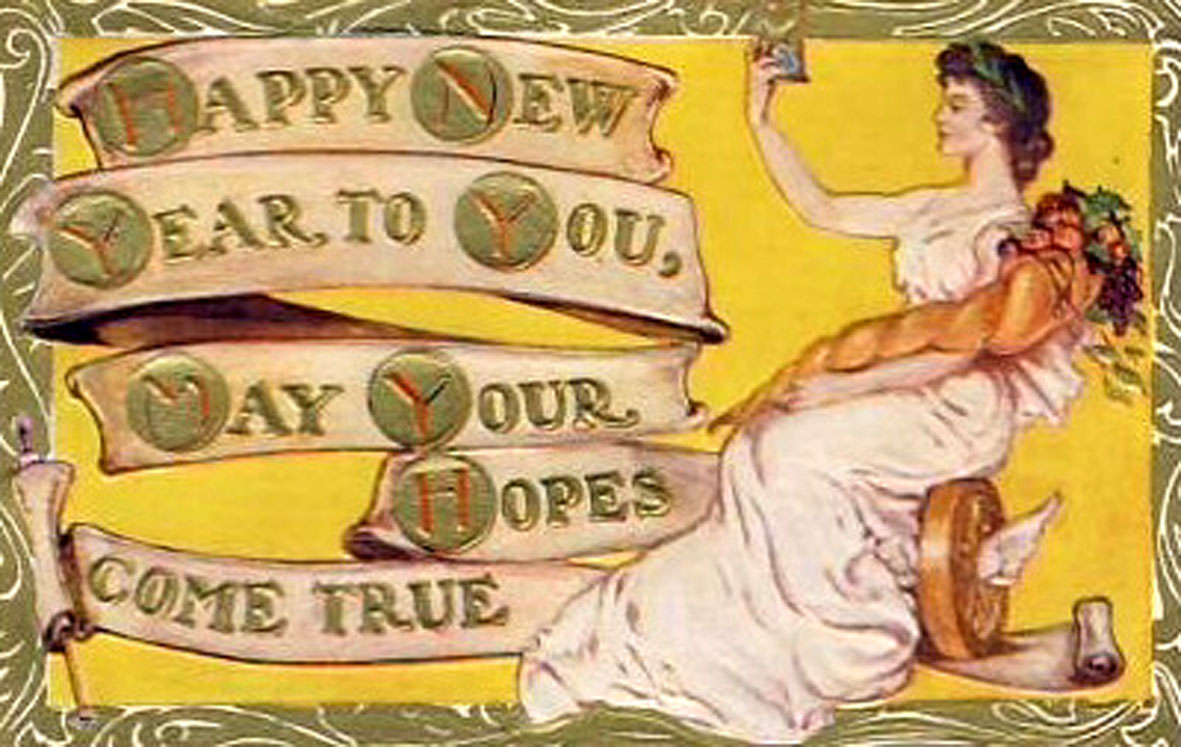 Old Card in Art Nouveau Style with New Years Poem
Roman looking woman in white toga sitting on wheel with wings holding a bouquet of flowers in her left hand on a yellow background.

'Happy New Year to you,
May your hopes come true'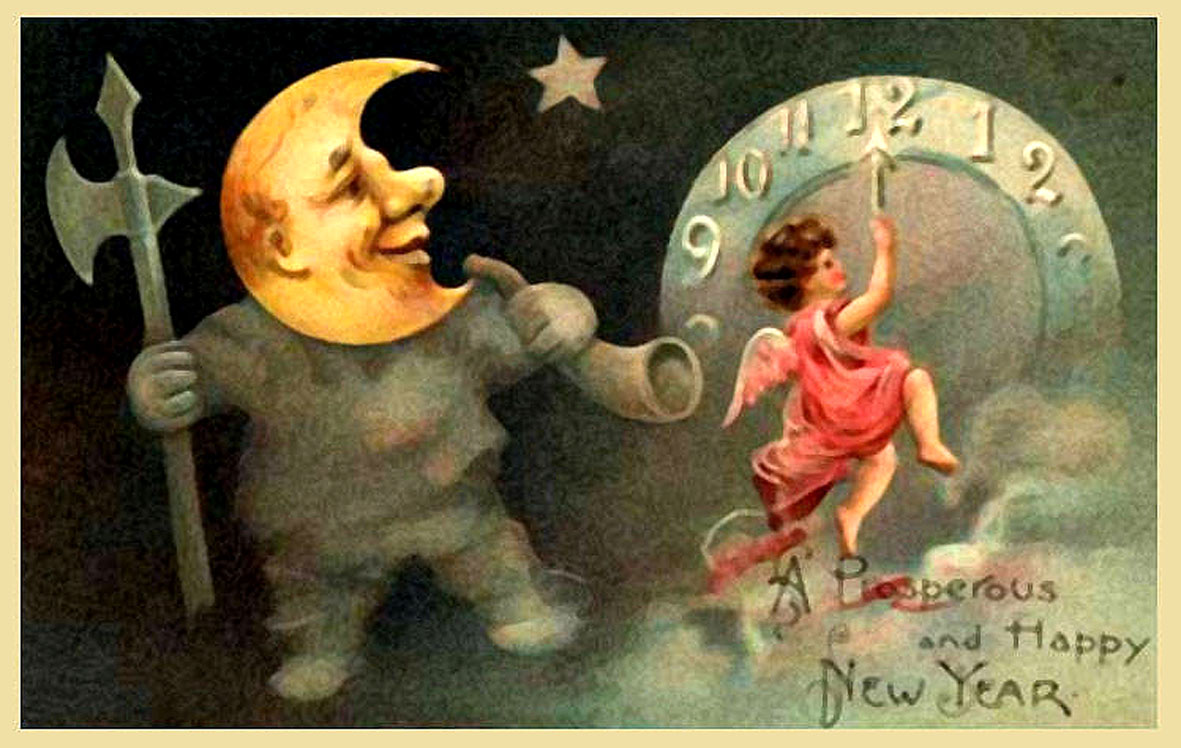 Dark night time picture of a yellow headed moon man with horn in his hand and a sweet little angel with wings and red robe adjusting the clock for midnight.

'A Prosperous and Happy New Year'
Modern New Year card. Photo of black night sky with pretty golden firework.

'Happy New Year'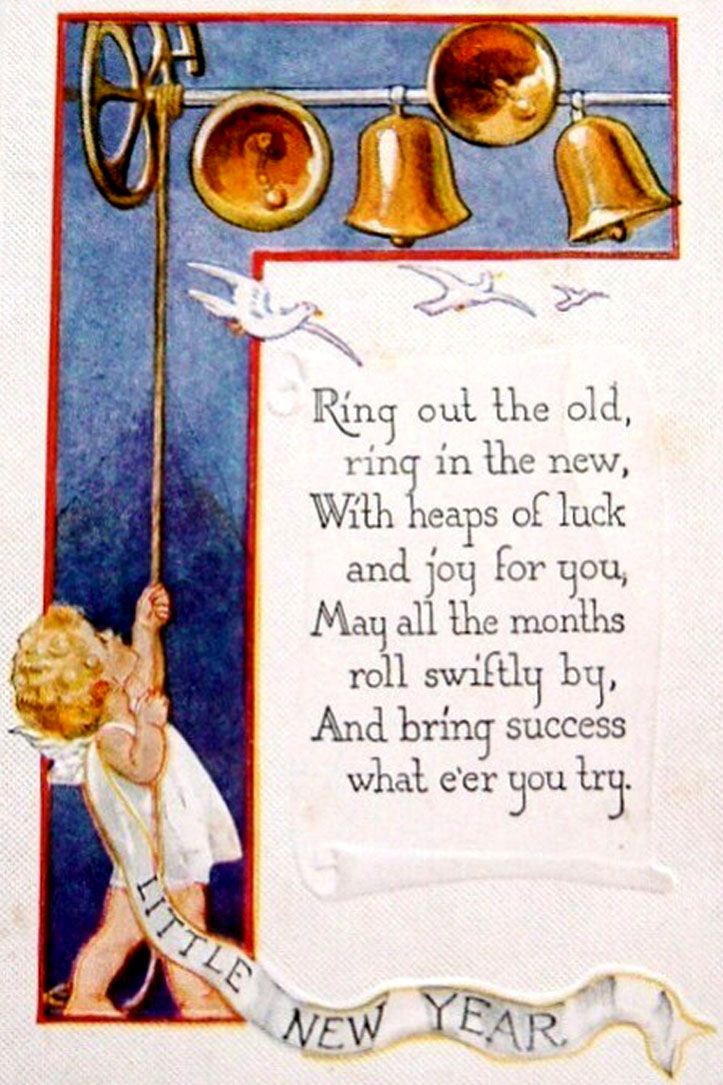 Sweet, blond angel child with wings on blue background ringing in the New Year with four golden bells.

'Little New Year'

'Ring out the old,
Ring in the new,
With heaps of luck
And Joy for you,
May all the months roll swiftly by,
And bring success what e'er you try'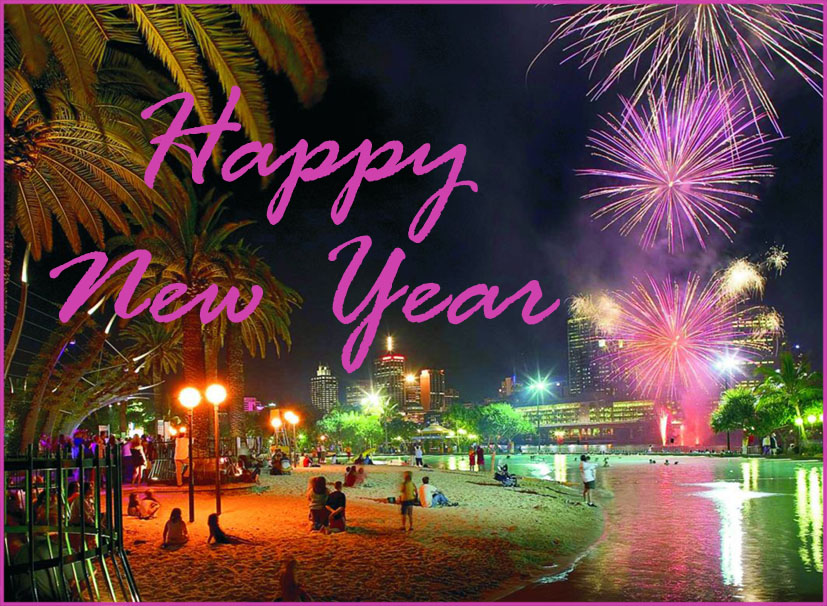 Colorful photo of city beach at night. People sitting in the sand looking at pink fireworks in the black night sky.

'Happy New Year'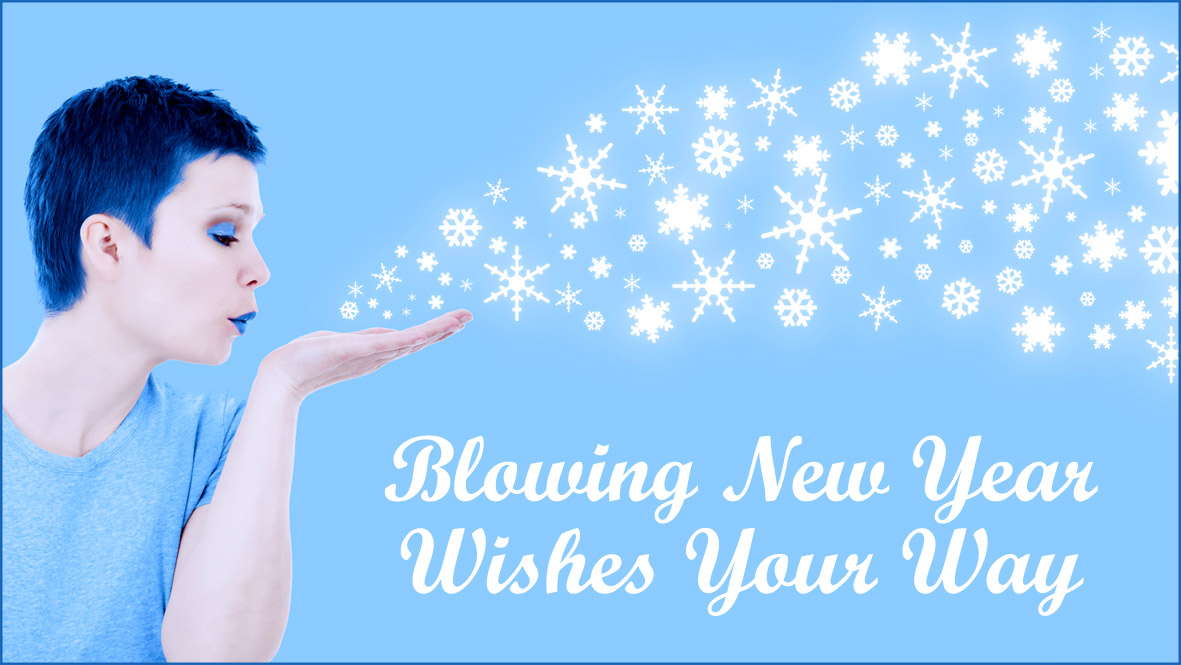 Modern, Panoramic card for New Year
Photo of woman in blue with blue hair and blue lips blowing a cloud of snowflakes from her hand.

'Blowing New Year Wishes Your Way'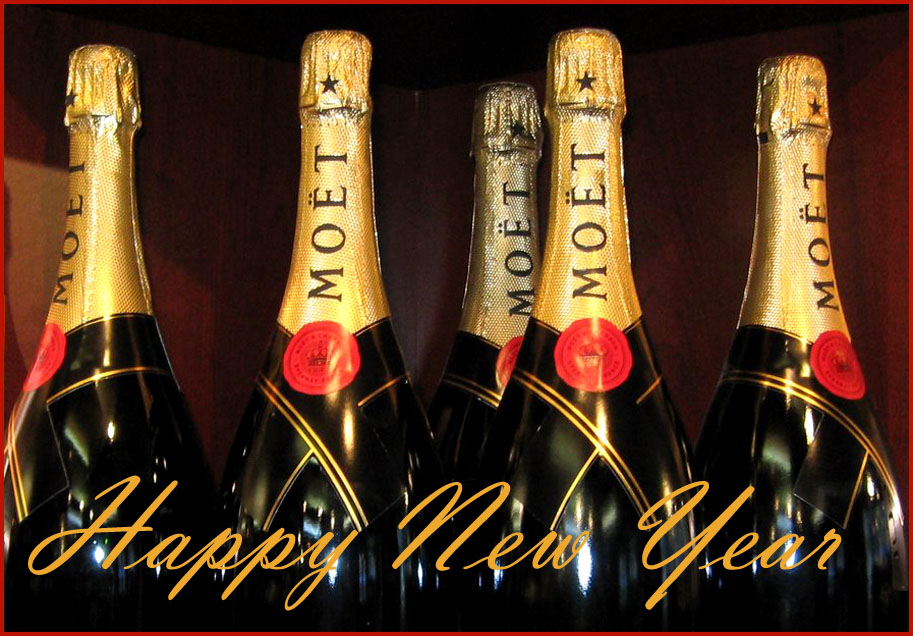 Contemporary Greeting Card for New Year
Photo of five shiny bottles of Champagne with golden foil tops and red sticker on the neck.

'Happy New Year'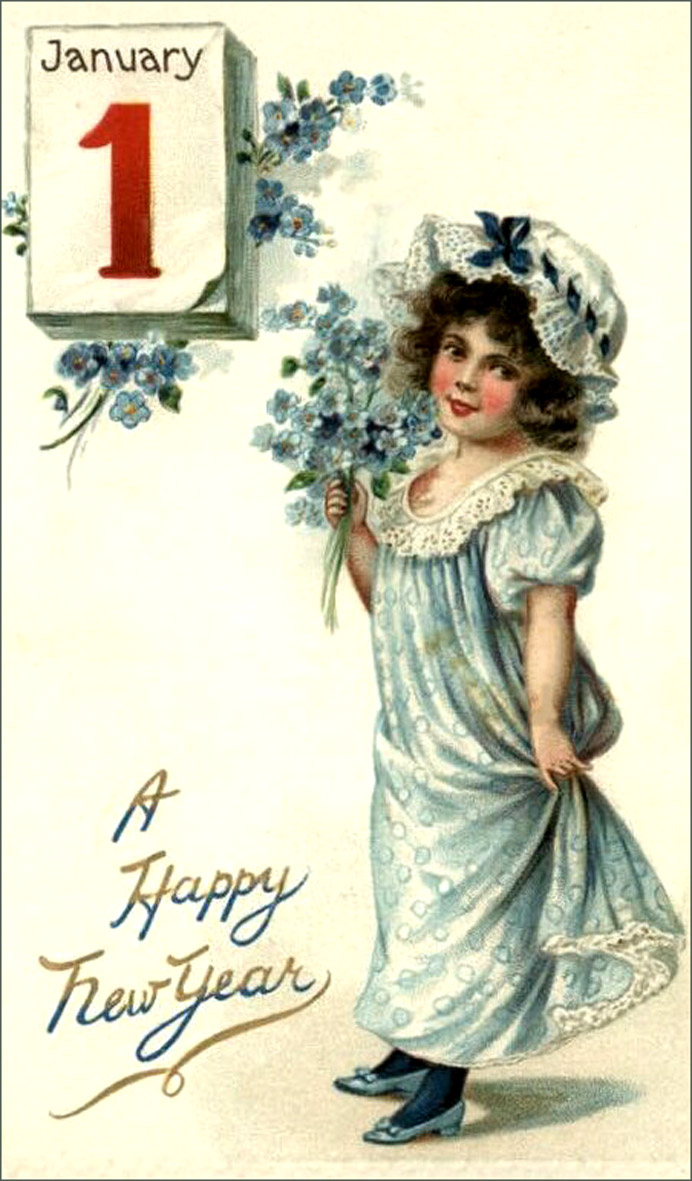 Drawing of little dark haired girl in light blue and white dress with hat holding a bouquet of blue flowers. Calendar leaf in top left corner with the first of January.

'A Happy New Year'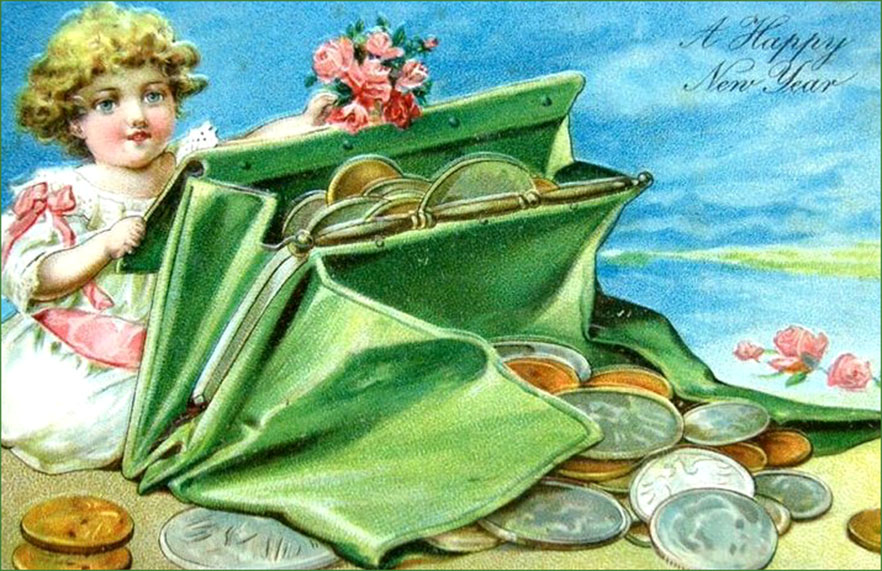 Drawing of little blond girl in white dress with pink ribbon hold a bouquet of pink roses. A big green purse with lots of gold and silver coins symbolizing good wealth and fortune.

'A Happy New Year'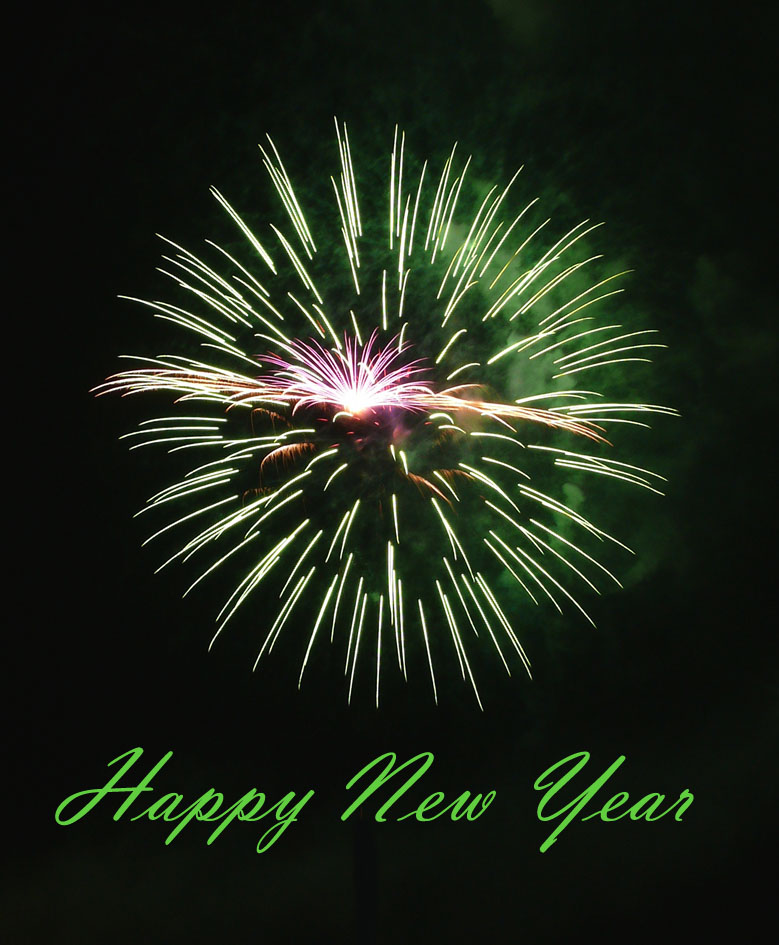 Photo of green firework on dark night sky.

'Happy New Year'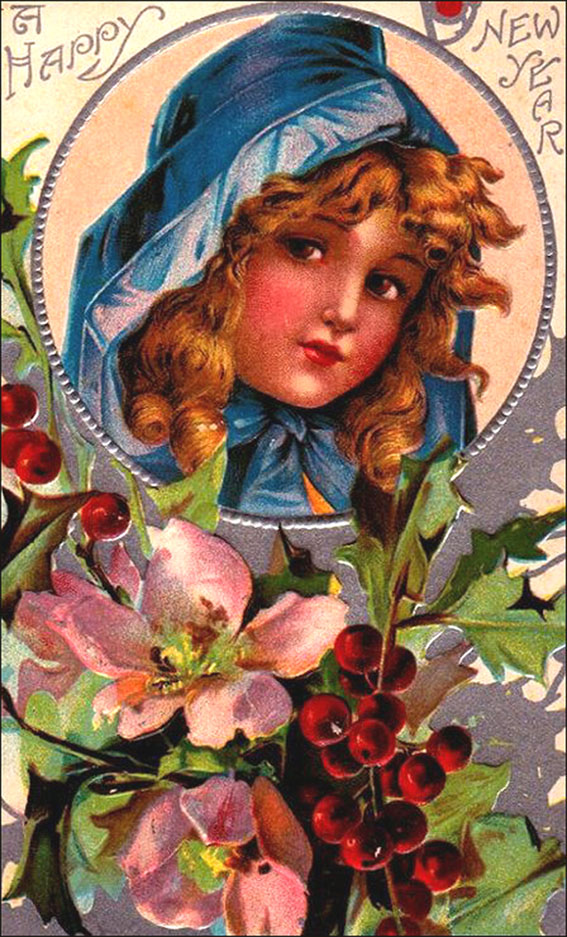 A traditional vintage style picture of blue hooded girl in round window with pink flowers and red berries in the foreground.

'A Happy New Year'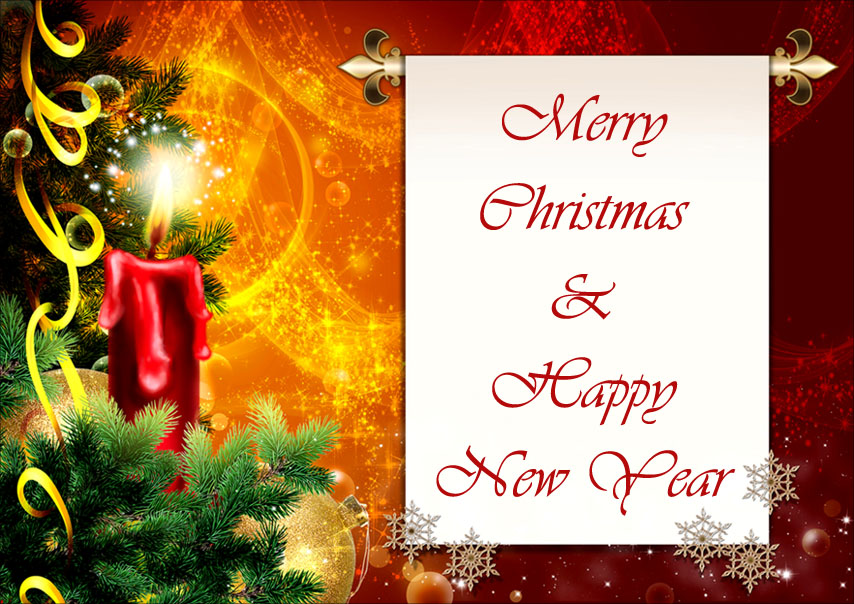 Combined Christmas and Happy New Year Greeting
Pine tree branches and a red candle burning.

'Merry Christmas & Happy New Year'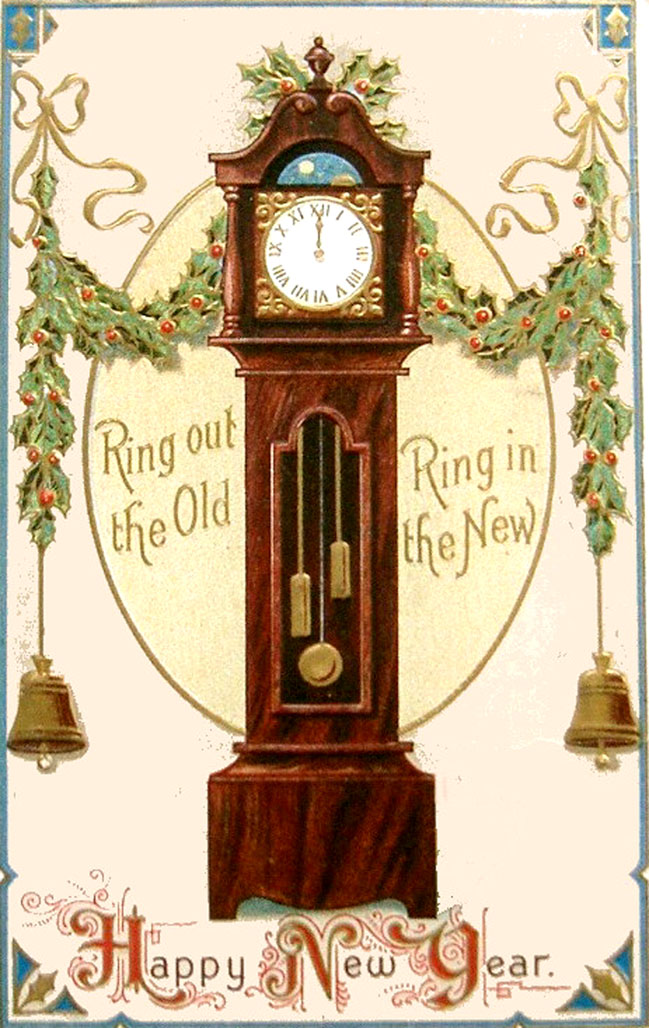 Drawing of old, brown grandfather clock showing it is midnight.

'Happy New Year'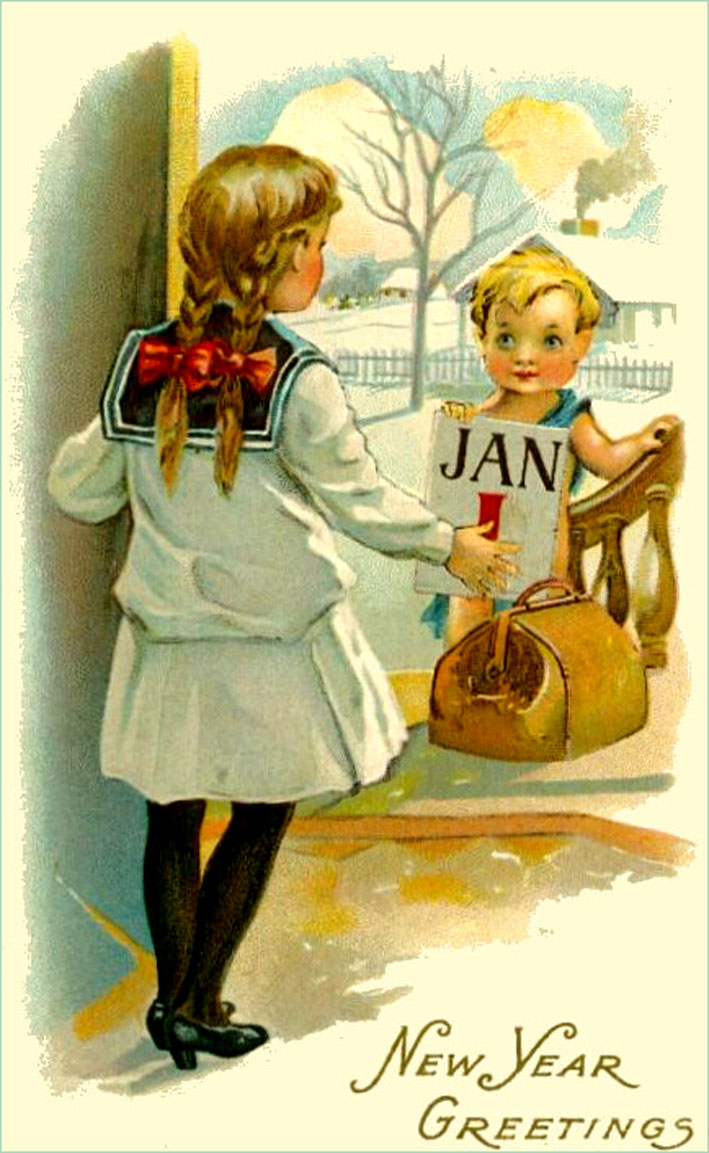 Vintage New Year picture of little girl with braids and while sailor dress opening the door and finding a small blond boy in blue clothing holding up a calendar leaf that says first of January.

'New Year Greetings'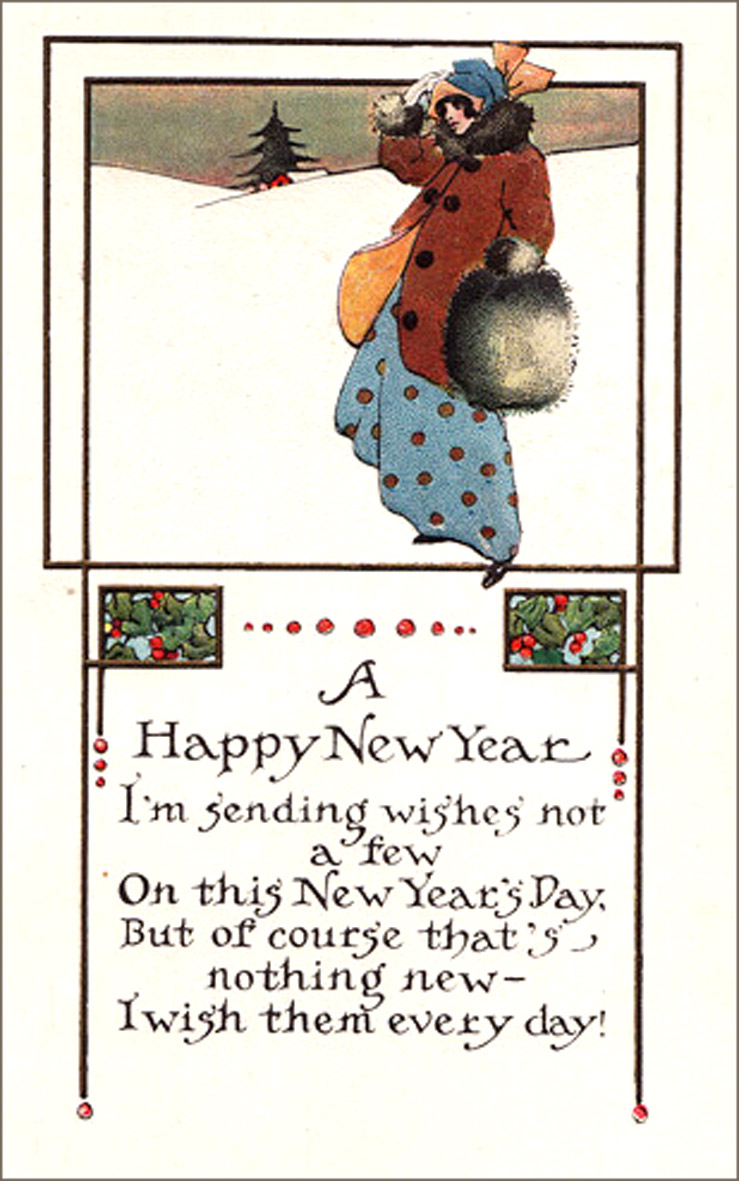 New Year Postcard in Elegant Art Nouveau Style with Short Rhyming New Years Poem
Picture of woman with blue dress with red dots walking in the snow, holding her hat in place.

'A Happy New Year'

'I'm sending wishes not a few,
On this New Year's day,
But of course that's nothing new -
I wish them every day!'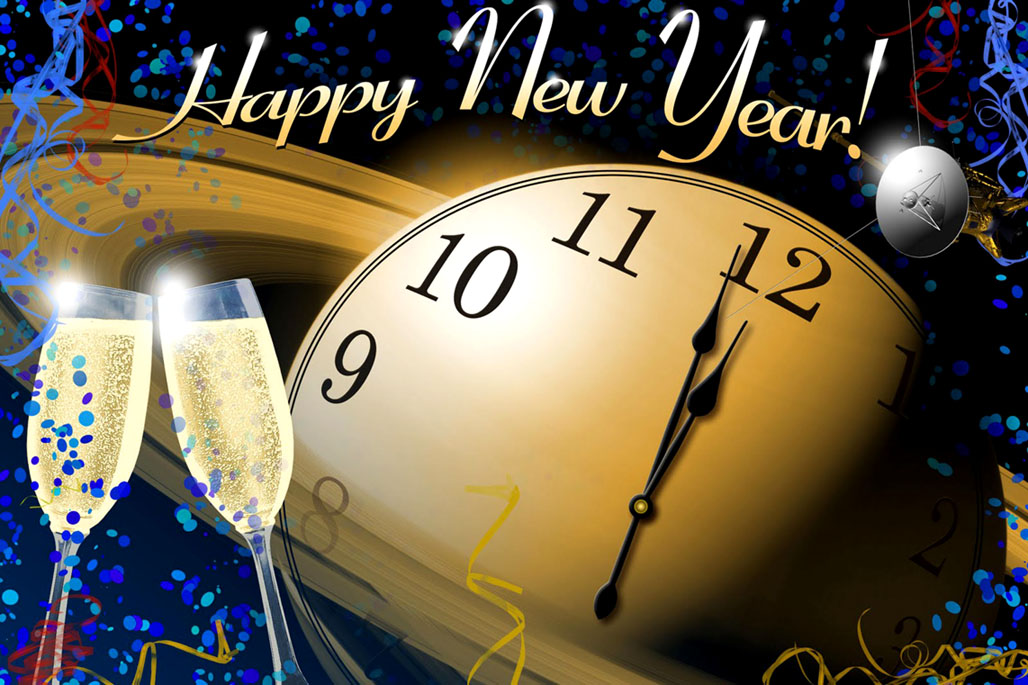 Computer edited image of clock showing one minute to midnight and two Champagne glasses toasting surrounded by lots of blue confetti.

'Happy New Year'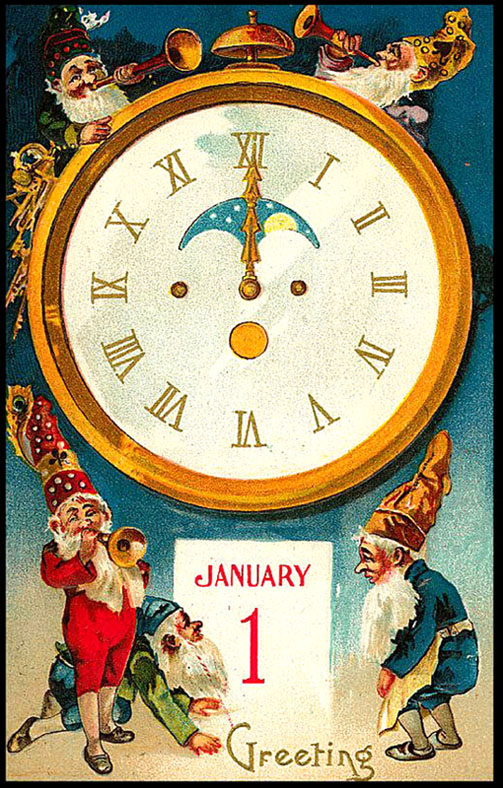 Funny vintage picture of big gold clock and calendar page with first of January surrounded by five long bearded with elves with tall festive hats while blowing trumpets.

'January 1 Greeting'
Where Would You Like to Go Next?
Cards for New Years
New Year Quotes, Greetings and Wishes
New Year Resolutions
Games and Ideas for the New Year Party