• These inspirational sports quotes and sayings can be used for motivation - and more.
• They're not only inspirational quotes for athletes and coaches, but in fact everybody with a philosophical interest in the game of life will find these good sports quotes filled with a deep knowledge that surpasses that of sport itself!

Sports are a Microcosmic Reflection on the Game of Life!
The great thing about sports quotes is that when they're taken to a higher level, sport can be seen as a metaphor for life itself.
A game of sports is like a microcosm of life: The way you engage in sports reveal not only the essence of the game (life) but also reveal the core of who you are and your attitude to life itself.
Being real philosophical nerds here Quotescoop.com we love everything that reflects something interesting and general on the game of life or the character of man.


The Spirit of Play is More Than the Sum of Its Parts
Looking at sports from a philosophical view is really fascinating.
When you really throw your entire spirit into a game - irrelevant of whether you're alone or not - it feels like everything: you, your body, the elements around you, potential other people etc. all have fit flawlessly together like well lubricated cogwheels.
The game and everything in it becomes like one organism - like a sustainable eco system - like life itself!
When this happens everything is taken to another level - then sports become more than the individual or individuals playing it.
Sports get a spirit of its own!
Here are some inspirational sports quotes about the spirit of play:
I'm fanatical about sport: There seems to me something almost religious about the fact that human beings can organise play, the spirit of play.
~ Simon Gray ~
The way a team plays as a whole determines its success. You may have the greatest bunch of individual stars in the world, but if they don't play together, the club won't be worth a dime.
~ Babe Ruth ~
Sport is where an entire life can be compressed into a few hours, where the emotions of a lifetime can be felt on an acre or two of ground, where a person can suffer and die and rise again on six miles of trails through a New York City park. Sport is a theater where sinner can turn saint and a common man become an uncommon hero, where the past and the future can fuse with the present. Sport is singularly able to give us peak experiences where we feel completely one with the world and transcend all conflicts as we finally become our own potential.
~ George A. Sheehan ~


---
Sport is Life Lived at Its Peak!
Sports are not just games and play.
Being deeply engaged in sports is like living in another world. There's only one thing that exists:
That which you're doing right now!
Nothing else exists and nothing else matters: There are no thoughts, no emotions, no concept of time, just a feeling of being one with something larger than yourself!
When you feel this, it's like you've never been better and there seems to be no limit to your abilities.
You simply cross personal boundaries which seemed impossible before you entered this little world.
However, this little world is fragile because if you start to think of it - of what your doing, how well you're doing or if you become scared - everything is ruined, the bubble bursts and you're mercilessly thrown back to your 'normal' self.
There's a scientific term for this state of consciousness:
It's called flow and everybody who has tried it (and most have at some point during e.g. sports, sex, artful endeavors etc.) knows how deeply pleasurable it is.
Some people feel that when they're in flow - that's when they really live!
Here are some quotes about consciousness and flow:
When you're riding, only the race in which you're riding is important.
~ Bill Shoemaker ~
It hurts up to a point and then it doesn't get any worse.
~ Ann Trason ~
Reverse every natural instinct and do the opposite of what you are inclined to do, and you will probably come very close to having a perfect golf swing.
~ Ben Hogan ~
When cerebral processes enter into sports, you start screwing up. It's like the Constitution, which says separate church and state. You have to separate mind and body.
~ Bill Lee ~
You have to be able to center yourself, to let all of your emotions go. Don't ever forget that you play with your soul as well as your body.
~ Kareem Abdul-Jabbar ~
What other people may find in poetry or art museums, I find in the flight of a good drive.
~ Arnold Palmer ~
The essence of sports is that while you're doing it, nothing else matters, but after you stop, there is a place, generally not very important, where you would put it.
~ Roger Bannister ~
Next we have some more good sports quotes that capture another a vital essence of sports, risk!

---
You Have to Risk to Really Live!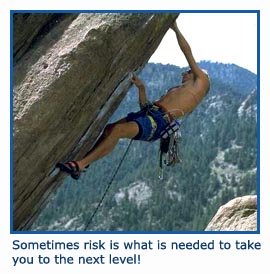 Some of the greatest things in life don't just come to you.
No, you decide to come to them.
You decide that trying to go there, to the next level, is worth the risk of losing the comfort zone of where you are right now!
This, taking risks, is one of most terrifying but at the same time also gratifying aspects of living!
This applies in all areas of life such as love, work, having kids ... and of course, sports.
Here are some inspirational sports quotes / quotes about risk:
You miss 100 percent of the shots you never take.
~ Wayne Gretzky ~
Show me a man who never failed and I'll show you a man who never tried anything hard enough.
~ Allen Waimsley ~
Risk more than others think is safe. Care more than others think is wise. Dream more than others think is practical. Expect more than others think is possible.
~ Inspirational saying ~
Show me a guy who's afraid to look bad, and I'll show you a guy you can beat every time.
~ Lou Brock ~
For one does not play to win as a sure thing. The pleasure of the game is inseparable from the risk of losing.
~ Roger Caillois ~
To win without risk is to triumph without glory.
~ Corneille ~
If you can't accept losing, you can't win.
~ Vince Lombardi ~
---
Doing Your Best Is the Greatest Gift to Yourself!
When is it life becomes dull and unsatisfactory?
Often it's when we're not living out our full potential - when we're not doing our best!
Giving life everything we have without thinking of potential results is the most satisfying thing.
The same goes in sports: When we really give it all we have, that is when we really feel we live life to the fullest.
Here are some sports quotes about doing your best:
I don't think I can play any other way but all out... I enjoy the game so much because I'm putting so much into it.
~ George Brett ~
Nobody who ever gave his best regretted it.
~ George Halas ~
It is a rough road that leads to the heights of greatness.
~ Seneca ~
If you aren't going all the way, why go at all?
~ Joe Namath ~
If a man does his best, what else is there?
~ General George S. Patton ~
You are never a loser until you quit trying.
~ Mike Ditka ~
You find that you have peace of mind and can enjoy yourself, get more sleep, and rest when you know that it was a one hundred percent effort that you gave - win or lose.
~ Gordie Howe ~
Hard work is the only way to go. Strive to be the best you can be and remember that when you try your best, you can't ask any more from yourself, and people can't ask any more from you.
~ Michael Chang ~
Still more inspirational sports quotes coming up - this time we focus on quotes about believing!


---
Be That Which You Want to Be!
Okay, that sounded a bit cryptic but it's true.
The thing that characterizes the people who have reached their goals in life (and in sports) is their ability not only to wish being a step ahead or to have reached a certain goal ...
No, these people WERE that which the wanted to be. They were empowered by the strong existential belief of "I am that which I want to be"!
It wasn't a wish, it was a firm belief!
Here are some quotes about believing:
They can because they think they can.
~ Virgil ~
The mind is the limit. As long as the mind can envision the fact that you can do something. You can do it, as long as you really believe 100 percent.
~ Arnold Schwarzenegger ~
The winners in life think constantly in terms of I can, I will, and I am. Losers, on the other hand, concentrate their waking thoughts on what they should have or would have done, or what they can't do.
~ Dennis Waitley ~
Don't let what you can't do interfere with what you can do.
~ John Wooden ~
More inspirational quotes for athletes coming your way - now we will move on to quotes about talent!


---
Talent is Nothing Without Using It!
Nobody's a natural. You work hard to get good and then work to get better. It's hard to stay on top.
~ Paul Coffey ~
To give any less than your best is to sacrifice a gift.
~ Steve Prefontaine ~


---
Sports Reveal Who You Are!
When is it we really get to see and feel a person?
Often it is when he or she is under pressure, forced to cope with situations that require strength, stamina and / or tough decision making.
Here are some inspirational sports quotes / quotes about character:
Sports do not build character. They reveal it.
~ Heywood Broun ~
It's not the size of the dog in the fight but the size of the fight in the dog.
~ Magic Johnson ~
We generally make too much of winning. Let's face it, someone always has to win; that is the nature of competition. But the mere fact of winning doesn't make you great.
~ Wilt Chamberlain ~
The mastery of the true self, and the refusal to permit others to dominate us is the ultimate in living, and self-expression in athletics.
~ Percy Cerutty ~
Sport strips away personality, letting the white bone of character shine through. Sport gives players an opportunity to know and test themselves.
~ Rita Mae Brown ~
Tough times don't last. Tough people do.
~ Inspirational saying ~
Difficulties in live are intended to make us better, not bitter.
~ Dan Reeves ~
Pain is inevitable; suffering is optional.
~ Inspirational saying ~
A team is where a boy can prove his courage on his own. A gang is where a coward goes to hide.
~ Mickey Mantle ~
The ultimate measure of a man is not where he stands in moments of comfort, but where he stands at times of challenge and controversy.
~ Martin Luther King, Jr. ~
To measure the man, measure his heart.
~ Malcolm Stevenson Forbes ~
Effort is a measure of a Man.
~ William James ~
And now for the last pack of good sports quotes before we let you go!


---
But Remember ...
[T]he finish line is sometimes merely the symbol of victory. All sorts of personal triumphs take place before that point, and the outcome of the race may actually be decided long before the end.
~ Laurence Malone ~
Success isn't permanent and failure isn't fatal.
~ Mike Ditka ~
---
Don't Wait Too Long!
As you walk down the fairway of life you must smell the roses, for you only get to play one round.
~ Ben Hogan ~
If not you, who? If not now, when?
~ Garry Herbert ~