These inspirational quotes for athletes speak about the two perhaps most important aspects in sports:

• The greatest challenge which is not your opponent, but yourself!
•
And the deepest pleasure of immersing yourself in the spirit of play!
•
So, sit tight for these great motivational quotes for athletes to enrich your own game what ever that may be!
---
Make Yourself Into a Team Player Otherwise You'll be Your Own Worst Opponent
Somehow the spirit in sports makes us want to do our best - probably because the greatest satisfaction often comes from the greatest effort.
However, the road to trying to do our best can be quite bumpy and stressful. Not because we face a tough opponent, no!
It's because we face ourselves.
When we feel the pressure of the game we have to make what may feel like our worst opponent (ourselves) into an ally that brings us to the top!
When you read the inspirational sports quotes on this page you will notice the deep knowledge in them. These sportsmen have this deep knowledge because they know themselves very well - they have faced themselves so many times.
Here are some inspirational quotes for athletes about facing yourself - self quotes:
You are the handicap you must face. You are the one who must choose your place.
~ James Lane Allen ~
There are plenty of difficult obstacles in your path. Don't allow yourself to become one of them.
~ Ralph Marston ~
You are never really playing an opponent. You are playing yourself, your own highest standards, and when you reach your limits, that is real joy.
~ Arthur Ashe ~
Looking for more inspiration and motivation?
Look no further because here are some really motivational quotes for athletes!


---
Determination Takes You Further Than the Greatest Talent!
Talent may tell you which way to go and it may easily and most comfortably drive you some of the way BUT it will not take you all the way.
If you know what you want and where you want to go determination, persistence and perseverance are crucial as fuel!
Sometimes you'll run low on fuel anyway but just decide that a gas tank will show up when you need it ... and it will.
Why?
Because your will makes it! That's determination!
Here are some inspirational quotes for athletes / quotes about determination.
The only way to overcome is to hang in. Even I'm starting to believe that.
~ Dan OBrien ~
If at first you don't succeed, try, try again.
~ William Edward Hickson ~
Champions keep playing until they get it right.
~ Billie Jean King ~
Gold medals aren't really made of gold. They're made of sweat, determination, and a hard-to-find alloy called guts.
~ Dan Gable ~
I've missed more than 9000 shots in my career. I've lost almost 300 games. 26 times, I've been trusted to take the game winning shot and missed. I've failed over and over and over again in my life. And that is why I succeed.
~ Michael Jordan ~
Great souls have wills; feeble ones have only wishes.
~ Chinese proverb / inspirational saying ~
If you're trying to achieve, there will be roadblocks. I've had them; everybody has had them. But obstacles don't have to stop you. If you run into a wall, don't turn around and give up. Figure out how to climb it, go through it, or work around it.
~ Michael Jordan ~
Most people never run far enough on their first wind to find out they've got a second.
~ William James ~
Being defeated is often a temporary condition. Giving up is what makes it permanent.
~ Marilyn vos Savant ~
My motto was always to keep swinging. Whether I was in a slump or feeling badly or having trouble off the field, the only thing to do was keep swinging.
~ Hank Aaron ~
The only way to prove that you're a good sport is to lose.
~ Ernie Banks ~
I've always made a total effort, even when the odds seemed entirely against me. I never quit trying; I never felt that I didn't have a chance to win.
~ Arnold Palmer ~
Fall down seven times, get up eight.
~ Chinese proverb / inspirational saying ~
That which does not kill me makes me stronger.
~ Friedrich Nietzsche ~
Desire is the most important factor in the success of any athlete.
~ llie Shoemaker ~
The country is full of good coaches. What it takes to win is a bunch of interested players.
~ Don Coryell ~
Many more inspirational sports quotes on their way!
---
Deep Focus May Only Come
When Your Mental Chatterbox is Turned Off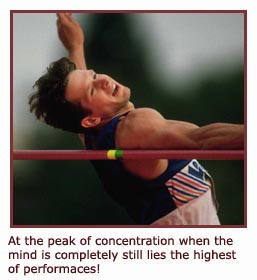 Meeting yourself in sports is a real challenge.
When we walk about our daily lives we're so used to having our mental chatterbox on constant 'play'. It just jabbers on and on!
However, when we really need to concentrate - like we sometimes need to do in sports - it's really necessary to know where the off button is.
Turning off your chattering self is where the highest performance and greatest satisfaction lie!
Here are some inspirational sports quotes for athletes / focus quotes:
The greatest efforts in sports came when the mind is as still as a glass lake.
~ Timothy Gallwey ~
I never looked at the consequences of missing a big shot... when you think about the consequences you always think of a negative result.
~ Michael Jordan ~
Concentration is the ability to think about absolutely nothing when it is absolutely necessary.
~ Ray Knight ~
Now let's shift our focus to other motivational quotes for athletes - this time we will look at some quotes about responsibility!


---
Doing What You Are Is Taking Full Responsibility for Yourself!
Some people think they are born here on earth to fullfil a mission.
They think there's a reason why they're good at something, that there is a higher purpose to their talent.
When these people do what they are - they are taking full responsibility for themselves. They are not only taking themselves but also the feeling of the higher purpose, seriously.
That is admirable!
Here are some inspirational quotes for athletes / quotes about responsibility:
You owe it to yourself to be the best you can possibly be - in baseball and in life.
~ Pete Rose ~
The day you take complete responsibility for yourself, the day you stop making any excuses, that's the day you start to the top.
~ O.J. Simpson ~


---
Turn Opposition into Your Fuel!
Sometimes resistance or opposition is the greatest motivator!
Here are some inspirational sports quotes about beating the limits:
When someone tells me there is only one way to do things, it always lights a fire under my butt. My instant reaction is, I'm gonna prove you wrong.
~ Picabo Street ~
Those who strive for the highest place will rise the highest (Altius ibunt qui as summa nituntur).
~ Latin proverb / inspirational saying ~
You have to do what others won't to achieve what others don't.
~ Inspirational saying ~
Adversity causes some men to break; others to break records.
~ William Arthur Ward ~
Now let's leave the scene to some inspirational quotes for athletes that are one step ahead!


---
Being One Step Ahead Makes All the Difference!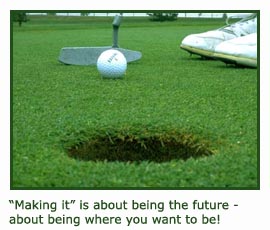 What do successful businessmen, original entrepreneurs and fabulous athletes have in common.
They dream, they envision, they imagine and then ... they become that!
They are always one step ahead doing what most other people haven't even thought of!
Here are some inspirational quotes for athletes about seeing it, wanting it and being it:
A good hockey player plays where the puck is. A great hockey player plays where the puck is going to be.
~ Wayne Gretzky ~
You can't put a limit on anything. The more you dream, the farther you get.
~ Michael Phelps ~
Wisdom is always an overmatch for strength.
~ Phil Jackson ~
Many men go fishing all of their lives without knowing that it is not fish they are after.
~ Henry David Thoreau ~
An athlete cannot run with money in his pockets. He must run with hope in his heart and dreams in his head.
~ Emil Zatopek ~
Sit tight for the last batch of motivational quotes for athletes.


---
The Pleasure of the Spirit of Play Is Really Why We Do Sports!
The greatest athletes know that sports aren't just about winning. Winning is just the end result.
No, sports are about enjoying the spirit of play. The play process is so pleasurable in itself: no thoughts, no emotions, just play.
However, when it's all over, we tend to forget the spirit of play exactly because there were no thoughts!
Here are some inspirational quotes for athletes about the spirit of play /sports:
Do you know what my favorite part of the game is? The opportunity to play!
~ Mike Singletary ~
I play the game for the game's own sake.
~ Sherlock Holmes ~
God made me fast. And when I run, I feel His pleasure.
~ Eric Liddell ~
Play is the only way the highest intelligence of humankind can unfold.
~ Joseph Chilton Pearce ~
If you make every game a life-and-death thing, you're going to have problems. You'll be dead a lot.
~ Dean Smith ~
The medals don't mean anything and the glory doesn't last. It's all about your happiness. The rewards are going to come, but my happiness is just loving the sport and having fun performing.
~ Jackie Joyner Kersee ~

We hope you enjoyed these inspirational quotes for athletes just as much as we did. If you want more inspirational sports quotes you are welcome to follow the links below.