• Let these hilarious photos of stupid signs light up your day and bring a smile to your lips.


•
Here you will find: funny sales signs, funny warning signs, funny church signs, funny shop signs, funny dog signs, funny restaurant signs, funny neon signs, funny bathroom signs, funny police signs, funny airport signs, funny handicap signs, funny wheelchair signs, funny zoo signs, funny Engrish and much more!
---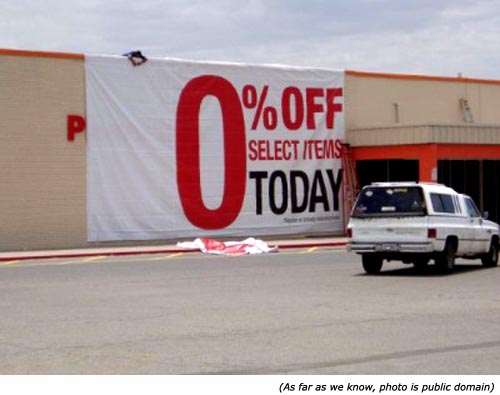 0% Off. Select Items Today! Whohoo, what a bargain. Funny sales signs.
---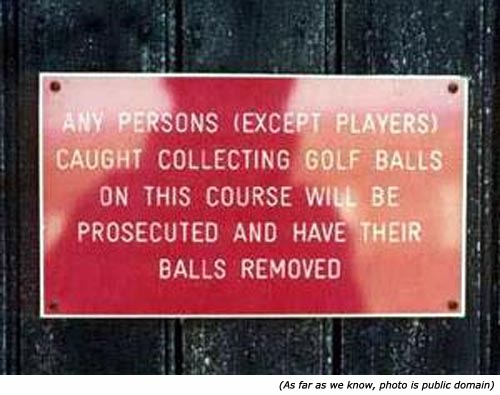 Any persons (except players) caught collecting golf balls on this course will be prosecuted and have their balls removed! Example of great (most likely unintentional wit) on golf warning signs. A wonderful example of funny stupid signs.
---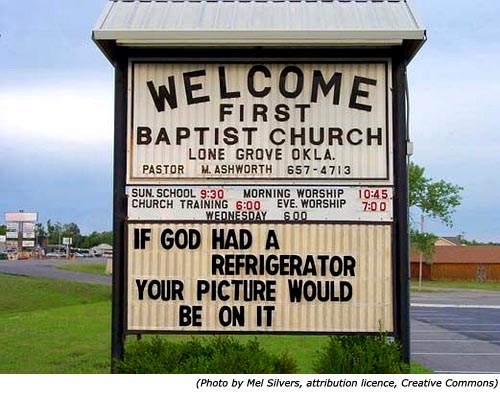 If God had a refrigerator, your name would be on it! Funny church signs from First Baptist Church - Lone Grove Oklahoma.
---
Dick Cleaners! Hilarious signs example: funny shop signs.
---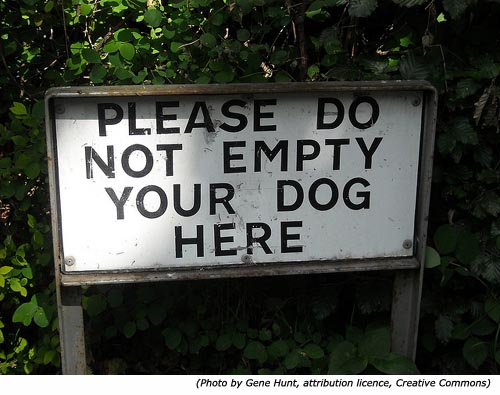 Please do not empty your dog here Great example of silly signs. This hilarious photo was taken on 'an old footpath near Greystoke Avenue, Timperley, England.
---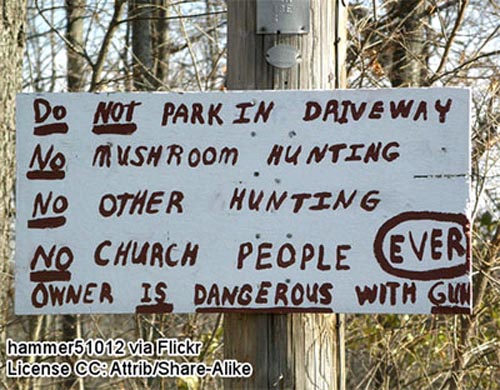 Do not park in driveway! No mushroom hunting! No other hunting! No church people ever! Owner is dangerous with gun! Funny warning signs on trespassing!
---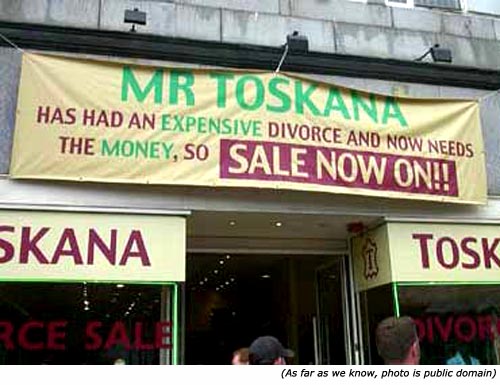 Mr. Toskana has had an expensive divorce and now needs the money, so sales now on!! Example of funny stupid signs: A funny shop sign.
---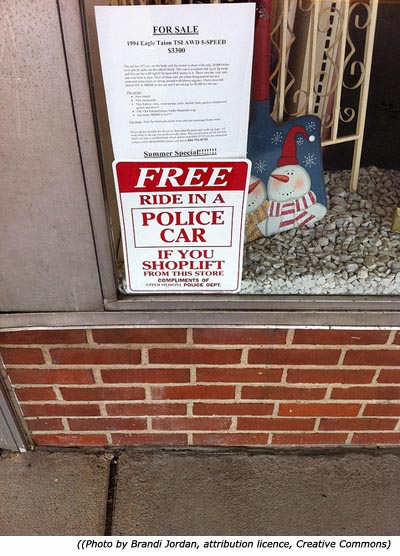 Free ride in a police car if you shoplift from this store! Lovely with a bit of humor in this hilarious police sign. A real treasure of silly signs!
---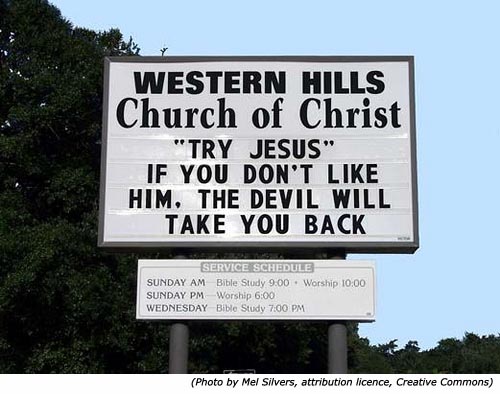 "Try Jesus"! If you don't like him, the devil will take you back! Funny church signs from Western Hills Church of Christ. Hilarious photos of funny stupid signs.
---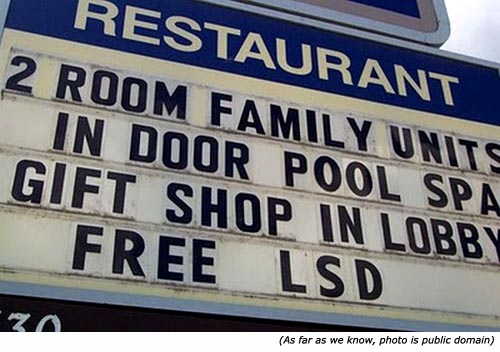 2 Room Family Units. In Door Pool Spa. Gift Shop in Lobby. Free LSD. Funny restaurant signs.
---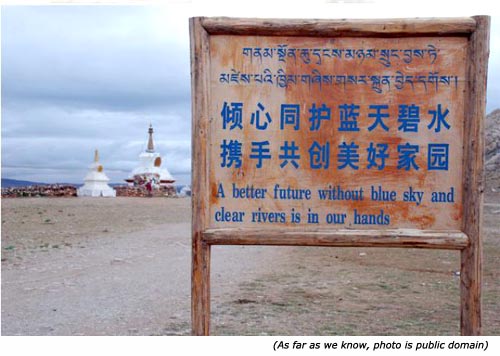 A better future without blue sky and clear rivers is in our hands! A dream come true! An example of funny stupid signs.
---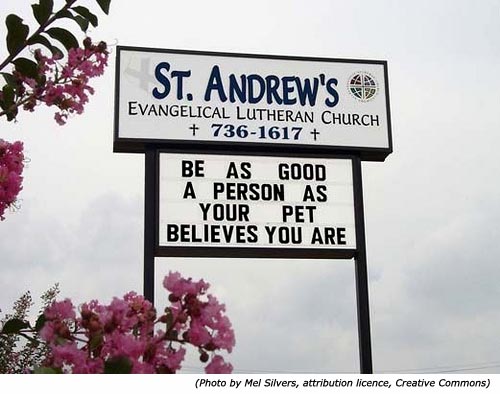 Be as good a person as your pet believes you are! Funny church sign from St. Andrew's Evangelical Lutheran Church.
---
KB Hoe Great example of hilarious signs. Photo of KB Home Studio sign is taken in Dunwoody, Atlanta.
---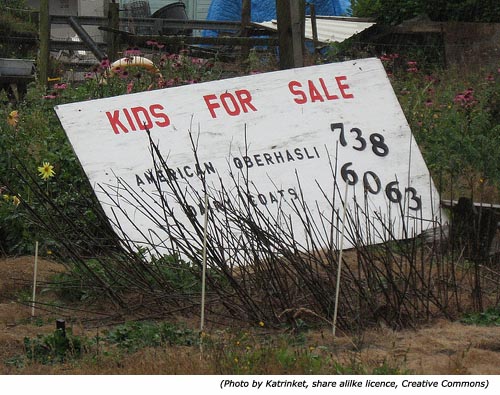 Kids for Sale Wonderful sales signs and stupid signs example.
---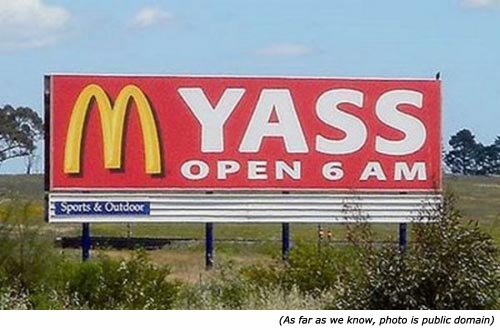 MYASS This McDonalds signs is hilarious - funny restaurants signs.
---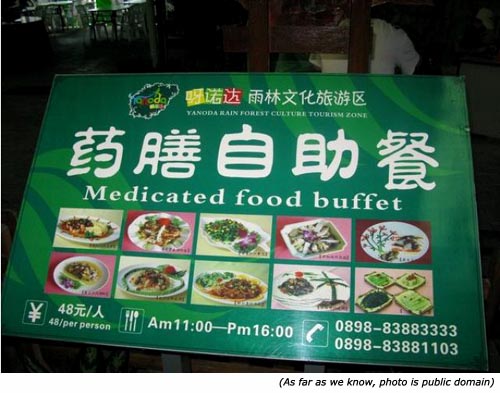 Medicated Food Buffet Delicious! Funny food sign from Yanoda Rain Forest Culture Tourism Zone. Hilarious photos and funny signs.
---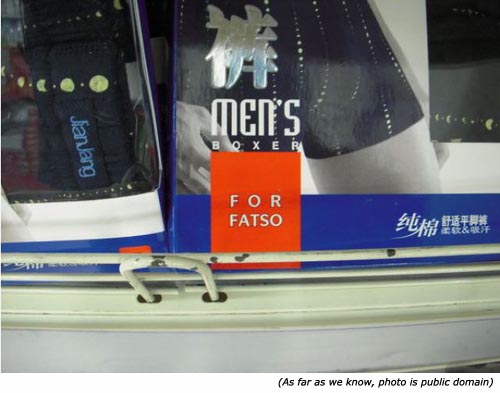 Men's Boxer: For Fatso Hilarious, funny signs!
---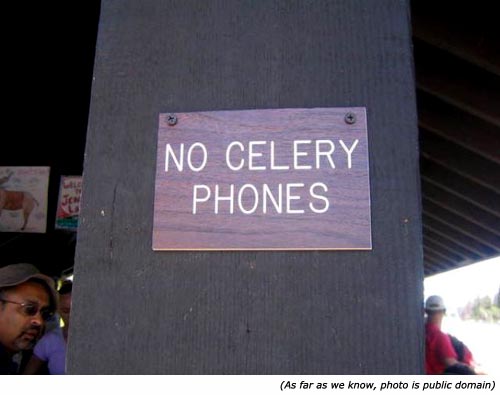 No Celery Phones! What a pity, a celery phones sounds tasty! Really funny picture of hilariou phone signs.
---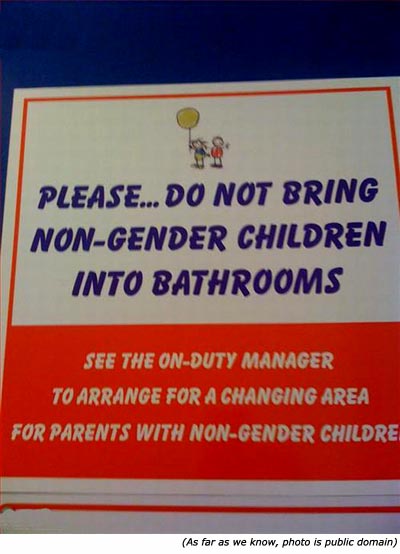 Please .. Do not bring non-gender children into bathrooms. See the on-duty manager to arrange for a changing area for parents with non-gender children! An example of stupid signs and funny bathroom signs.
---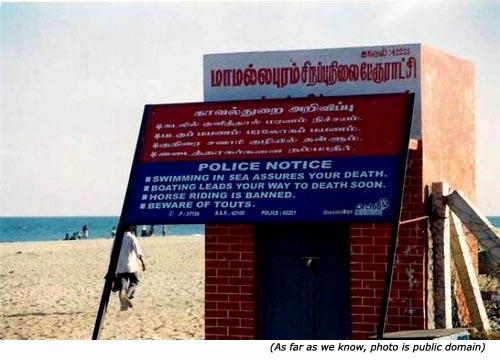 Swimming in sea assures you death. Boating leads your way to death soon. Horse riding is banned. Beware of touts. But otherwise sounds like paradise. Funny police signs!
---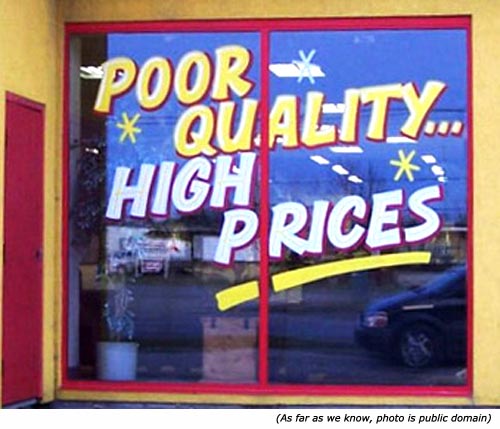 Poor Quality. High Prices! We feel tempted beyond compare. Hilarious photos and funny sales signs.
---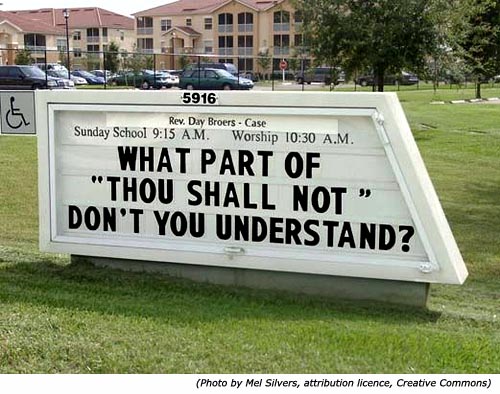 What part of "Though shall not" don't you understand! A great example of hilarious signs as funny church signs.
---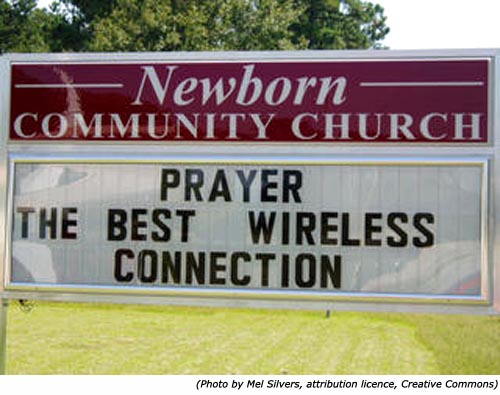 Prayer! The best wireless connection! Funny church signs.
---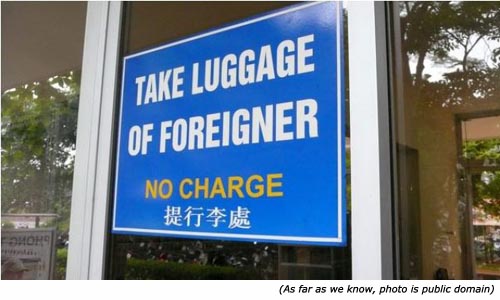 Take luggage of foreigner. No charge! Hilarious photo of great Engrish sign from an airport.
---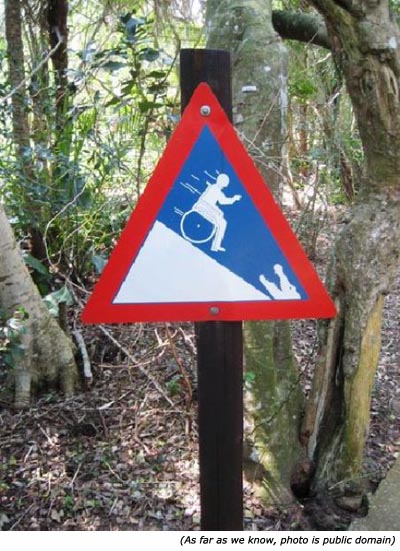 Funny handicap sign with man in wheel chair going down hill towards crocodile. Great example of funny signs.
---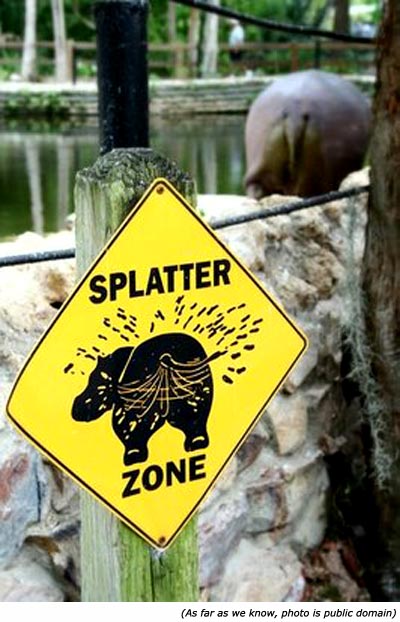 Splatter Zone! Really funny picture of a hippo spraying shit with its tail. Funny zoo signs.
---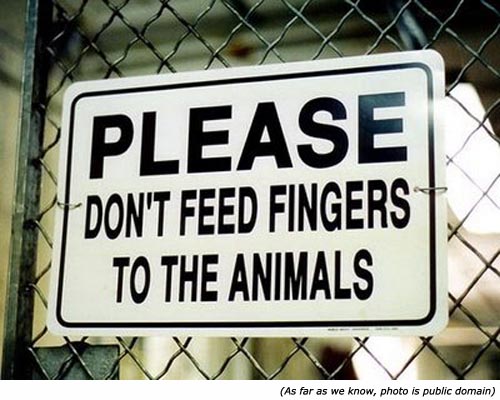 Please, don't feed fingers to the animals! Funny warning signs and zoo signs.


---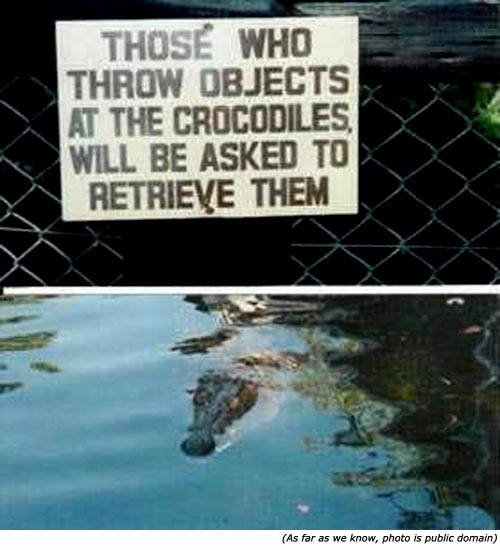 Those who throw objects at the crocodiles will be asked to retrieve them! Humorous warning signs in the zoo.


---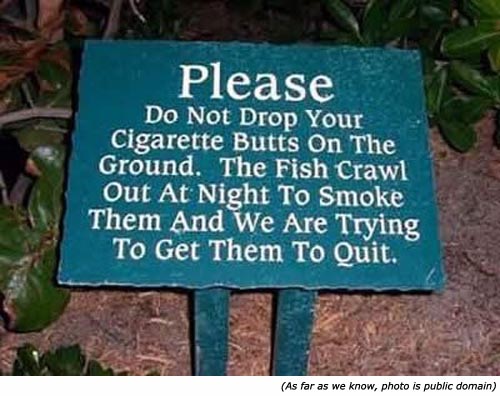 Please, do not drop your cigarette butts on the ground. The fish crawl out at night to smoke them and we are trying to get them to quit! Funny stupid signs.


---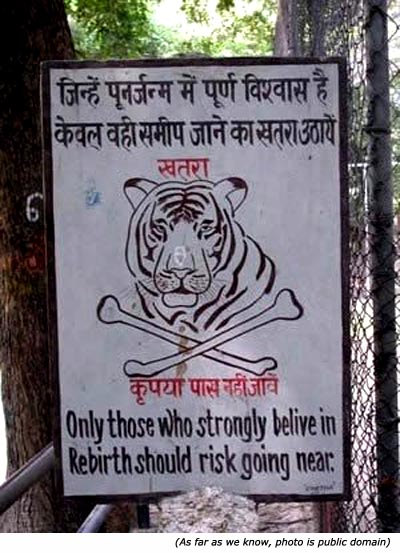 Only those who strongly believes in rebirth should risk going near! Funny stupid signs. Hilarious photo of funny zoo sign with a white tiger.


---
Where Would You Like to Go Next?
Spectacular Silly Signs Collection
The Silliest Funny Street Signs
You might also like to read something related at the page Short Funny Jokes, Random Funny Stuff or the page Funny Ads
To see what has been added to this site recently (plus offers, etc.), check out Blog & News at Quotescoop.com
Go to the top of this page about Stupid Signs
Go to the Quotescoop.com Homepage